On January 26th, CreatorIQ was fortunate enough to attend the first-ever Creator Economy Live conference in Las Vegas. The event brought together some of the most influential brands in the creator economy, with leaders convening in the brand-new Caesar's Forum to shape the future of the influencer marketing industry.
We're still buzzing over an incredible few days—and unlike most of what happens in Vegas, we're eager to share our highlights from the event. Read on for key details and insights on what's next for the creator economy.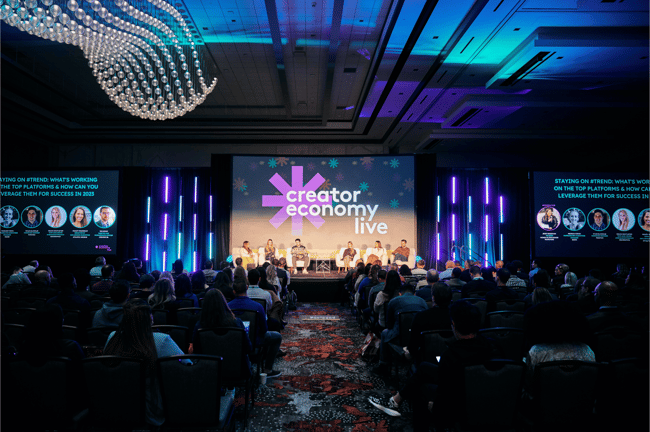 A panel discussion takes place at Creator Economy Live in Las Vegas.
Guests at Creator Economy Live got to learn from hundreds of attendees, including brands, agencies, and service providers. Participants featured big names from across a range of industries, from Taco Bell and Chobani to Albertsons and Bayer Health. The array of voices at the event demonstrates the incredible breadth of the creator economy, and the degree to which influencer marketing has permeated diverse and disparate verticals.
With so many industry leaders assembled in one place, attendees were treated to a masterclass on the creator economy's hottest topics—everything from getting started with influencer marketing to measurement and ROI to future trends in the space. Joining these impressive conversations was CreatorIQ's very own Chief Business Development & Partnerships Officer, Mr. Tim Sovay.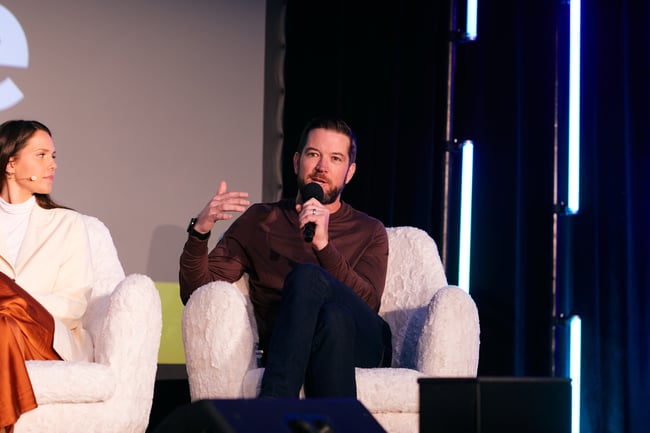 Tim Sovay, Chief Business Development & Partnerships Officer at CreatorIQ, participates in a panel at Creator Economy Live
Along with representatives from Squarespace, Athletic Greens, Fanatics, and Noom, Tim participated in a panel titled "Staying on #Trend: What's Working on the Top Platforms and How Can You Leverage Them for Success in 2023?" During the ensuing discussion, Tim and others shared their thoughts on which social platforms moved the needle in 2022, and which platforms are primed to shake up the space in 2023. In addition to trends across social platforms, Tim and company exchanged views on how they'll measure success this year, best practices for their favorite social platforms, and one huge mistake they've observed over the prior six months that everyone ought to avoid.
It should come as no surprise to followers of CreatorIQ's previous content that Tim focused on our partnership with TikTok. He shared tips and tricks on how brands across different industries can leverage TikTok for success, and emphasized the importance of finding the right tools to measure ROI during times of economic uncertainty.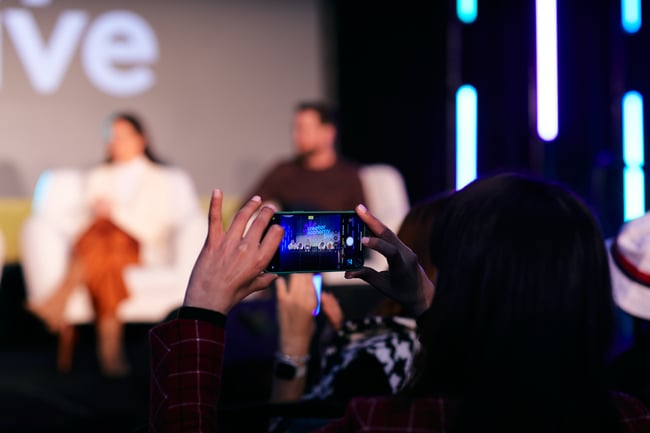 An event attendee takes a photo of a panel discussion at Creator Economy Live.
All told, Creator Economy Live made for several days of learning, camaraderie, and fun. It was a privilege to share the stage with some of the world's biggest brands, as well as some of the most successful innovators in the creator economy. (Oh, and did we mention the adoptable puppies that guests could play with to 'take a paws' between meetings and events?) We can't wait to go back next year—see you there!
Until the next Creator Economy Live rolls around, keep up to date with all things influencer marketing right here at CreatorIQ.