If you're looking to scale your influencer marketing program, incorporating new social platforms into the mix is likely a top priority. Harnessing a wide range of channels enables marketers to connect with previously untapped audiences, amplifying their brand's reach. But to execute an impactful cross-platform strategy, brands must do more than invite the same creators to post on multiple accounts. Like their diverse user bases, different platforms follow distinct sets of rules—the influencer campaigns that perform well on Instagram might fall flat on TikTok, and vice versa. For that reason, marketers must take the time to understand each channel's unique dynamics, and strategize accordingly.
To help brands like yours make informed decisions about which platforms to prioritize, and how to build top-performing influencer campaigns for multiple social channels, CreatorIQ analyzed trends in audience engagement with creator content across major social networks. By examining patterns in engagement rate—the total number of likes and comments a post receives relative to its creator's follower count—we sought to answer two key questions. First, which platforms create the most value for specific industries? And second, which types of creators should brands partner with in order to maximize engagement on a given platform?
Let's explore some of the key takeaways from our investigation.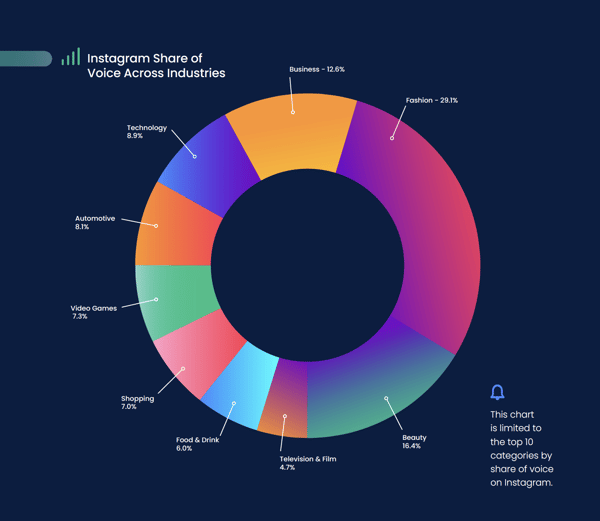 Let Industry Trends Inform Your Platform Choices
When determining which social platforms to focus on, there's no question that your industry matters. Not only are certain content formats better suited to promote certain product categories, but the interests of creators (and their audiences) vary from one network to another.
Our research found that fashion and beauty brands boasted the greatest share of voice on Instagram, while brands selling toys and children's goods saw the strongest engagement. Creator content about toys and children's goods enjoyed an average engagement rate of 2.01%, well above the platform benchmark of 1.2%. Meanwhile, gaming brands achieved the most success on TikTok, with the vertical's 0.93% engagement rate far outperforming the 0.56% platform benchmark. However, while gaming dominated YouTube by share of voice, fashion led the way in terms of engagement: YouTube endorsements of fashion brands averaged a 0.91% engagement rate, well above the 0.35% benchmark.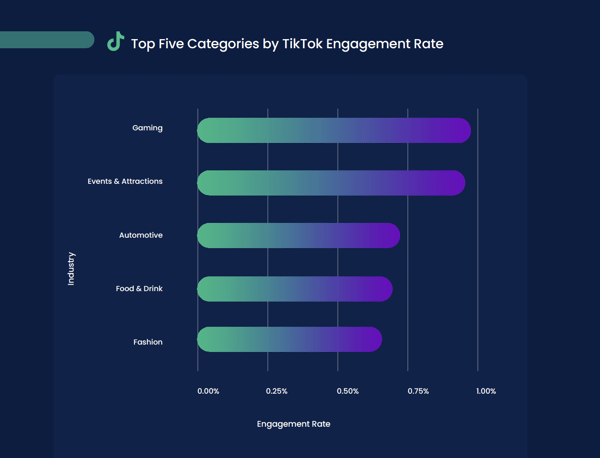 These findings illuminate several key influencer marketing opportunities that lie off the beaten path for brands. For example, while Instagram may be the go-to channel for fashion labels, YouTube harbors an even more passionate, close-knit community of style enthusiasts. Similarly, gaming brands should consider looking beyond YouTube, which is already crowded with gaming content, to connect with deeply invested fans on TikTok.
To learn more about the variables impacting audience engagement on major social platforms, check out our full research report, "Influencer Marketing Trends Across Social Platforms."
Don't Underestimate Nano-Influencers' Universal Impact
Brands tend to associate a creator's value with their follower count. However, whilesmaller-scale creators may not have the same reach as their more established counterparts, their audiences are typically more likely to interact with their content.
Across all major platforms (Facebook, Instagram, Instagram Reels, Instagram Stories, Pinterest, Twitter, TikTok, and YouTube), nano-influencers, or creators with under 10k followers, saw the highest engagement rates of any creator tier by a wide margin. On Instagram, for example, nano-influencers posted an average engagement rate of 2.65%, while the platform's mega-influencers (creators with over 1M followers) averaged just a 0.32% engagement rate. The disparity between creator tiers on YouTube was similarly stark, with nano-influencers' 0.48% engagement rate far outperforming mega-influencers' 0.01% average.
Nano-influencers' exceptionally active followings render them impactful partners on any social channel. Brands that are planning influencer campaigns aimed at engaging prospects, rather than purely inspiring awareness, may be better off putting their resources towards activating a large group of nano-influencers rather than a single mega-influencer.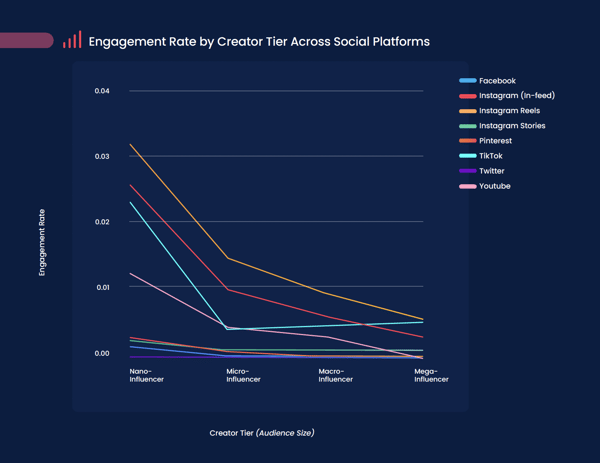 Prioritize Rising Creators Over Superstars—Except on Stories and TikTok
Even above the 10k follower mark, smaller-scale creators on most major platforms boasted higher engagement rates than larger-scale creators, with this figure steadily dropping as audience size increased. For instance, on Instagram Reels, micro-influencers (10k-100k followers) averaged a 1.5% engagement rate, macro-influencers (100k-1M followers) averaged a 0.98% engagement rate, and mega-influencers averaged a 0.59% engagement rate.
The only two platforms that proved exceptions to this rule were Instagram Stories and TikTok. Creators on Stories did not see any meaningful differences in engagement rate between the micro-, macro-, and mega-influencer tiers, while TikTok proved the only platform where creators' performance in the metric actually improved with follower growth. Between the micro- and macro-influencer levels, TikTok engagement rates rose from 0.47% to 0.49%, and mega-influencers averaged 0.54%. However, TikTok's nano-influencers outpaced all three cohorts with an impressive average engagement rate of 2.37%.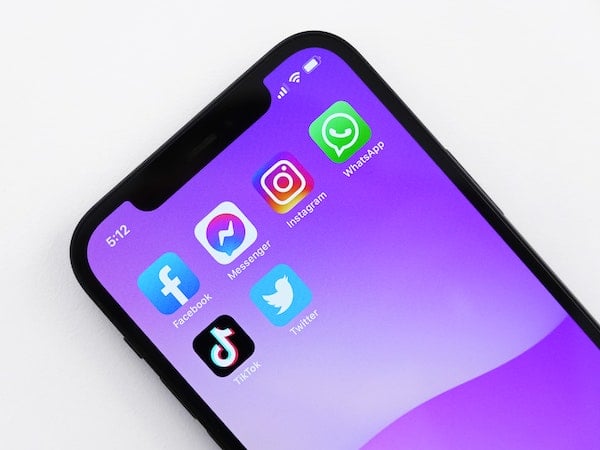 Brands can use this information to ensure that the partners they select for platform-specific influencer campaigns are well-positioned to make an impact. High-profile partnerships may be strategic on TikTok, but content from smaller-scale creators will resonate more deeply with audiences on most other social networks.
As the social media landscape continues to change, and brands look to embrace new platforms, marketers must make deliberate choices about which channels to prioritize, and which partnerships to pursue. By taking a data-backed approach to influencer marketing, brands can be confident that their decisions align with their overall objectives, and maximize the value of their creator networks.
Want to see how much engagement content about your brand is generating?