Activate

Recruit, Onboard & Manage Creators

Create an exceptional partnership experience with creator-facing communication tools and destinations that guide them through onboarding and activations.

Explore ways to expertly manage and grow your creator community:
Creator Management

Creator Community
Management,

Simplified

A dynamic CRM centralizes proprietary creator information & first-party social data, so insights throughout your environment are holistic, robust and exclusively yours.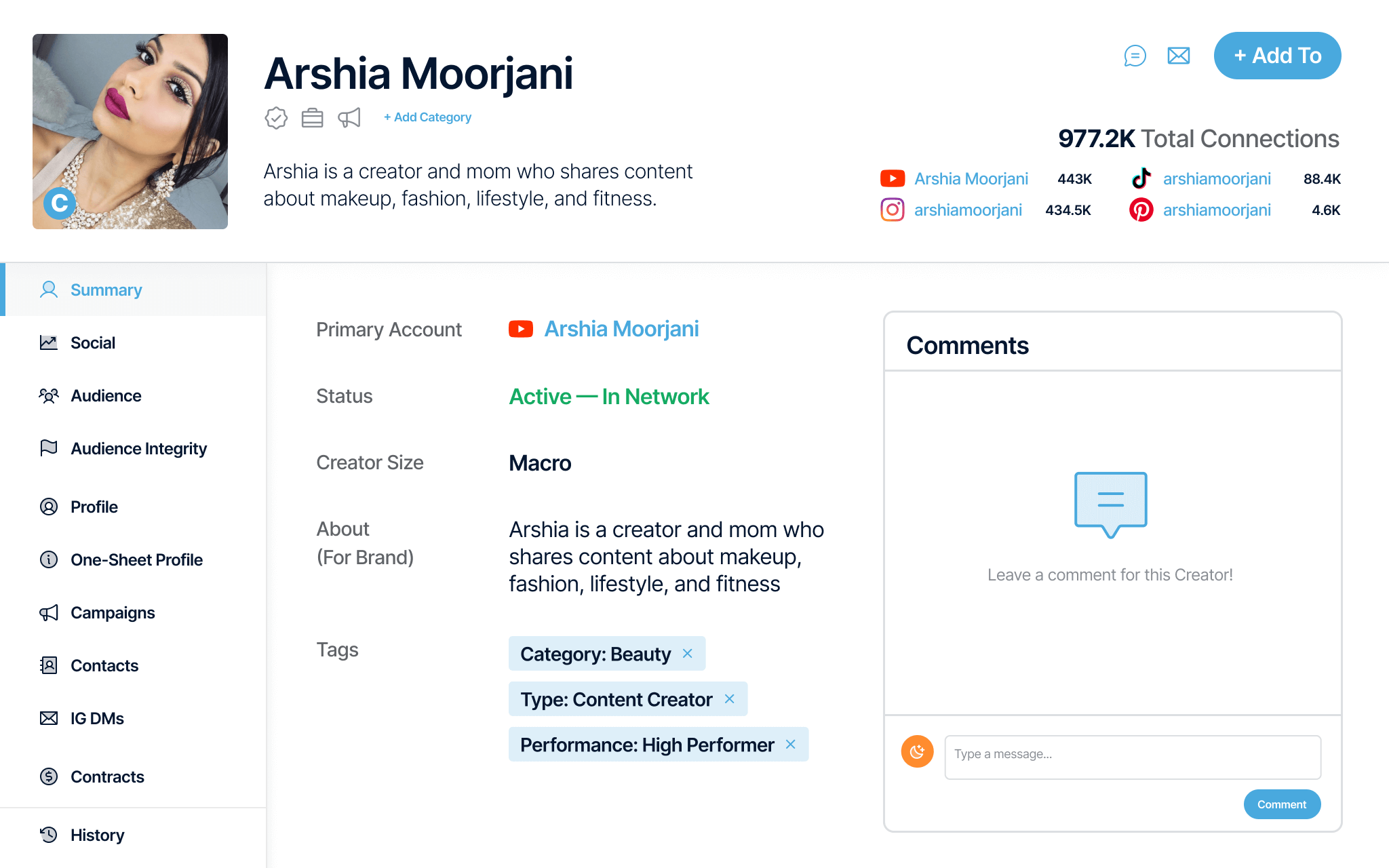 Stay organized to reduce time-to-activation
Use filters and tags for organization, bulk actions, and easier creator selection.
Confidently plan with enriched creator data
Supplement public creator insights with in-depth audience, performance & historical data.
Centralize historical data for future decision making
Track hard-earned partnership details for future program optimization.
Onboarding

Automate Creator Onboarding

at Scale
Branded onboarding portals automate the collection of creator information for maximum scale, minimal errors, and a frictionless experience.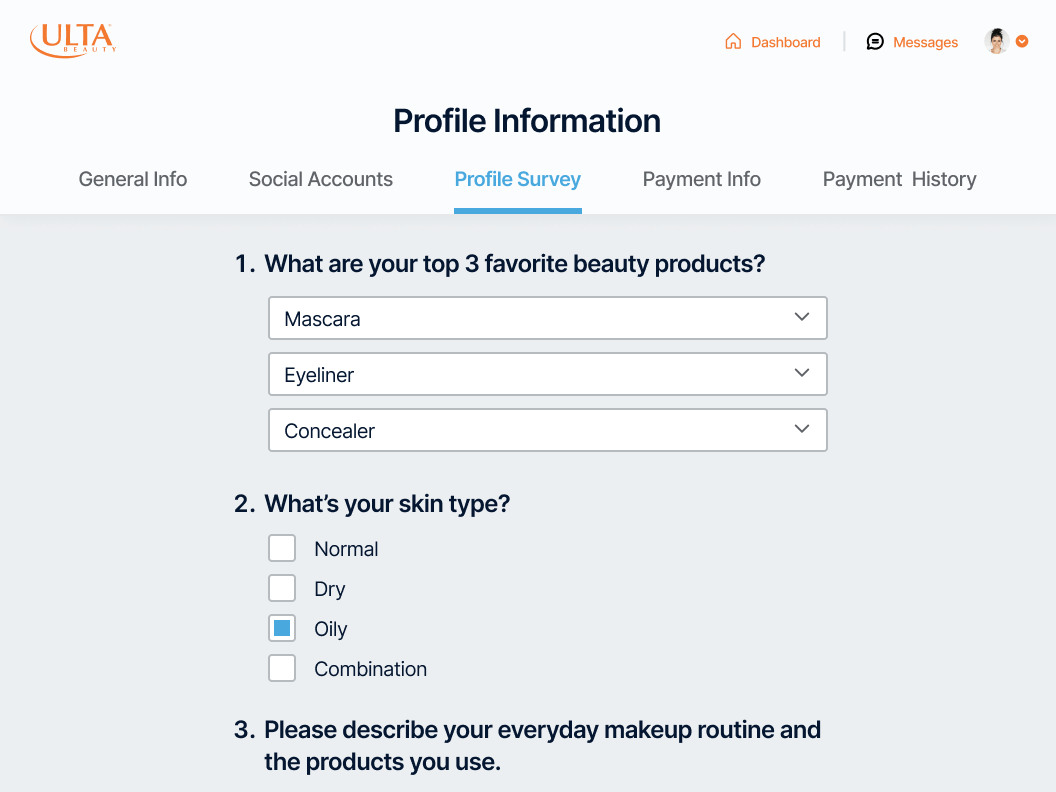 Provide an exceptional experience for creators Offer a consumer-grade and easy to use onboarding destination.
Ease onboarding and recruitment friction Avoid backlogs & missed information by automating intake of creator insights.
Enrich bios by collecting self-reported data Build a stronger, more complete database with detailed information from the start.
Maintain a personal touch Leverage custom questionnaires to aid creator selection & campaign prep.
Outreach

Streamline

Creator Communication

Without Sacrificing Personalization

In-app messaging capabilities are purpose-built to scale your outreach and communications while prioritizing maximum visibility, authenticity, and customization.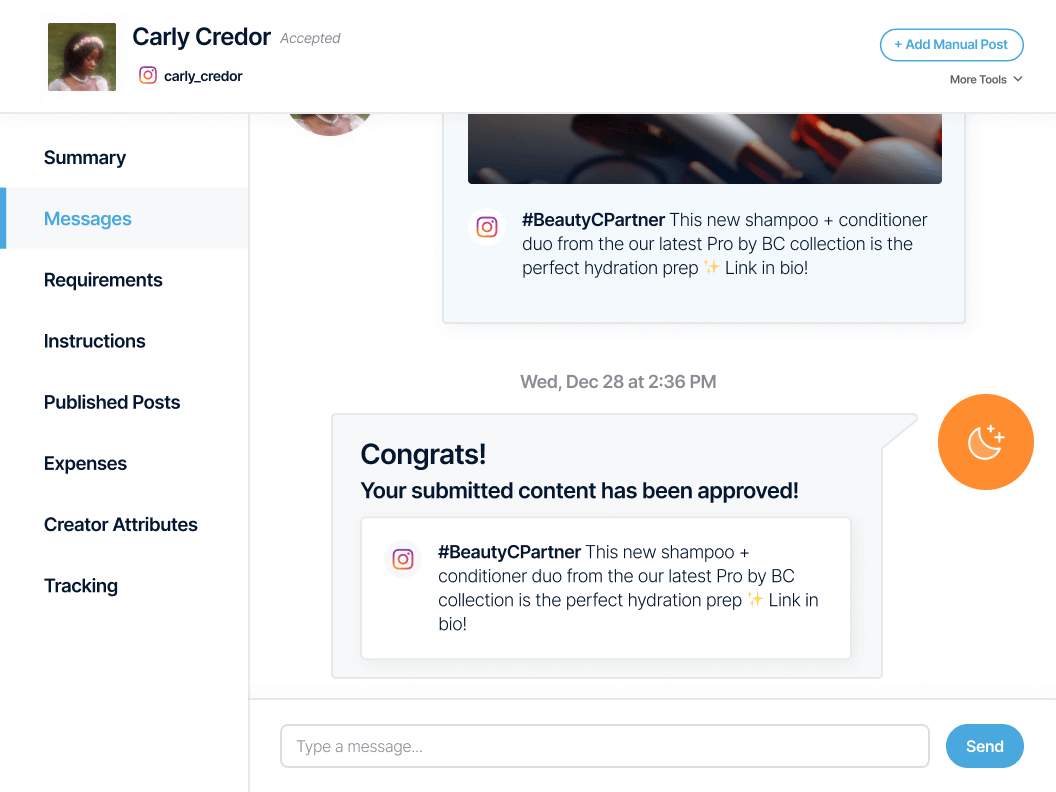 Offer an open line of communication Streamline your workflow by messaging creators directly from CreatorIQ.
Build a professional email programScale & customize outreach with messaging templates & dynamic fields.
Direct message high-potential creators Reduce delays & increase response rates when you message Instagram Creator Marketplace creators with Priority Inbox DMs.
Planning & Approvals

Easily Identify, Segment, and Activate

Impactful

Creators
Eliminate hours of manual work by streamlining creator selection and talent approvals.
Easily manage your
creator database
Efficiently create creator collections for sorting, vetting, or outreach.
View collective metrics
and impact
View and share aggregate or individual creator metrics, audiences, bios, and content.

Create visual showcases
Templatize & automate your talent pitch & approval process with interactive one-sheets.
Creator Destinations

Provide a

Seamless, Professional


Partnership Experience

Guide creators through activations with centralized campaign dashboards that make it easy to review campaign details, requirements, and to create and upload content.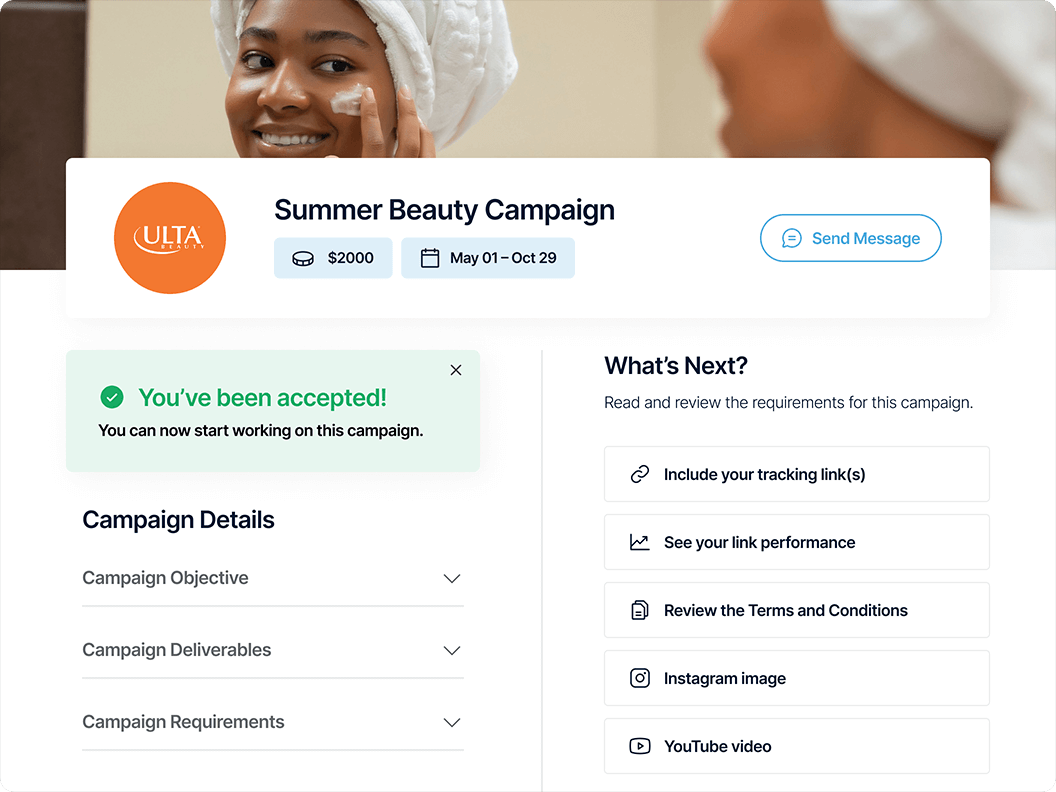 Create on-brand campaign landing pages Customize creator-facing pages to fit your needs & specifications.
Provide creator visibilityOffer a central location where creators can access all campaign information.
Partner with your creators' needs in mind

Make activations easy with a creator-friendly, mobile-first experience

.
Save time and minimize the back and forthReduce manual oversight and chasing required from your team.