For the first time, CreatorIQ surveyed agencies to understand the latest developments in the creator-led marketing space. Marketers at agencies were among the hundreds of respondents whose insights on the creator economy informed our 2023 Influencer Marketing Trends Report. For 90% of these marketers, who were largely based in the U.S., brands made up more than half of their clientele. Further, for 81% of agency respondents, brands comprised greater than 75% of their client base.
The majority of our agency respondents represented four or more verticals. While the trends among agencies mirrored what we saw for brands, agencies had specific priorities and marketing strategies, as well as inclusivity practices. The independent research detailed in the Influencer Marketing Trends Report can aid marketers at agencies in forecasting for 2023, and developing targeted strategies that optimize their influencer marketing programs.
Client Retention, Onboarding Clients Are Priorities for Agencies
Agencies succeed when they drive results for their influencer marketing campaigns, so it's natural that clients are at the forefront of their priorities. For agency marketers, retaining clients was the most important aspect of their influencer marketing program.
This marks a departure from brand marketers, who instead prioritized influencer measurement. Onboarding clients was a secondary priority for agencies, closely followed by measuring the performance of their program.
In 2023, top-performing agencies will focus on how to innovate client retention and onboarding at scale. Half of our agency respondents found both onboarding and retention to be 'somewhat challenging.'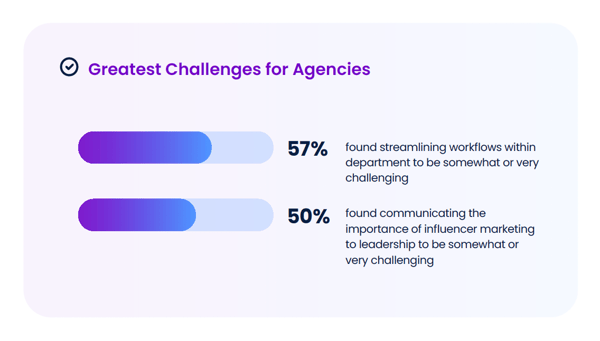 One way to make these processes easier? Using CreatorIQ's creator discovery features, which enable marketers to discover and vet creators, giving back time to marketers at agencies who juggle multiple clients. With CreatorIQ, you can export extensive data on creators for swift approval.
Additionally, as TikTok's first SaaS marketing partner, CreatorIQ's influencer marketing software provides tools to seek out creators who can capture an audience. Agencies looking to maximize the power of TikTok should look no further than CreatorIQ.
Securing Buy-in From Leadership Is Challenging
In 2022, influencer marketing agency respondents reported that their greatest marketing challenges were streamlining workflows and securing buy-in from senior leadership. In all, 57% of agency marketers faced difficulties when streamlining their workflows across departments. Getting attention for various aspects of your program from other teams can be difficult, especially when these teams might have different priorities.
In the fast-paced environment of agencies, streamlining your communications with other teams is critical. Marketers can smooth out this process via CreatorIQ's customizable reporting templates. You can decide what's significant, showcase that information, and send the required information directly to other members in your agency.

Influencer marketing has proved its staying power. Organizations that don't prioritize it miss out on tapping into the power of the creator economy. Even so, 50% of agency marketers found communicating the importance of creator-led marketing to senior leadership somewhat or very challenging.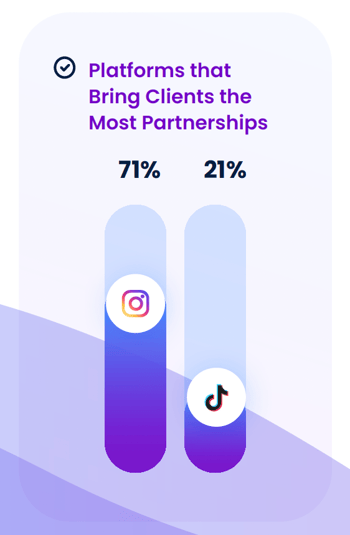 One reason for executives' hesitancy toward influencer marketing is that standardizing measurement in the industry has been a moving target. However, strides toward standardization were made in 2022 via the launch of ANA's industry benchmarks. Additionally, research institutes like Forrester now tackle influencer measurement. Whatever metrics you use to measure your gains, it's important to contextualize its significance when reporting to marketing directors.

Communicating the necessity of creator-led marketing also requires knowledge of the current state of the industry. The creator economy is still figuring out how to best navigate economic uncertainty. Forbes featured CreatorIQ's Trends Report when discussing how brands and creators can still succeed amidst uncertainty. Sophisticated creator-led marketing practices is the key differentiator of best-in-class organizations—the sort that thrive regardless of economic circumstances.

Despite industry changes, the forecast for influencer marketing looks positive. Eighty-three percent of agency respondents reported that their influencer marketing investment increased in 2022. Further, 63% reported an increase in the number of dedicated influencer marketing personnel on their marketing teams.

According to HubSpot's Marketing Industry Report, 89% of marketers plan to increase their influencer marketing budget in 2023. Marketers can be confident in advocating for influencer marketing—after all, the best brands in the industry are doing the same.
Best Practices for Agency Marketing
CreatorIQ can help agencies double down on best practices to drive influencer marketing results. For example, we worked with the award-winning agency Sway Group to improve their CPM by 19%. Our Good to Great report outlines how Sway Group used CreatorIQ for massive campaign gains.
CreatorIQ offers extensive creator discovery solutions, and digital marketing agencies can benefit from CreatorIQ's access to TikTok first party data. First-party insights allow for precision in your campaigns, providing the opportunity to accurately forecast your TikTok performance on a granular level.
It's common to wait until your campaign is finished to measure and report your performance, but a different approach might be even more effective. Build in time for A/B testing into your campaigns—this provides extra time to solve any surprises, while also providing runway space for iteration. What's more, CreatorIQ allows marketers to use real-time data to evaluate and adjust their campaigns before they're even over.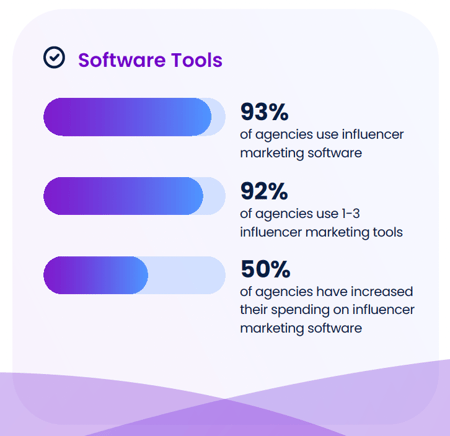 How Agencies Can Use Creator Preferences to Improve Results
Nearly all of our creator respondents reported that creative control was important to them, with 73% indicating that creative control was 'very important.' But creative control and clear briefs are not mutually exclusive: marketers can still request items such as a CTA, specific hashtags, or messaging info.

Rather than overwhelming a creator with a list of asks, identify a few key takeaways, and highlight these must-haves in your brief. Be upfront with creators about how many rounds of approval to expect, then provide feedback on the creator's initial content outline.

Our survey found that 61% of our 200+ creators were part-time, and had not yet replaced their full-time income with content creation. Many creators are still transitioning to professional content creators. Agencies would benefit from educating creators via workshops, panels, or exclusive events, as this breeds a mutual, fruitful relationship.

Long-term partnerships are a central feature of excellent creator-led marketing. When a creator gets the opportunity to develop in partnership with your agency or brand client, they will also invest in you.

For more insights on how agencies use the latest trends to drive ROI, check out our recent webinar featuring industry experts from Pizza Hut, RQ, and Foodie Tribe.