With summer right around the corner, consumers are engaging with travel content more than ever—and savvy brands are taking note. To capture new audiences, travel brands are tapping into the creator economy and leveraging the unmatched reach of influencers via hotel digital marketing.
The hotel industry has made a consistent effort to partner with travel influencers on creator-led campaigns. It's a perfect pairing: social media users love aspirational luxury, which hotel chains are more than happy to provide. By working with creators, hotel brands can provide consumers with an immersive look at the experience in store for them, with creators serving as avatars, advocates, and discerning reviewers.
Ahead of travel season, we're highlighting three hotel brands that are getting creator-led marketing right, and the trends that have driven success for them on social media. So pack your bags, book your flights, and let us whisk you away.
Star Power Sparks Success for Hilton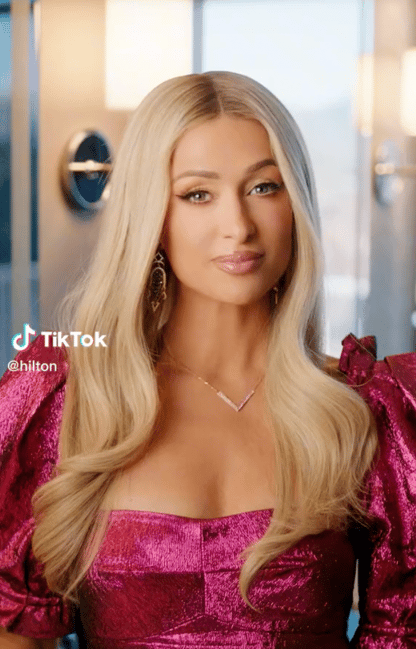 As one of the most iconic brands in the hotel industry, Hilton has to fend off up-and-coming competitors. Fortunately, the long-standing brand has proven its ability to innovate. Throughout Q1 2023, the brand kept things in the family by partnering with heiress Paris Hilton (@parishilton) on an epic 10-minute TikTok promoting the hotel chain. The "10-Minute Stay" initiative targeted Gen Z travelers, offering them a look at all the wild things that can happen when staying at a Hilton.
Paris hyped the campaign by sharing snippets of the video in the lead-up to its launch, teasing collaborations with creators like Chris Olsen (@chris) and celebrities like Ellen DeGeneres (@ellendegeneres). In addition to the video, Paris advertised a chance for her audience to enter a contest to win 1M Hilton Reward Points.
Thanks to her tireless promotional efforts, Paris ranked as Hilton's top Q1 EMV-driver by a wide margin. Paris powered $2.0M EMV across 42 posts, more than double the hotel brand's No. 2 earner. What's more, Paris' posts—and the impact of the campaign as a whole—generated momentum for Hilton more broadly. The brand collected $11.5M EMV, a 13% quarter-over-quarter improvement. Meanwhile, its post volume of 3.6k pieces of content represented a 35% QoQ growth.
Hyatt Drives Hype With Pageants and Partners
Right on Hilton's heels in Q1 was another iconic hotel brand. Hyatt netted $6.8M EMV, a 14% QoQ increase. While just $402.9k EMV of this total stemmed from TikTok, this haul nonetheless represented a 167% QoQ growth, as well as a 1.4k% year-over-year surge. Like Hilton, Hyatt is getting in on the TikTok game, and recognizing that the short-form video platform is a fruitful territory for finding new consumers, particularly among the Gen Z demographic.
Hyatt's momentum stemmed from two main sources: the Miss Universe pageant, which featured events at the Hyatt Regency in New Orleans, and the hotel chain's official partner program, which saw numerous travel creators share content tagged #HyattPartner.
The owned accounts of the Miss Universe pageant across Instagram, TikTok, and Facebook faithfully tagged Hyatt in its chronicles of the event, taking audiences behind the scenes at registration and outfit programs. Miss Universe ranked as Hyatt's top Q1 earner with $992.1k EMV, nearly double the hotel chain's No. 2 EMV-driver.
Meanwhile, #HyattPartner saw immersive content from travel creators like Fiona Chen (@findingfiona__ on Instagram) and Ashlee Moss (@ashleymajormoss). In posts from multiple Hyatt properties around the world, these brand partners shared sponsored content highlighting their incredible travel experiences.
By teaming up with established voices in the social media travel space, Hyatt effectively demonstrated the range of options available to consumers, reaching new and highly engaged audiences from these partners' audiences.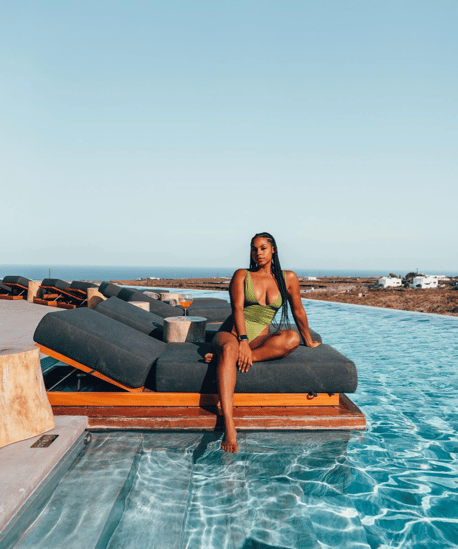 @ashleemajormoss on Instagram promoting Hyatt opening in Greece
Incoming Creators Boost 1 Hotels
A hip alternative to more established, traditional chains, 1 Hotels surged ahead in Q1 thanks to an influx of generative new travel creators. Everyone from musician Ben Platt (@bensplatt) to lifestyle guru Savannah Palacio (@savpalacio) to world-famous canine entertainer Doug the Pug (@itsdougthepug) checked into 1 Hotels throughout the quarter, documenting their positive experiences at the sleek new chain.
Creator content about 1 Hotels emphasized the brand's stylish side, seamlessly positioning 1 Hotels as a go-to chain for luxury-minded globetrotters. Travel creator Tia (@sunkissedcomplexion) named Watr at the 1 Rooftop as one of her five must-try rooftop restaurants in Miami. Additionally, 'experience guide' Uncover More (@uncovermore) shouted out the Polar Lounge at 1 Hotels New York, which featured a custom parka collaboration with luxury outerwear brand Moose Knuckles. Overall, social posts consistently hyped 1 Hotels' unique offerings, helping the brand stand out from the competition.
As a result of all this coverage on social media, 1 Hotels accrued $2.9M EMV in Q1, a 113% QoQ growth. A total of 465 creators mentioned 1 Hotels across 1.2k posts, with these two figures representing respective 28% and 50% QoQ improvements. Nearly all of these mentions came from creators who hadn't posted about 1 Hotels in Q4 2022. This incoming cohort was responsible for $2.6M EMV, or 90% of 1 Hotels' haul.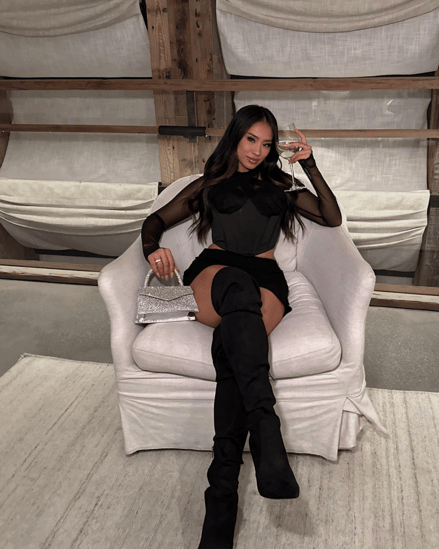 @savpalacio on Instagram, promoting 1 Hotels
Hotel Digital Marketing Proves That the Creator Economy Is Anyone's Game
As demonstrated by the success of these brands on social, creator-led marketing is a game-changer across different industries. Cutting-edge travel brands like Hilton, Hyatt, and 1 Hotels are partnering with creators to spread their message and reach new consumers. With the summer season sure to bring more travel content, we'll be on the lookout for even more creator initiatives in the industry.
To see how CreatorIQ helps leading brands in travel and other industries grow, scale, manage, and measure their influencer marketing programs, schedule a demo today.