Valued at a record $16.4 billion worldwide, influencer marketing has cemented itself as an essential component of the marketing mix for businesses across various industries. As organizations navigate economic uncertainty, effective marketing strategies are needed to maximize the impact of marketing campaigns and ensure growth.
According to HubSpot marketers are still increasing their influencer marketing investments in 2023. CreatorIQ's own survey of 100+ marketers found that a decrease in marketing budget didn't correspond with a decrease in creator-led marketing investment.
We know that influencer marketing works: influencer marketing drives 11x the ROI than other digital marketing approaches. But how can organizations go beyond the scope of influencer marketing to achieve maximum marketing effectiveness? In this blog post, we will explore the power of creator-led marketing, using examples from recent marketing campaigns.
For a deep-dive into how brands like Tiffany & Co., Crocs, Doritos, and Moet & Chandon leverage creator-led marketing to drive influencer marketing ROI, download the full report.
What Is Creator-Led Marketing?
Traditionally, marketers use influencer marketing as an isolated channel. Creator-led marketing, however, amplifies creator-driven assets across various areas of your business.
Creator-led marketing allows brands to produce resonant content at scale. Brands outsource content creation to experts who have a deep connection with consumers: creators themselves. This approach increases your marketing effectiveness due to the lower cost needed to generate impact.
Creator-led marketing is an effective strategy for brands to connect with their audiences in a more authentic, relatable way. Assets that feature creators perform better than traditional digital advertising across paid, earned, and owned channels. Brands that take advantage of this winning strategy stand to outpace their competitors
What Do Effective Marketing Strategies Look Like?
Crocs has leveraged creator-led marketing by partnering with creators to promote its iconic footwear.
For a recent campaign, Crocs partnered with four brand fans who weren't part of its typical roster. Instead, Crocs found partners who were a good fit for the campaign by reaching out to organic brand fans.
Crocs provided creators with a brief. Notably, the brand granted creators the freedom to promote the new shoe in a way that resonated with their audiences. This approach allowed for content that connected with fans on a deeper level.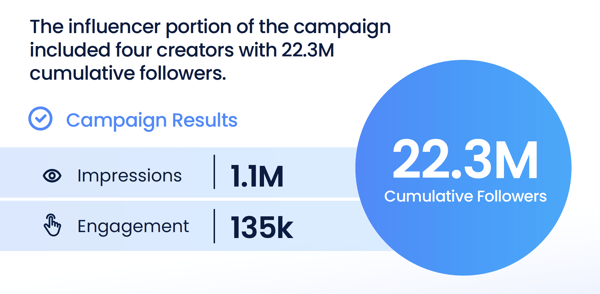 The influencer portion of the campaign included four creators with 22.3 million cumulative followers, generating 1.1 million impressions and 135.0k in engagement. CreatorIQ was crucial for streamlining the campaign, from identifying out-of-the-box content creators to providing one-sheets for quick approvals and reporting capabilities that reflected Crocs' KPIs.
What made this campaign an effective form of creator-led marketing? Crocs didn't solely rely on creators to share content about the new release. The brand also amplified creator assets by making these assets part of a broader campaign. By tapping into non-traditional creators to promote its products, Crocs expanded its reach and connected with new audiences.
Our recent report, Effective Marketing Is Creator-Led, offers more details on how Crocs leverages value-driven campaigns. You can also check it out to learn more about Tiffany & Co's effective marketing strategies.
How Doritos Maximized Creators, and the Super Bowl, to Grow By 415% YoY
The food and beverage industry is a competitive space, especially as consumers decide what purchases are essential to them amid economic uncertainty. Creator-led marketing is a game-changer for brands looking to stand out from the crowd. Take Doritos, which leveraged the power of creator-led marketing to drive engagement and sales in Q1 2023.
Household brand Doritos thrived by appealing to consumers' cravings and taking advantage of Super Bowl fanfare. Its recent Super Bowl campaign featured musicians Jack Harlow, Missy Elliott, and Elton John, and generated 1.9 million engagements between Feb 1-13.
Related: Check out The Brands and Creators That Won The Super Bowl
Prior to the Super Bowl, Doritos had already enjoyed an impressive January, with $30.7 million EMV in the U.S. alone. Additionally, the brand held a social media-fueled audition, encouraging creators to audition to appear in the brand's forthcoming ad, #DoritosTriangleTryout. This hashtag generated 5.9k posts from 2.7k creators, resulting in $27.2 million EMV.
In all, Doritos powered $41.1M EMV in Q1, up 276% from the previous quarter. The brand experienced a community expansion, growing to 3.9k creators (a 353% increase from Q4 2022). Due to the brand's creator-led marketing efforts, its content volume skyrocketed by 409% quarter-over-quarter (8.6k pieces of content).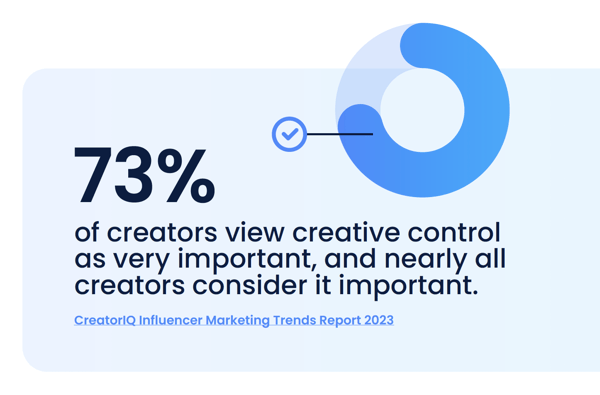 Doritos' success was due in part to its multi-channel approach to creator-led marketing. The mix included live events, branded content on social media, contests, and even a foray into the metaverse. This approach allowed Doritos to reach a wide range of audiences using the "find your angle" concept from the campaign.
Effective marketing doesn't have to break the bank. Creator-led marketing is a cost-efficient way to drive engagement and sales no matter the economic climate. By leveraging the power of creators, brands like Doritos are able to stand out and thrive even in highly competitive industries. Download our report to learn how luxury beverage brand Moët & Chandon did the same.
Related: Check out TikTok Marketing Best Practices for Food & Beverage Brands
How do you measure influencer marketing ROI?
Measuring marketing effectiveness is complex, but essential to any marketing plan.
Outline your influencer campaign goals, so that you use the most relevant metrics to track your performance.
Decide on your influencer marketing benchmarks. CreatorIQ clients use benchmarks like

earned media value (EMV)

,

social media value (SMV)

, engagement rate, and

conversion

.
Track your campaign, taking inventory before it's over so that you can pivot if needed.
Share the results from your campaign with stakeholders. CreatorIQ has software tools to help organizations

track ROI

.
Which Marketing Strategy Is Most Effective? Creator-Led Marketing
Brands that prioritize creator-led marketing are reaping the benefits of greater ROI, improved engagement, and resonant content. As the industry evolves, tracking return on creator spend (ROCS) will become even easier, allowing organizations to craft accurate media mix modeling. To stay ahead of the curve, it's crucial to invest in the right channels, content types, and creator profiles.
To learn more about how creator-led marketing can drive tangible results for your organization, download our full report. With CreatorIQ's tools and insights, you'll have the power to make data-driven decisions that will take your brand to the next level.
Frequently Asked Questions
What is creator-led marketing?
Creator-led marketing is an always-on, multi-channel strategy used by winning brands. Creator-led marketing is the most effective marketing strategy because it allows brands to scale their growth via creator assets.
What is the difference between influencer marketing and creator-led marketing?
Influencer marketing is typically treated as a single channel within an overall marketing program. Because creator assets perform better than traditional advertising, creator-led marketing is the practice of driving these assets across various channels.
How effective is social media marketing?
Marketing on social media platforms enables brands to take advantage of the power of word of mouth. Consumers trust creators more than traditional brand spokespeople, so using social media platforms, especially via creators, is a great way to reach your target audience.
CreatorIQ works with platforms like TikTok and Meta to bring organizations like yours insights directly from the source. Hear how from experts in our recent webinar in partnership with Meta: Outperform the Competition with Branded Content Ads.
What does marketing effectiveness look like for fashion brands?
Fashion brands stand to benefit from large creator communities who share GRWM posts, or their outfit-of-the-day. Effective marketing for fashion brands is capitalizing on the everyday conversation about their products while generating buzz around special events. Fashion brands can use creator commerce strategies to improve tracking and ensure influencer marketing ROI.
What are influencer marketing ROI strategies for food and beverage brands?
Marketing effectiveness for food and beverage brands can depend on whether your brand is casual or luxury. Marketing your company as either an everyday or a special occasion brand can make your brand desirable despite consumer purchasing patterns. Leveraging video and giving creators control over their content are other best practices for the vertical. Learn how to use TikTok for food and beverage brands in our Guide to TikTok Influencer Marketing for Food & Beverage Brands.