In case you missed it, CreatorIQ's Chief Business Development Officer, Tim Sovay, recently had the opportunity to sit down with TikTok leaders Sam Kimmel (Creator Partnerships) and Esteban Ribero (Global Research) to discuss how creators are no longer just supporting brand awareness and product discovery—instead, they're driving serious e-commerce for brands. Nowhere is this shift more apparent than on TikTok, which has enabled both small- and large-scale creators to power viral impact in a way unmatched by any other platform.
Moderated by Danielle Moore, Digital Producer at AdWeek, the panelists highlighted how TikTok creators are uniquely positioned to drive conversion, shared insights into consumer purchasing decisions, and described how creator commerce is disrupting the roles of social and influencer marketers. Featuring TikTok's new research report, the webinar offered a range of granular data, including trends across TikTok ad formats.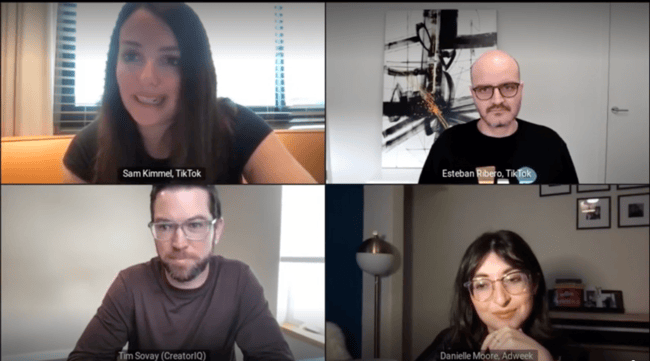 Whether you had the opportunity to tune into the live conversation or were just too busy to join, we broke down key takeaways from the webinar to help inform your understanding of social commerce's growing role in the creator economy.
Today, Creators Drive Commerce—Here's Proof
In 2023, creator-led marketing officially outpaces digital marketing, with respondents in our recent report indicating that creator-led marketing comes as a top priority for brands, second only to owned media channels. Likewise, according to Shopify, in 2022 businesses were making $5.20 for every $1 spent on influencer marketing.
Social commerce is projected to reach a whopping $1.3B in 2023 (Statista). CreatorIQ has observed a 241% year-over-year growth in #TikTokMadeMeBuyIt creator videos, as well as a 218% YoY boost in engagement with these videos. Additionally, we've registered a 279% YoY spike in creator-led campaigns, while 34% of creator campaigns with CreatorIQ include TikTok.
Most importantly, creator campaigns are actually driving bottom-funnel results for brands.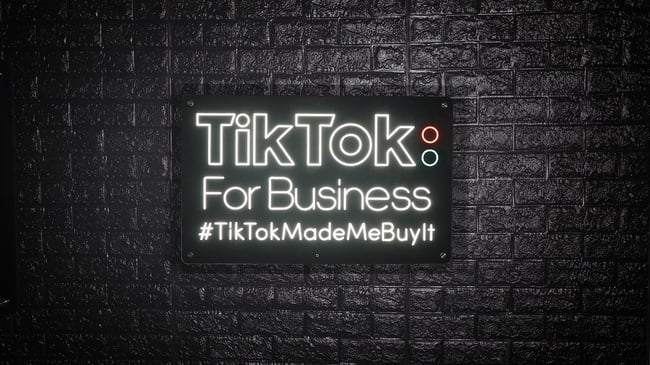 Creators Connect with Consumers, Inspiring Concrete Actions
Whereas top-funnel results, like brand awareness and product discovery, are pivotal components to a brand's marketing strategy, the long-term goal is typically to achieve bottom-funnel results, like sales and ROI. What's unique about creator-led commerce is its ability to drive considerable results through all phases of the marketing funnel, from awareness to revenue.
As trusted members of the TikTok community, TikTok's research indicates that the majority of users always rely on reviews or creator recommendations when online shopping. Why? Because creator content generates substantial interest from users who believe their opinions to be authentic and genuine. Consumers regularly seek out more information about a product or brand after learning about it via a creator endorsement. Ultimately, this interest motivates action that yields results: according to TikTok, more than half of TikTok users who viewed a creator advertisement subsequently went to see the product or brand in person, searched online for more information about the product or brand, or actually bought the product.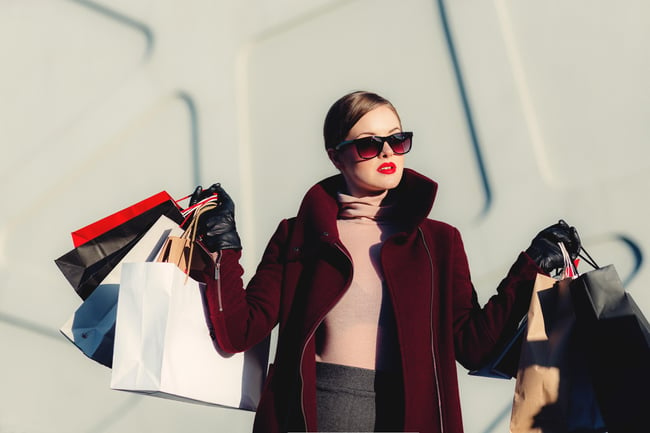 TikTok's Menu of Creator Tools Offer Unique Benefits
Similar to other marketing campaigns, there are optimal methods and formats to garner results, which depend on various factors.
Spark Ads:

This method might be perceived as the most organic form of creator content. A spark ad is posted directly by a creator on their handle, and a brand then has the ability to 'boost' the ad. The benefit of using spark ads is that the format offers a seemingly authentic method of advertising, helping to cement consumers' trust in a brand.
In-Feed Ads:

In-feed ads are co-created with TikTok creators and posted on the brand's handle. These typically include a call-to-action button, such as 'shop now.' In-feed ads are an effective method of showcasing a brand's creativity, and inspiring viewers to learn more about the product or brand.

Live Ads:

These ads are posted on a brand's handle and feature a creator. What's most unique about this format is its ability to allow a simulated live-chat in the comment feed. Live ads are optimal for sparking community engagement, and often foster a sense of in-person shopping without the hassle.


Creator marketing is here to stay, and brands leveraging the practice via TikTok are seeing successful, measurable results, ultimately driving both top-and bottom-funnel business impact.
What was once a "nice-to-have" marketing channel is now necessary for organizations looking to scale and mature. With creator-led assets performing better than ever, the next chapter of influencer marketing requires an integration throughout your brand's marketing programs—e-commerce in particular.
Want to learn more about how creator-led marketing powers impact for brands?