Spooky Season is officially here, and TikTok creators aren't waiting for October 31 to celebrate the most haunted days of the year. While "creepypasta," or viral content designed to send chills down your spine, has proliferated on social media since the early days of Tumblr, TikTok has become a special home for fans of the supernatural and macabre. A quick search of trending hashtags #HorrorTok and #ScareTok, which have accrued a respective 21.4B and 123.4M views to date, opens up a rabbit hole of goosebump-inducing videos, from found-footage ghost sightings and creepy creatures to horror movie clips guaranteed to interrupt your sleep.
As TikTok's popularity continues to grow, so do its spookiest corners: from September 2021 to August 2022, the total number of creator posts tagged #HorrorTok (1.6k) increased 25% relative to the previous 12 months, fueling a 57% year-over-year growth in the hashtag's Earned Media Value (EMV) of $20.6M.
Like most popular conversations on TikTok, creators' enthusiasm for haunted happenings is a largely organic phenomenon, but that doesn't mean brands can't join in on the fun (and fear). With Halloween just around the corner, we've rounded up a few of the ways that brands across categories—from beauty to entertainment to home decor—have leveraged savvy TikTok marketing to capitalize on creators' thirst for thrills, both in October and beyond.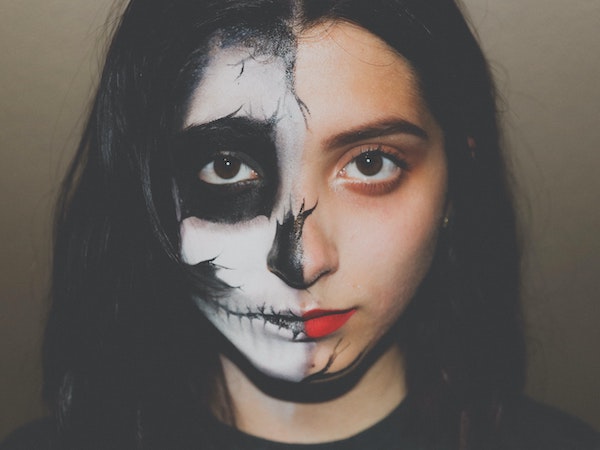 TikTok Creators Tout SFX Makeup Brands in Spooky Looks
It's no secret that Halloween is a major holiday for the online beauty community, with many creators dedicating the entire month of October to sharing special-effects makeup transformations. But for many TikTok creators, surreal and sometimes downright frightening makeup art isn't just for Spooky Season—and neither are the brands that make it possible.
Mehron Makeup, known for SFX cosmetics products like Liquid Latex, which comes in shades including "Light Flesh" and "Zombie," has emerged as a go-to for creators like self-described "haunter" Zoraa Lutas, whose eerie looks have earned her 5.5M TikTok followers. From September 2021 to August 2022, the SFX expert powered $188.9k EMV across 12 posts in which she used the brand's offerings to shape-shift into demons, monsters, and other nightmarish creatures. Altogether, TikTok content accounted for $1.4M of Mehhron Makeup's net $81.8M EMV during the time period monitored, with this figure representing a 10% year-over-year improvement in the brand's proportion of TikTok EMV.
Another Halloween favorite, stage makeup brand Ben Nye also enjoyed its share of endorsements in otherworldly looks, including an elaborate "Alien Unicorn" tutorial by Gen Z SFX artist Ruby. Although TikTok generated just $276.4k of the emerging brand's net $14.9M EMV from September to August, Ben Nye saw a sizable 134% YoY increase in EMV via the platform. Notably, and unsurprisingly, Mehron Makeup and Ben Nye both posted their strongest performance in October, collecting a respective $26.4M and $4.7M EMV—32% of each brand's total during the time period monitored—over the month of Halloween.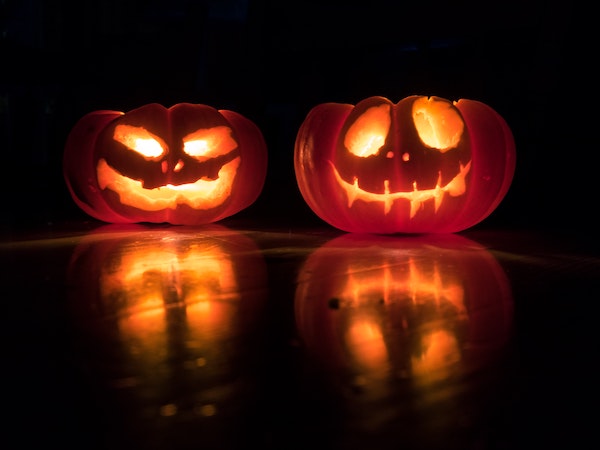 Streaming Services Hype Scary Movies on #HorrorTok
Whether you're a horror buff or you can't watch "Stranger Things" with the lights out, there's no denying that scary movies are a staple of Spooky Season. Last year, major streaming services moved to satisfy consumers' craving for jump scares with timely, creator-led TikTok campaigns promoting Halloween classics and new horror titles.
Hulu, for example, generated enthusiasm for a screamworthy lineup, featuring "The Exorcist" and "The Blair Witch Project," by partnering with TikTok creators like Jason Cline on its #Huluween initiative. Jason, a mega-influencer known for bite-size true stories that range from creepy (parasites) to cringeworthy (plastic surgery mistakes), hyped #Huluween via three posts, including a humorous prank on his partner and a round-up of his lesser-known horror favorites. Thanks largely to participants' original, offbeat takes on the activation, mentions of #Huluween garnered $445.1k EMV across platforms in Fall 2021. Hulu as a whole netted $246.9M EMV from September 2021 to August 2022, a 79% year-over-year increase fueled by a 483% surge in the brand's TikTok EMV ($24.3M).
Amazon Prime Video also catered to audiences' desire for seasonal thrills via a TikTok marketing campaign surrounding the launch of murder mystery series "I Know What You Did Last Summer." Brand partners like Kris Collins riffed on scenes from the show, and shared their theories about the killer, in content tagged #IKnowWhatYouDid, which powered $6.9M EMV via 157 creators from September to December 2021. During the entire 12-month period monitored, TikTok posts generated $30.9M for Prime Video, a 21% YoY improvement that contributed to the brand's 28% YoY growth in total EMV ($261.4M).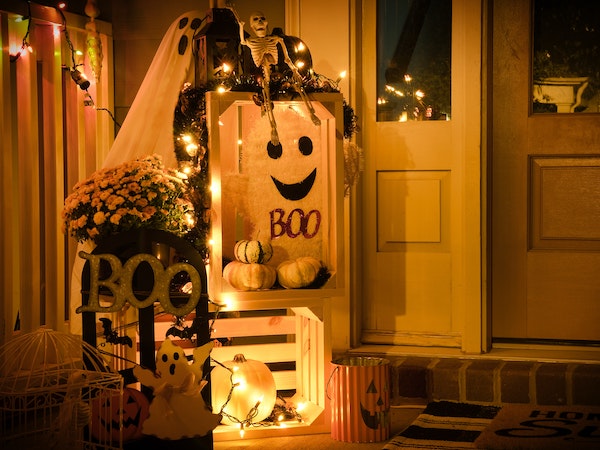 Home Brands Tap Into TikTok Creators' Enthusiasm for Halloween Decor
From jack-o-lanterns and glow-in-the-dark cobwebs to dancing skeletons, spooky decorations are what make Halloween feel like, well, Halloween. Home brands and retailers have been quick to harness TikTokers' enthusiasm for holiday pieces, inviting creators to highlight their favorite Halloween finds.
Interior design expert Paola Medina, for example, endorsed Amazon Home in two October 2021 videos, comprising a round-up of creepy decor ideas and an elaborate Halloween tablescape. The e-tailer's seasonal selection also enjoyed more widespread shout-outs from TikTok creators in both paid and organic Halloween content, including official Amazon partner Danielle and nano-influencer Cassie. In all, 148 creators across platforms mentioned Amazon Home in conjunction with #HalloweenDecor from September 2021 to August 2022, collectively generating $918.3k EMV. TikTok content about the brand accrued $28.2M EMV during this time frame, a 105% year-over-year growth, while Amazon Home as a whole netted $142.1M, a 90% YoY surge.
Meanwhile, HomeGoods collected an impressive $1.4M EMV via #HalloweenDecor content across platforms, bolstered by TikTok conversation surrounding its affordable holiday offerings. While "friendly neighborhood goth" Dre Ronayne featured products from the retailer in an extensive "Halloween haul," lifestyle creator Kathy Vu devoted an entire video to her Halloween purchases at HomeGoods. Holiday excitement helped HomeGoods increase its TikTok EMV by 222% YoY to $6.1M, which proved to be over 10% of the brand's $58.5M total from September 2021 to August 2022.
As we put the finishing touches on our costumes for IRL Halloween parties, TikTok creators are more than ready for their favorite holiday—and they're eager for brands to celebrate with them. But don't expect TikTokers' penchant for creepy makeup and scary stories to dissipate come November: for #HorrorTok devotees, Halloween is year-round (even if marketing campaigns are typically seasonal).
Notably, #HorrorTok is just one of myriad niche subcultures that have proliferated on TikTok. The platform's wide range of distinct, close-knit communities presents an opportunity for brands to reach hyper-targeted, deeply passionate audiences. As TikTok's first SaaS-only influencer marketing partner, CreatorIQ provides users with first-party data and insights on creators and their content, enabling teams to plan strategic campaigns and assess their impact. To learn more about CreatorIQ's TikTok marketing capabilities, use the link below.
Level up your TikTok influencer marketing strategy.