Report

Influencer Marketing

Trends Report
Dive into the latest data-driven insights on the creator economy
For the fourth iteration of our annual Influencer Marketing Trends Report, we polled hundreds of brands, agencies, and creators on the latest creator economy trends.
Discover the state of the industry, including which creator marketing strategies reign supreme, what challenges marketers are facing, and how Industry Leaders measure their influencer marketing performance. Backed by exclusive statistics, this report is an invaluable tool for anyone looking to stay ahead in the influencer marketing game.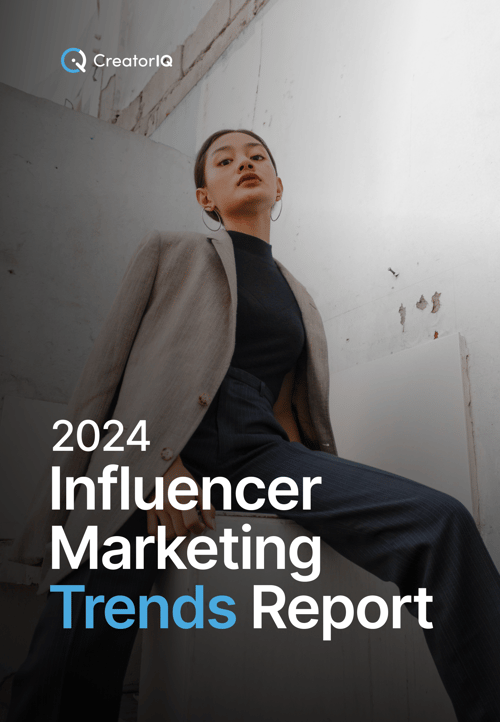 What you can expect:
Strategies & ROI: Uncover which marketing strategies contribute to brands' bottom lines. How have content production costs changed over the past year, and how do these costs compare to traditional digital advertising?
Tools & Analytics: Learn the preferred tools brands use to track creator performance and fully measure ROI.
Platform Preferences: Which social media platforms are most integral to brands, and how have these preferences evolved YoY? Discover how video has fared, and which new platforms are becoming essential to marketers.
Industry Leaders: For the first time in our survey's history, you can truly see what sets iconic brands apart. What do the companies with the highest creator marketing returns prioritize, and how can you implement these practices in your own program?
Creator Partnerships: Learn what creators prioritize in brand partnerships, as well as what brands and agencies pay creators.
Investment Trends: Discover why 55% of brands invest $1M+ in influencer marketing annually, and see how creator-facing teams have transformed YoY.
Equip yourself with the knowledge to navigate the future of influencer marketing.
Excited to learn more? Check out our webinar.
Check out the latest in
creator marketing
Thought leadership and actionable insights to grow your program
Grow with creators.
Scale

with CreatorIQ.
CreatorIQ is the engine powering impactful creator marketing for the world's most innovative and iconic brands. Together we'll raise the bar for what creators can deliver for your business.