The shape and impact of the creator economy is swiftly evolving. Various social platforms and organizations have developed creator tools, funding, and other incentives that make use of the charisma and influence that creators provide. In turn, creators have produced more video content than before, altering the makeup of social media platforms and driving e-commerce. With so much change, taking the pulse of the influencer marketing space is crucial for organizations that want to bring creator-led marketing to the next level.
We surveyed hundreds of brands, agencies, and creators to capture data-driven insights on how the creator economy has evolved over the past year. We questioned respondents on the most effective influencer marketing activations, ROI on social media platforms, priorities for their influencer marketing program, how much brands pay creators, and more. Finally, we summarized these findings in CreatorIQ's Influencer Marketing Trends Report. Here are a few of our key findings.
Influencer Marketing Investment Is on the Rise
Many organizations realize the power of adding creator-led marketing to their suite of marketing strategies. Despite signs of an economic downturn and the lingering effects of the COVID-19 pandemic, influencer marketing spend for organizations increased over the previous year. Sixty-seven percent of surveyed brands spent more on influencer marketing from September 2021 to August 2022 than they did the year prior (September 2020 to August 2021).
Additionally, influencer marketing teams are expanding: 61% of brands reported that the number of dedicated influencer marketers at their companies grew, up from 52% of brands who reported an increase in 2021. In fact, 55% of brands reported having three or more dedicated influencer marketing personnel. For marketing agencies, 96% of respondents reported having three or more dedicated influencer marketing personnel.
In an industry valued at an estimated $16.4 billion, rising influencer marketing spend signals that creator-led marketing is a key driver of ROI. Organizations like Disney, Amazon, and ABinBev rely on influencer marketing software to scale their programs and provide features that simplify influencer measurement—like the ability to access first-party audience data on TikTok.
Video Has Permanently Shaped the Landscape of Creator-Led Marketing
While TikTok has taken the creator economy by storm, and lodged itself at the forefront of virality and culture at large, Instagram is still the most popular platform for brands, agencies, and creators. In fact, 99% of creator respondents regularly use Instagram. Further, 66% of brand respondents selected Instagram as the platform that delivers the most ROI.
However, TikTok is swiftly closing the gap, driving brands to adjust how they approach marketing activations and creator discovery. Twenty-six percent of brand respondents viewed TikTok as the social media platform that generated the most ROI. For more insight on how enterprises approach marketing activations on TikTok, check out our Guide to TikTok Influencer Marketing for Major Enterprises.
Regardless of their preferred social media platform, respondents overwhelmingly pointed toward video content as the next locus of innovation. In fact, 71% of creator respondents deemed Instagram Reels the most effective type of Instagram content.
The proliferation of short-form video content means that in 2023, successful brands will partner with creators who are comfortable with video, and know how to capture an audience's imagination.
For a breakdown of how brands, agencies, and creators approach social media platforms, check out the Influencer Marketing Trends Report.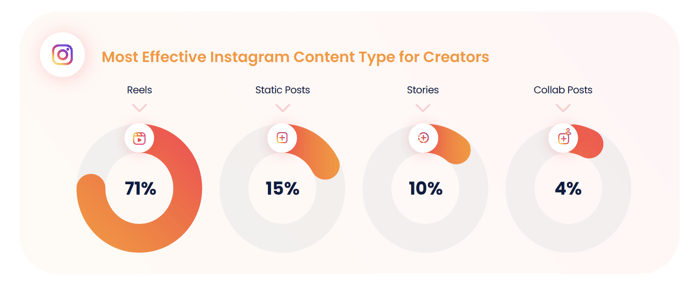 Brands Compensate Creators More than Before
When it comes to paying creators, the industry has come a long way. Fifty percent of creator respondents received more compensation than they had the previous year, while brands reported paying a greater proportion of their creator partners than the previous year.
Creators care about compensation: it was cited by respondents as something they hoped to see improve in the upcoming year. Compensation was also the No. 1 contributor to creators' satisfaction with brand partnerships, and affects whether a creator will choose to share content that showcases a brand. However, the single most important factor in determining whether a creator will partner with a brand is not compensation—it's product quality.
In 2021, creators also reported that product quality was the most significant factor in deciding to promote a brand via their content. Brands may take this as a meaningful signal: above all, demonstrating the quality of your offerings is the fastest way to a creator's heart.
The significance of product quality in brand partnership decisions also explains the continued effectiveness of sending products to creators who have demonstrated brand affinity. Creators who love your products will be eager to develop a lasting relationship with your brand. Contrary to popular belief, very few creators are willing to promote products they don't love.
There's no doubt that creators drive consumer purchasing decisions—even paid advertisements are more impactful when they feature creators. Brands will gain from paying creators a fair rate, as solidifying trust and jumpstarting mutually beneficial relationships will pay dividends. With CreatorIQ, you can send payments to creators directly in the influencer platform, streamlining creator payments significantly.
The majority of brand respondents paid nano and micro influencers with fewer than 100k followers between $500-$2.5k for a single Instagram post. To see how much brands paid creators with varying follower counts, check out the full Influencer Marketing Trends Report. You'll also get a deep-dive into how creators work with brands via both paid and unpaid partnerships.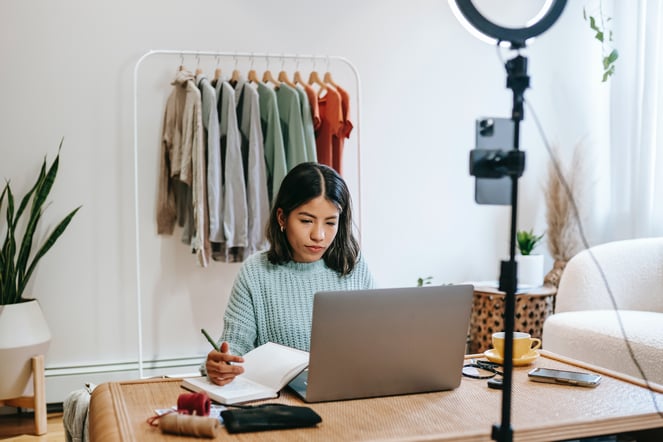 Conclusion
While the shift in influencer marketing trends over the past year present an optimistic picture of the creator economy's growth potential, many of the roadblocks marketers face remain the same. How do you optimize an influencer marketing program with a limited budget? How do you measure the performance of your program to secure buy-in from stakeholders?
You don't have to do it alone.
The most robust creator marketing programs take the latest creator economy trends into consideration when determining quarterly goals. These organizations take note of the most effective strategies in the industry and implement them accordingly. Time and again, these industry leaders turn to CIQ.
Want to ensure your creator-led marketing program is the best out there?