Table of Contents
Our Series C Investment Focus Areas:
Opening Letter
We are excited to announce a $24MM Series C investment round with financing by Kayne Partners Fund, the growth private equity group of Kayne Anderson Capital Advisors, L.P., with participation by TVC Capital and Unilever Ventures. Over the past twelve months, our momentum has accelerated to become the world's largest and most advanced influencer marketing SaaS platform, topping off a fifth straight year of over 100% growth.
"CreatorIQ, as the most advanced enterprise technology in the influencer marketing space, is consistently the top choice of global marketing leaders looking to bring enterprise technology & data ownership in-house," said Nishita Cummings, Managing Partner, Kayne Partners Fund. "We are excited to partner with CreatorIQ to support the company's plans for accelerated growth as it cements itself as the pure-play SaaS leader in the influencer marketing software category."
To further accelerate our global momentum and differentiation, we are focusing our Series C on five strategic areas including an all-new user experience, data science, paid media & advanced measurement, global expansion, as well as strategic alliances & partnerships. Our plans for partnerships are already underway with the recently announced CreatorIQ Certified Partner Program launching with five inaugural partners, including Collectively, Digital Brand Architects, Everywhere Agency, ShopStyle, and Sway Group.
"As Marketing leaders accelerate their transformation strategies to close their in-house gaps across their marketing capabilities, they are uniting best-in-class technologies with leading data providers," said Igor Vaks, Founder & CEO, CreatorIQ. "These marketing leaders are seeking to own their influencer marketing technology & data in order to elevate cross-team, increasingly remote collaboration consistency, ensure enterprise security & compliance, and provide data transparency."
User Experience
Already number one on G2's Relationship Index, we are looking to further advance our best-in-class user experience.
A Faster, More Intuitive Platform: We recently launched a limited, beta version of an all-new, more modern experience of our platform. The New CreatorIQ Experience is a complete overhaul of the platform interface focused on simplicity, usability, and performance. We've upgraded user-facing elements to deliver easier navigation, better readability, and overall ease of use. With particular emphasis on Discovery, upgrades include new, crystal clear search & filtering capabilities, where a more intuitive organization and workflow helps users master Creator searches from the start. Finally, we've retooled data performance within Discovery, which means that your much easier search and filtering also yields the strongest and most relevant results from both text and image criteria. Our data and performance improvements ensure that a better Discovery experience happens on both the front and back end. All clients will have access to the beta version of the new platform in the coming weeks, and a full migration is planned for later this year.
Original User Interface Example: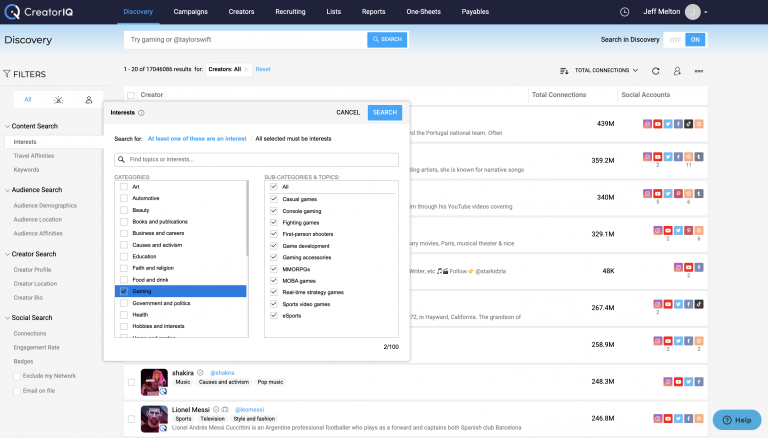 New User Interface Example: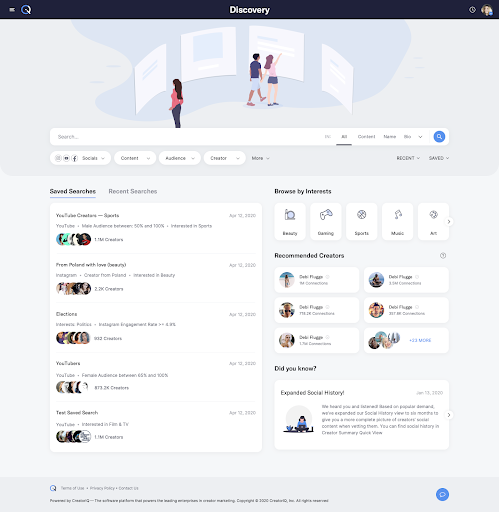 Enterprise Business Unit Management: As a growing number of our customers scale their enterprise deployments of CreatorIQ across in-house business units and partners - i.e., offices, regions, clients, agencies, and more - new levels of personalized controls are needed. To meet these needs, we have released a breadth of new advancements to permissions, user rights, and divisioning so that our customers can more easily restructure teams with unique requirements and or merge different teams for consistency. Our customers can easily set-up partners such as agencies with their Unit(s) - and those partners can personalize & white-label with their branding, all while adopting approved controls.
Managing newly created or segmented Units, controls, and customization flexibility, e.g., white-labeling for environments & templates, can be owned by the Global Network Admin or by an all-new Unit Admin. And with new Executive Dashboards, users can see the key performance metrics, benchmarks, and other essential business data for any combination of Units, helping to monitor the integrity of an enterprise deployment across thousands of united users.
Data Science
We were recently named a Leader in the Forrester New Wave™: Influencer Marketing Solutions, Q2 2020 Report. In that same report, we were the only Influencer Marketing Solution to have perfect scores across all four Data & Measurement criteria including Data Science Capabilities, Influencer Data Access, Influencer Data Management, and Measurement & Reporting. But while we are already recognized as the data science leader, we aren't resting on our laurels.
‍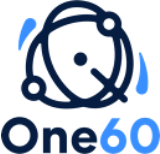 Introducing One60™, CreatorIQ's new machine learning & predictive analytics engine. Currently in beta after 2 years of development, One60™ powers CreatorIQ's new Visual Insights - with plans to power Brand Safety, Content Prediction, Influencer Recommendations, and Brand Detection in the future. One60™ has applied 13K unique labels to over 32MM images to help our customers make smarter decisions about creator content in a fraction of the time.
‍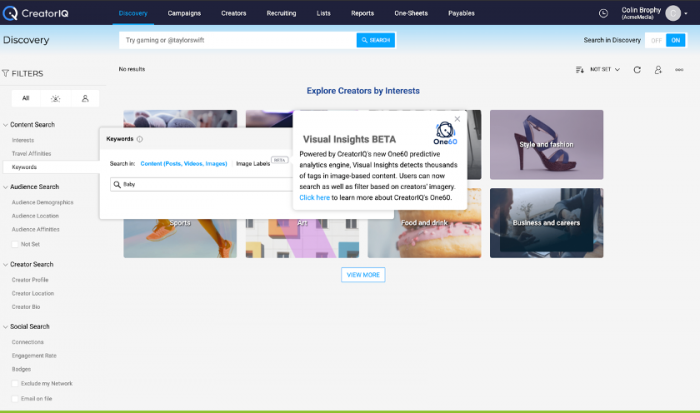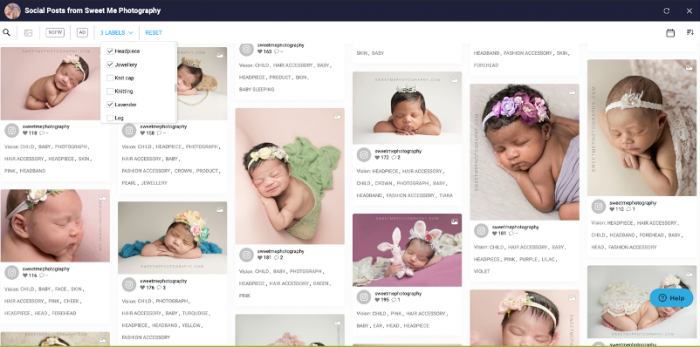 For more about our data science-related thought leadership, watch our session from Social Media Week here.
Strategic Data Services: As our customers accelerate wider deployments of our technology, they need support with the emerging skill sets related to influencer marketing data. In a report by Dentsu Aegis, 84% of global CMOs believe that data collection, management, and analytics that drive real consumer insight are important while only 49% believe they are doing it well today. For this reason, CreatorIQ will be investing more in our Strategic Data Service capabilities to help our customers with data enrichment, benchmarks, insights, and CRM.
Paid Media & Advanced Measurement
Paid Media Suite: For years, paid social media teams have wanted to add the growing breadth of influencer-generated content to their strategies, but separate workflows created too much friction to efficiently scale the operations. At the same time, influencer marketing teams down the hall from their paid social colleagues have wanted to include larger sums of paid media to scale controlled reach, frequency, and measurability. Given the growing demand among paid social and influencer marketing teams to work more closely together, we are expanding our paid media capabilities. We have deployed account permissioning solutions with a focus on simplified Ad Manager linking, and we have also released creator whitelisting solutions to lessen the friction when boosting posts on behalf of select creator accounts. These new features empower any paid social team to integrate influencer marketing boosting tactics into their existing paid media workflows. For influencer marketers, they can now seamlessly report on organic and paid media performance in one view via CreatorIQ's reporting solution.
Future plans for our paid media solutions will be powered by One60™, including real-time suggestions to boost high-performing organic influencer-generated content, organic performance insights to power smarter paid media targeting, as well as deduped frequency estimates across both paid & organic impressions.
YouTube Measurement Program: CreatorIQ has joined YouTube's Measurement Program (YTMP), adding our leading enterprise influencer solution to the program's roster.

YTMP Partners are a carefully vetted group and differentiated as certified vendors demonstrating strong market demand, a positive industry track record, and compliance with Google and YouTube policies. As a partner in the "Content Insights" category, CreatorIQ will access deeper insights on trending topics, YouTube creators, and content performance, advancing our position as the in-house platform of choice for enterprise brands to build & scale their influencer marketing practices. We are joining the elite ranks of partners including Channel Factory, DoubleVerify, Integral Ad Science, Sightly, and VuePlanner to bring the most advanced video metrics to our customers.
Global Expansion
With users in 63 countries across six continents and support for payments to creators in 120 currencies, we are excited to accelerate our global leadership. Our focus will be around added support for international social platforms - we've recently added functionality for TikTok, LinkedIn, Weibo, and Line - with more platforms planned via available APIs and custom integrations. We will also continue to expand language support across all areas of the CreatorIQ platform that adds to search functionality in any standard language today, including emojis. Finally, our global customers deserve a truly global team. We will focus on expanding our established international team with A+ talent across Sales and Customer Experience to ensure our customers continue to receive the best-in-class relationships that we strive to offer at CreatorIQ.
In EMEA specifically, CreatorIQ already has users in 37 countries and 92% coverage across Europe's 25 largest countries. We are excited to announce expansion into three new territories with partners in Finland, Denmark, and Austria.
Strategic Alliances & Partner Ecosystem
CreatorIQ University: CreatorIQ University, known as CIQU, provides learning opportunities for anyone seeking to become a certified user or partner of the CreatorIQ platform. CIQU features a fun, interactive learning environment with a variety of delivery mediums to help individuals engage in their learning journey.
‍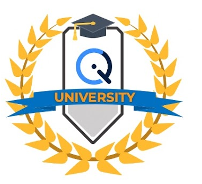 CIQU offers a library of on-demand online learning courses, available on a variety of topics, including platform-specific lessons and role-based lessons.
CreatorIQ's Certified Partner Program: After various requirements are met, including mastery of CreatorIQ University curriculum, Certified Partners are badged as expert managed services providers for brands using CreatorIQ's software.
‍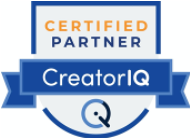 This select group of trusted partners provides end-to-end management of all influencer activations for brands utilizing CreatorIQ's software, while also offering best-in-class strategic services unique to their agencies that are critical to brand building, scaling and managing their influencer strategies & programs.
Because CreatorIQ is and will always be a pure-play in-house software company, we will direct any brand's service-related needs to our Certified Partners.
For details about CreatorIQ's Certified Partners, read more here.
What's Coming in 2021?
Transformation Services: We are receiving a higher volume of requests to merge influencer marketing technology & data with advanced customer experience strategies - specifically fueled by requests to integrate CreatorIQ with best-in-class marketing technology & data providers. As the influencer marketing industry matures, larger marketing teams are ready to connect the dots and fold what was once an emerging channel into their existing workflows.
Mature influencer marketers, working closely with their customer experience colleagues, are moving away from one-off, siloed influencer campaigns to always-on, omnichannel ambassador programs and advanced consumer partner strategies. Pioneering customer experience leaders see evidence that by elevating the brand experience for influential creators via data-driven personalization of omnichannel strategies, they build stronger relationships & loyalty with a unique cohort increasingly influencing their brand equity. But how to integrate, measure the impact, manage the new data, analyze the blended datasets, alter workflows, and update training and integrated strategy requirements - these are among the questions we are starting to hear more often.
CreatorIQ's Transformation Services are for these pioneering influencer marketing & customer experience teams trying to work together more closely. By blending CreatorIQ's unique combination of influencer marketing strategy, data science & innovation, and technology expertise, we are accelerating the maturity of our pioneering customers' in-house influencer marketing & consumer partner strategies.
Data Innovation Services: CreatorIQ's Data Innovation Services team exists to solve our customers' biggest problems by leveraging data science, analytics, and the outputs of CreatorIQ's own machine learning systems. The primary aims of the Data Innovation Services team are to:
Co-develop metric solutions by manipulating data in novel ways
Place those solutions squarely into the hands of decision-makers
Work with those decision-makers to grow solutions into transformational data products
The Data Innovation Services team's work with customers, data partners, and academic institutions follows a collaborative and iterative process by which all parties "learn by doing."
‍