Each week, we'll be bringing you select insights from our newsletter, How to Build Brands and Influence People. To have all of these insights delivered directly to your inbox, subscribe today!
In CreatorIQ's recently revamped TTTs, we're taking a look at a range of new verticals, including the NFL, Quick-Service Restaurants, and Streaming Services. We're also investigating what our friends in the Alcoholic Beverage space have gotten up to lately.

Above are the top 10 Alcoholic Beverage brands by EMV in August 2023. By and large, it's a fairly expected list: you've got your beers, your light beers, your celebrity tequila brands, and your spritzes.
But for this recreational drinker, there was one big surprise: who's this Luc Belaire guy, and what is he doing so well?
Clearly my sparkling wine game needs work—I'm more of a clear liquor connoisseur—because Luc Belaire is America's fastest-growing brand in that sector, and not just by EMV. An imprint of wine & spirits conglomerate Sovereign Brands, Luc Belaire has earned the designation of "America's fastest-growing premium sparkling wine brand" across various retail metrics, with the brand's rosé finding particular success.
While Luc Belaire saw a 43% MoM EMV decline in August, it still ranked No. 1 in U.S. Booze, pulling in $10.8M EMV, more than double Bud Light's $5.1M EMV total. What's more, that MoM decline belies an incredible growth story: from February to July 2023, Luc Belaire increased its EMV every single month. Seriously, check out this up-and-to-the-right action📈.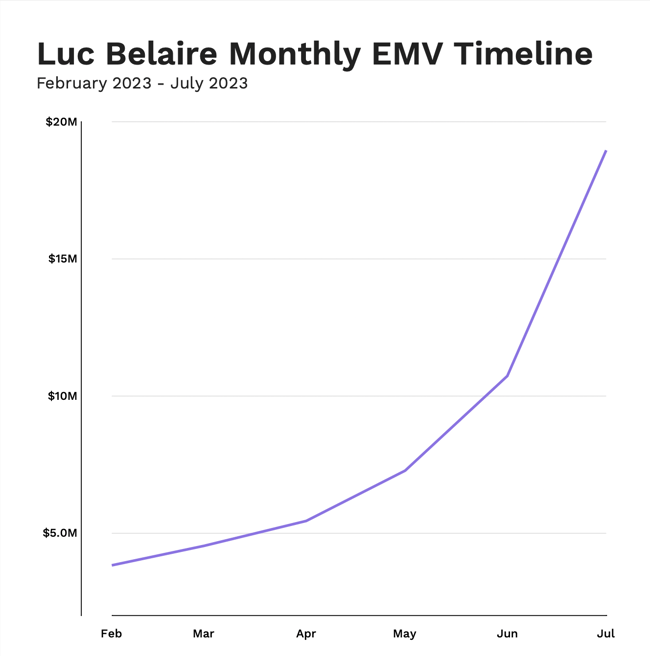 That's a lot of champagne! If only they had some way of celebrating.
What's been driving all this momentum? Turns out, the answer was right in front of me the whole time: after all, who better to promote all that rosé than Rozay himself?
Yes, I'm talking about rapper, entrepreneur, and grunt enthusiast Rick Ross. Da Boss has taken his role as a spokesperson for Luc Belaire very seriously, driving unprecedented EMV for his favorite sparkling wine. I'm not using 'unprecedented' lightly here: in my 7+ years of analyzing this stuff, I'm not sure that I've ever come across such single-handed EMV production.
From January to August 2023, Luc Belaire pulled in $65.8M EMV. So how much of that was Rick Ross responsible for? $10M EMV? $20M EMV? Maybe we'll be generous and give him half—$32.9M EMV?
Ladies and gentlemen, Rick Ross powered $59.9M EMV for Luc Belaire.
That's over 10x the $5.9M EMV that the other 460 creators who mentioned Luc Belaire during that time period drove collectively. This man inspired 91% of Luc Belaire's EMV on his own. He posted about the brand 1,782 times from January to August. That's the equivalent of mentioning Luc Belaire a little more than seven times per day for eight months straight. Sure, it's just posting on social media, but wrap your head around the dedication that takes. I can barely even be bothered to write this blog post.
Incidentally, coming in at No. 2 was Rick Ross' friend and fellow Miami musician DJ Khaled, with $624.3k EMV. You almost had him, Khaled! Just $59M away. We da second-best.
Now it may not be sustainable to have one creator driving that much of a brand's social media presence, and it's generally advisable to activate multiple brand advocates across recurring creator campaigns. That said, Luc Belaire has clearly found a dedicated partner in Rick Ross, and his efforts have more than paid off: the brand is comfortably No. 1 in U.S. alcohol, plus it gets to star in this blog post.
So whatever steps Luc Belaire takes next as it refines its creator marketing strategies, the brand should be sure to send a few extra bottles to Rick Ross—he's earned them. And while you're at it, maybe send one to me, too.
News to Amuse and For You to Peruse
In our new newsletter series, How to Build Brands and Influence People, we, by which I mean I, have searched high and low for stories about key developments in the Creator Economy. I just want to make sure that you're informed, you know? I'm looking out for you over here.
So, what did I find this week?
Key Takeaways:
As Business Insider reports, ad agency Oglivy has found that an increasing number of brands are turning to 'B2B Influencers'—field experts who include company founders, senior employees, and researchers.
75% of B2B companies are already leveraging B2B Influencers for campaigns, while 93% of CMOs plan to increase their usage of these influencers.
Companies report greater impact/efficacy from campaigns that utilize B2B Influencers versus brand-only campaigns.


The CIQ Perspective:
Hmm…companies are starting to use their own employees as thought leaders. Like leveraging a c-suite employee as a LinkedIn influencer? Or having a senior researcher write a newsletter? That'll never work!
Needless to say, we love this. As CreatorIQ looks to get in on the B2B Influencer game ourselves, we'll be sure to advise clients on the distinctions between B2B Influencers and traditional creators.


Key Takeaways:
You might have heard of this Taylor Swift character?
In the greatest love story of modern times, and what surely isn't a cynical PR gesture to unite two multi-billion dollar industries, America's pop sweetheart is now maybe-dating star Kansas City Chiefs tight end and noted thespian Travis Kelce.
You're going to be seeing a lot more Kelce jerseys among Gen Z women, and a lot more buzz for the NFL within untraditional markets…or so the NFL hopes. Look for a "Taylor Reaction Cam" to debut at every game before the season is out.


The CreatorIQ Perspective:
As we reported last week, the NFL is looking to creators to expand its viewership amongst a younger demographic. Well, Taylor Swift should help with that.
If the Chiefs aren't No. 1 in EMV in our September NFL rankings, then we probably need to retool the algorithm.


Related: Check out weekly insights on how to build brands and influence people
Key Takeaways:
Just a rundown of young movers and shakers in the influencer marketing space, pretty typical stuff really…oh hey, it's CreatorIQ's own Katie Penwell!
Katie is being rightfully celebrated for launching and coordinating CIQ's roadshow series, as well as her tireless work on CreatorIQ Connect, which I've mentioned once or twice now.
Katie puts it best in the article: "

When I first entered the industry, the sentiment was that influencer marketing represented 'the future of marketing.' In recent years, I've observed a fundamental shift in this perspective. It's no longer a vision of the future, it's our current reality—we've arrived."




The CreatorIQ Perspective:
It's always an honor and a celebration when one of our team members receives recognition, and Katie truly deserves it.

In other words…GO KATIE!!! Also, everybody please

RSVP for CreatorIQ Connect

. You'll be supporting a rising star!
Conor's Creator Facts
If there's anyone on earth who lives, breathes, and truly believes in the Creator Economy, it's Conor Begley: CreatorIQ's Chief Strategy Officer, and a burgeoning creator in his own right. When he's not planning the world's greatest creator marketing summit, Conor shares his exclusive research on trending creator marketing stories with his followers on LinkedIn. But you can check out his latest findings right here.
Today, he'll be taking us through one of the most important concepts in creator marketing, and economics at large: measuring desire.
THE PROBLEM
One of the most common problems marketers face is justifying investment into activities that don't result in "trackable" sales. Examples include PR, "brand" paid ads, influencers, and events.
This problem has been exacerbated by the last click-attribution models of digital advertising, where all of the credit for a sale is claimed by the ad, when in reality it likely contributed a very small percentage to the purchase decision.
The results? A disproportionate investment in activities that are "trackable," rather than those that are effective.

SOLUTION (for influencer marketing)
"How can you create desire? The most important word in our business is desire."

Bernard Arnault
The most common solution to this problem is to introduce a time-lag through marketing mix modeling. A lot of buzz today = sales tomorrow. However, small brands don't have access to complex marketing mix modeling, and people generally have very little patience for time-lags, so they're required to have "faith."
In steps Doug Jensen, the SVP of Global Go To Market and Analytics at Estée Lauder. Doug also boasts a deep background at Nielsen and IRI (MMM). In our interview, Doug said when it comes to measuring influencer marketing, Estée Lauder tracks "desirability" as gauged by Google search traffic.
Simple explanation: More creator content (EMV) = More Google search traffic = More sales later.
EVIDENCE
There are a variety of studies looking at the relationship between Google search volume and market share growth. Suffice it to say, more Google search = more brand growth. ✅
The next question is, does more creator content (EMV) = more google search❓
In steps Alexandre Emelianov—the former head of digital intelligence at L'Oréal, and a good friend. This week Alexandre started sending me early research looking at the relationship between EMV and Google search, and the results are AWESOME.
For the brands he analyzed, he found that EMV explains 50-86% of ALL GOOGLE SEARCH VOLUME 🤯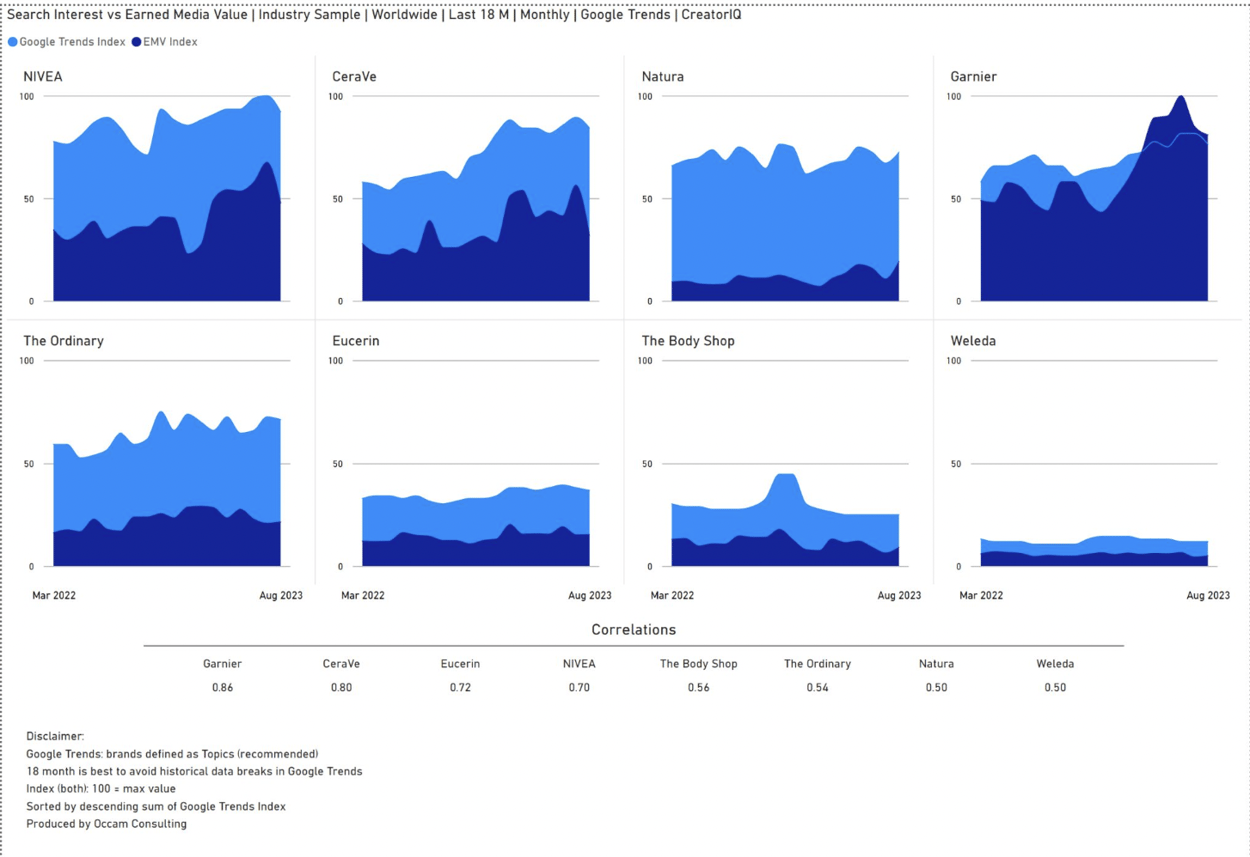 THANKS
Big thanks to: Dan Elton the CMO of ASOS (and former Googler) for reminding me that share of Google search = market share; Alexandre for his awesome research; Ashton for being one of the earliest and deepest thinkers on this topic; and Preston for probing this in areas beyond influencer. Onwards and upwards!
For more insights, be sure to follow Conor on LinkedIn. And to get all of these stories, plus much more, delivered to your inbox weekly, be sure to subscribe to our newsletter.