Each week, we'll be bringing you select insights from our newsletter, How to Build Brands and Influence People (HBBIP). To have all of these insights delivered directly to your inbox, subscribe today!
The NFL might be getting all the shine lately (thanks Taylor), but guess what: it's also the MLB playoffs! Teams are vying for that precious piece of metal, and as October heats up, we're set for plenty of drama and excitement.
I'm sure that the MLB is desperately trying to get Taylor Swift to date Bryce Harper (which we can never rule out), but even without the Swiftmania that's seized the NFL, we can expect a huge spike for Major League Baseball through the end of the World Series. That's why I wanted to use this newsletter to take a look at how the MLB has performed in 2023 so far: which teams are on top, which teams are on the rise, and which teams are the Mets.
As originally seen in our August TTT (published in mid-September), here were the top 10 MLB teams by EMV:


It's a mix of teams with the best records and teams that garner the most online buzz—which, as any sports fan knows, is very much a Venn diagram, rather than a perfect circle. So you have the LA Dodgers and Atlanta Braves, who boasted some of the best championship odds at the time this newsletter was written, but you also have your less successful, more woefully disappointing teams in there, like my own New York Yankees, the Chicago White Sox, and the Los Angeles Angels. And, again, the Mets.
But how do those figures play out for January through August? What are the top teams when we look at a longer timeframe?

Turns out it's almost exactly the same list, but with the Padres, a team that failed to meet its high pre-season expectations, swapped for the Orioles, a team that exceeded all expectations, at least until recently.
Alright, so maybe the variation between brand sets isn't super interesting. But hey, it's baseball—what did you expect?
What about when we look at these teams' EMV patterns over the year as a whole?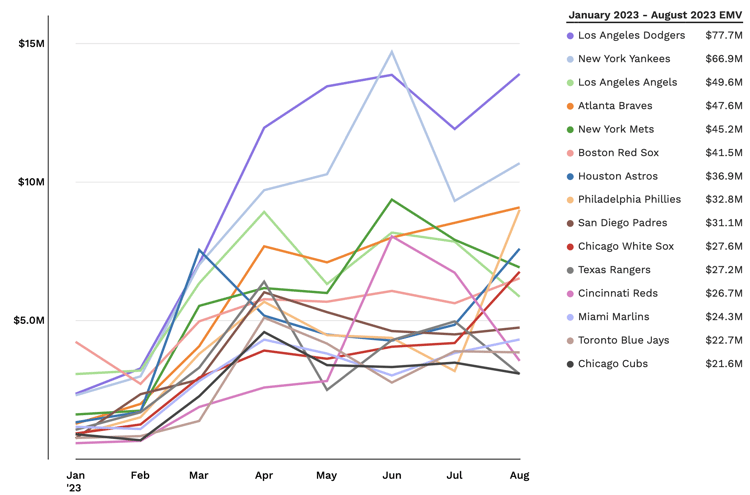 Now we begin to see some patterns emerge. After starting slow in January and February, Spring Training kicked off some serious hype in March, culminating in the season's start on March 30. But things really took off in June, when baseball took center stage in the world of sports. The Yankees ranked No. 1 that month, while the Mets ranked No. 3—who says these teams aren't winners?
With EMV as a fitting proxy for media coverage, one thing is clear: you can expect big-market teams that are having more disappointing seasons to rank alongside, or even ahead of, small-market teams that find success on the field.
So while the Dodgers are certainly well-positioned from both a social media presence and baseball quality standpoint, if a small-market team does end up claiming the big prize, don't be surprised if there's a sudden change in the rankings. That's exactly what we saw in a different sport in June, when the Denver Nuggets lapped the field following their victory in the NBA Finals:

Our October MLB rankings, which will be published in November, will have a more complete story of how these playoffs play out. We'll also debut NBA and NHL rankings that month, so that you can enjoy even more sports coverage.
Until then, we'll be sure to keep you fully updated on all the most important, hard-hitting NFL action. Like Taylor Swift's skybox meal choices.
Related: The Hottest Alcohol Brand You've Never Heard Of
Putting the 'News' in 'Newsletter'
We—by which I mean I—have spent the past week searching high and low for stories about key developments in the Creator Economy. So what did I find?
Key Takeaways:
As noted by every financial news outlet on earth, everyone's favorite German sandal maker is going public.
This week Birkenstock raised $1.5B in an initial public offering (IPO), valuing the company at $8.6B, or roughly 54.4M pairs of

Boston Soft Footbeds

in suede leather.
Financière Agache, the family office of LVMH chairman Bernard Arnault, purchased a controlling interest in Birkenstock in 2021, and has since enjoyed a nearly 100% partially realized gain.


The CIQ Perspective:
Sometimes with real-world financial transactions, EMV can paint an inconclusive picture. This isn't one of those times. Take a gander at Birkenstock's monthly EMV performance in the U.S. from January to August: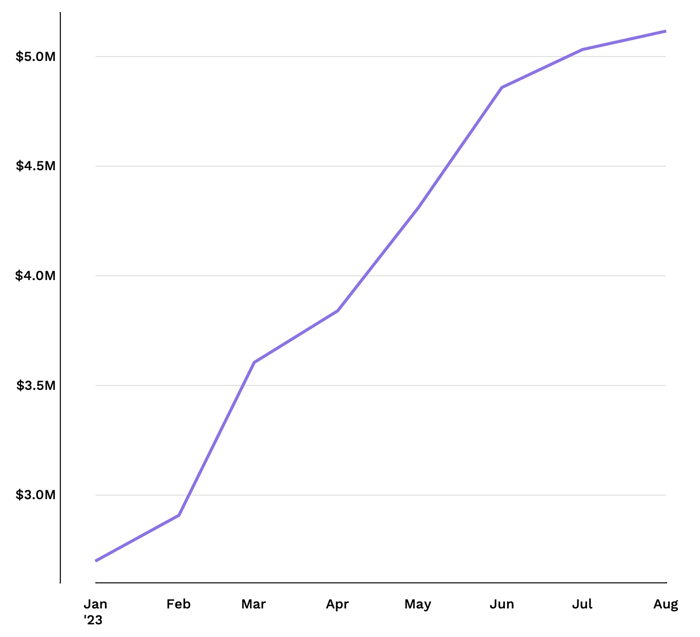 This is not CreatorIQ guaranteeing that Birkenstock will have a successful IPO. I'm a writer, not a financial analyst. But Birkenstock is certainly doing a successful job of fomenting digital buzz in advance of going public, and this is yet another example of how EMV can serve as a leading indicator of financial performance.


Key Takeaways:
For a long time, 'influencer marketing' has been the common terminology for that thing we do here. But now new nomenclature is on the rise: behold, 'creator marketing.'
Beyond just the word choice, there's an important distinction between 'creator' and 'influencer.' As influencers assume more clout and name recognition, becoming celebrities unto themselves, there can be a stigma attached to the term. Meanwhile, the term 'creator' represents the authenticity that was formerly associated with 'influencer.'
Brands looking to tap into that authenticity, which has proved time and again to be a winning financial strategy, are often better off partnering with small-scale 'creators,' rather than splashier, self-styled influencers.


The CIQ Perspective:
Inc. has identified something really key to internal conversations we've been having at CreatorIQ. With input from several executive stakeholders at CIQ (hi Tim), we've begun transitioning away from 'influencer'-focused terminology, and toward a model that reflects the authenticity and trust of creators.
It would be nice if 'creator marketing' indexed as highly from an SEO standpoint as 'influencer marketing,' but we can't have everything in life.
And just in case you thought that it was only Inc. and ourselves saying this (but if it were, wouldn't you do it too?), our Trends Reports have consistently found that individuals who author digital content prefer being called 'creators,' not 'influencers.


Key Takeaways:
Fresh off amassing 2.05 billion views in September alone, YouTube sensation Mr. Beast launched a first-of-its-kind collaboration with the NBA's Charlotte Hornets.
In the upcoming NBA season, the Hornets' jerseys will feature a sponsored patch advertising Mr. Beast's Feastables brand.
This is an unprecedented collaboration between the NBA—or any sports league—and a creator. It stands to reason that the one breaking this barrier would be arguably the most popular creator in the world.


The CIQ Perspective:
It probably won't surprise you to learn that we at CreatorIQ are a fan of creators assuming a larger, more public role across multiple verticals. So we are, in fact, fans of this news.
It's an especially savvy decision on the part of the Charlotte Hornets, who boast a youth-friendly team and social media presence.
We'll be sure to track the Mr. Beast Bump in future Top 10s featuring NBA data, and check in on the Hornets' performance as the NBA season kicks off later this month.


Conor's Creator Facts
If there's anyone on earth who lives, breathes, and truly believes in the Creator Economy, it's Conor Begley: CreatorIQ's Chief Strategy Officer, and a burgeoning creator in his own right. When he's not planning the world's greatest creator marketing summit, Conor shares his exclusive research on trending creator marketing stories with his followers on LinkedIn. But you can check out his latest findings right here.
Today, he'll be taking us on a little trip to Barbie World:
Barbie. I've actually never seen anything like it:
💰 $1.4B at the box office already. #1 for 2023, Warner's Bros biggest movie ever, #1 in revenue for a female director all time.
📈 $1.58 BILLION in EMV in 60 days?! Over $1.24 Billion IN JULY. IN…ONE…MONTH. That is so much more than I've ever seen for any brand, campaign, topic, anything.
🍔 Let's put that into perspective. That's more than Gucci, Mcdonalds, and Red Bull for the entire year of 2023 …. COMBINED.
🤯 This is across 70K creators, 261K posts, 1.65B engagements, and 28.6B impressions?!?! 28 BILLION! IN 60 DAYS.
It hit the bottom line for Mattel as well. They've gained $1.5B in value and $150M+ in revenue already, and this will have serious long-term tailwinds.
🔍 Under the hood:
99% organic content, 1% sponsored
$788M from Instagram, $371M from Tiktok, and $176M from Youtube


By creator tier:
60% of creator EMV from +1M follower accounts
32% 100k-1M followers
8% under 100k followers


Top creators
@popbase (429 posts)
Entertainment Tonight (301)
Variety (566)
Mayca Brasil (58)
E! News (283)
Top sample content dominated by Youtube. Music, makeup, comedy.


Barbie was clearly the cultural phenomenon of the summer (of the year? of the decade?). Since the first trailer was released in late 2022, the film has generated unmatched hype.
This hype was no accident. According to Variety, Warner Bros. spent an estimated $150 million on marketing Barbie—more than the movie budget itself ($145M on production). On top of Barbie's own marketing efforts, the OPPortune timing of Oppenheimer's release inspired even more buzz for Barbie, with "Barbenheimer" becoming a can't-miss double-feature experience.
While few companies have "Kenough" budget to go big like Barbie, there are still learnings we can draw from its promotional plan and brand collabs.
We'll take a look at that in Part 2 next week!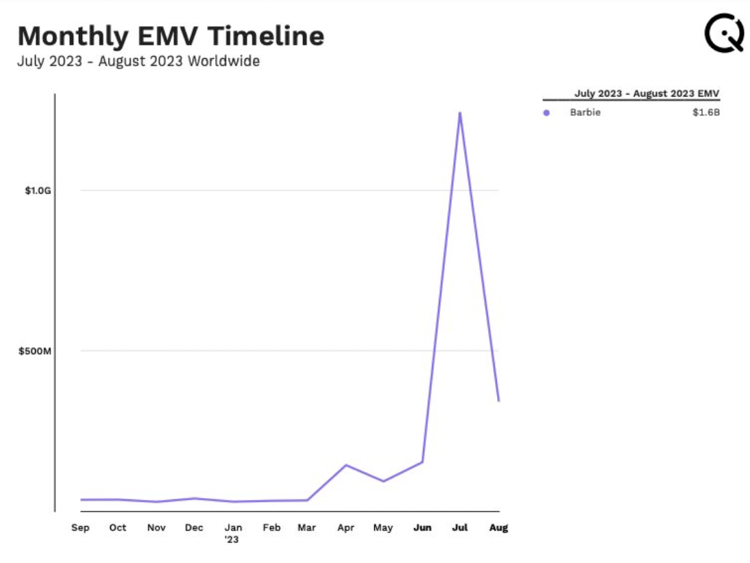 For more insights, be sure to follow Conor on LinkedIn. And to get all of these stories, plus much more, delivered to your inbox weekly, be sure to subscribe to our newsletter.