As the creator economy continues to boom, influencer marketing has proven that it's here to stay. The immense audience power an influencer can hold is undeniable, and a recent Matter survey reveals that approximately 82% of consumers find influencers more helpful and trustworthy than brands. Consumers clearly value the authenticity of content creators over brands, and this type of organic engagement is great at driving brand awareness. However, more and more brands are realizing that organic engagement is only one part of the equation and that there is an additional method to boost the effectiveness of their influencer marketing strategies: paid media spend. Putting paid media spend behind existing influencer content is key to maximizing your campaign's ROI. But first, you'll need a way to access the desired influencer content for your paid strategies through requesting ad permissions.
What do ad permissions allow you to do? Ad permissions give you approval from influencers to run paid ads from their social handles, allowing you to create ads using content from the creator's Facebook or Instagram pages. So how do you get started with requesting ad permissions? Ad permissions can be granted manually through Facebook Business Manager or through the use of a 3rd party ad permissions provider. Regardless of which method you choose, the process isn't easy and it comes with many challenges. Manually granting ad permissions is complex and involves many steps for the creator and the campaign manager. Campaign managers often need to create how-to guides or individually walk creators through the process, which is time-consuming and not scalable. While 3rd party providers can take some of the manual work off your plate, they don't always provide the best experience for campaign managers or creators who may need to work across multiple platforms, creating unnecessary friction.
As a result, some organizations have opted to workaround requesting ad permissions altogether, opting to download creator content and run it as ads on owned and operated accounts. Another way to circumvent requesting ad permissions is to have creators boost their own posts. Both methods help eliminate the headache of requesting ad permissions, but are ultimately less efficient and less likely to garner the best performance.
In order to get the most out of ad permissions, brands need a solution that will take the manual work off their plate, streamline their workflow, and scale their efforts. If you are looking to get started with requesting ad permissions or are in need of a better solution, here are five attributes you should keep in mind when selecting the best influencer ad permissions solution for your goals:
1. Integrated
‍
Whether or not you are already familiar with Facebook Business Manager, the process of manually requesting ad permissions can be a headache. Opting to use a 3rd party ad permissions provider may take some of that manual work off your plate, but this solution can offer a disjointed experience to both creators and campaign managers. To make the ad permissions process as simple and efficient as possible, you will want to ensure that your ad permissions solution is fully integrated into your existing influencer marketing workflow to promote a frictionless process. For example, CreatorIQ connects directly to Facebook Business Manager and is integrated into the creator onboarding process so that your campaign workflow — and the creator's experience! — is streamlined and uninterrupted. Instead of using multiple platforms that serve different purposes, you can carry out all your campaign duties (including requesting permissions) in one centralized place. A fully integrated influencer ad permissions solution will also help bypass any manual setup and make different roles and responsibilities easy to manage.
2. Automated
‍
The process of granting ad permissions within Facebook is not an easy or straightforward task; it involves many manual steps, and the steps can vary based on how an influencer's account is set up. For example, does the influencer you are partnering with already have a Facebook Business Manager? Great! But what if another partner you're working with doesn't? The steps to gain ad permissions from those two creators will not be the same, and it will be slightly different for every creator. Another thing to consider is whether the influencer's account is set up as a creator profile or a business profile, because this distinction will also affect the steps you need to complete in order to gain ad permissions. Whether ad permissions are granted through Facebook or Instagram will also change the workflow. In order to ensure ad permissions are granted properly, campaign managers may need to manually walk individual creators through the process which isn't the best use of time. The right solution should make obtaining ad permissions a seamless process that consolidates all of these steps into just a few clicks. An ad permissions tool that automates this process for you will help take hours of manual work off your plate, freeing up time for you to focus on actual campaign execution.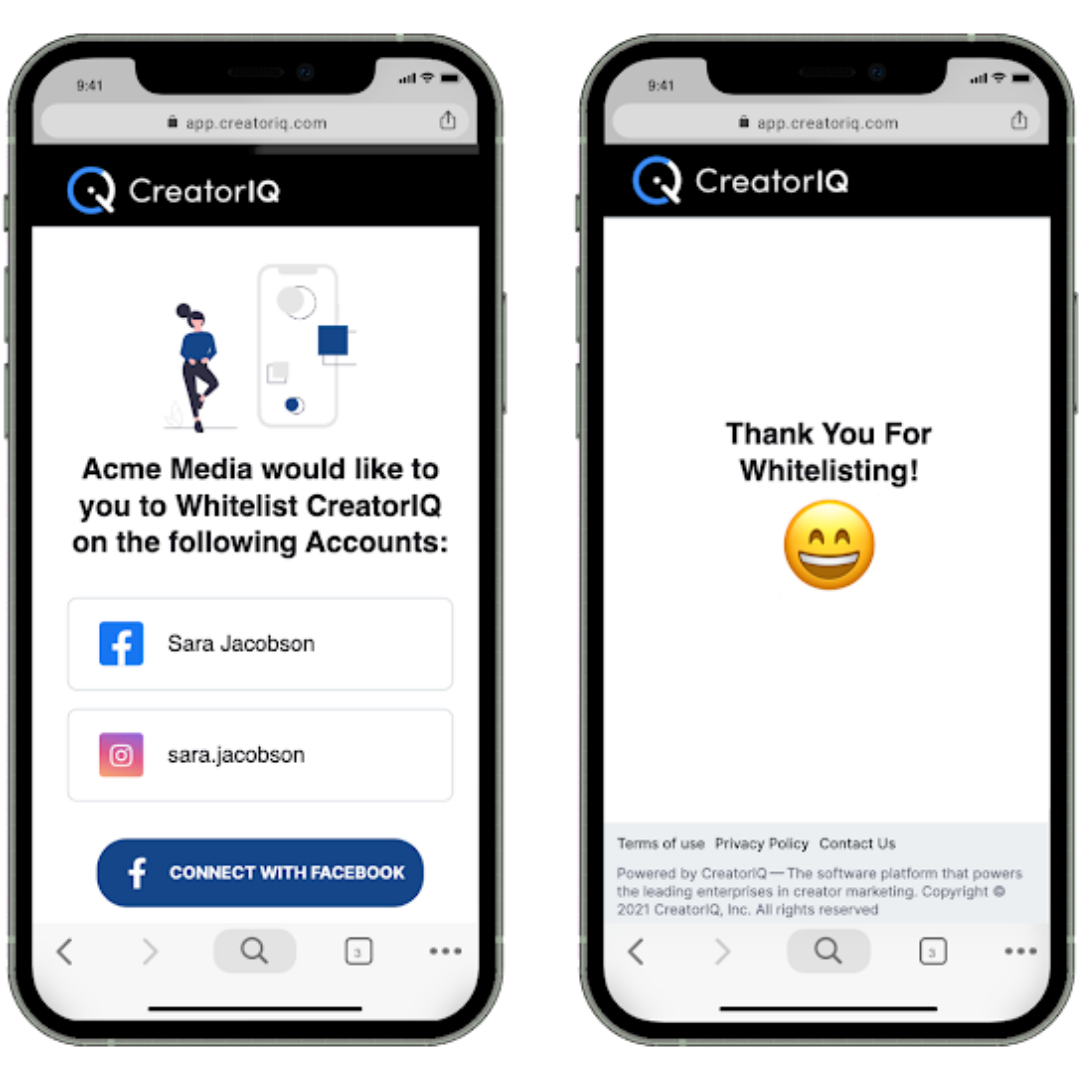 3. Scalable
‍
Even an automated ad permissions process can require secret manual work reaching out to creators and requesting permissions one-by-one, that's not only time consuming, but also not scalable. You could be working with hundreds of influencers, and your ad permission solution should help you scale your outreach by allowing you to request permissions in bulk to save you time and effort. Requesting ad permissions at the same time you prompt your creators to authenticate their social accounts streamlines your workflow even more. Unifying account linking will provide the easiest experience for creators, and may increase the likelihood that they'll grant ad permissions access. No matter how large your creator network is, choosing a solution that can help you efficiently obtain permissions with many creators at once will streamline your workflow tremendously.
Image: Invite multiple creators to link their social accounts and request ad permissions at the same time.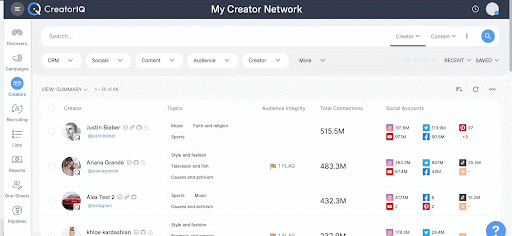 Image: Creators can connect their social accounts, grant permissions, and set an expiration date all in one place.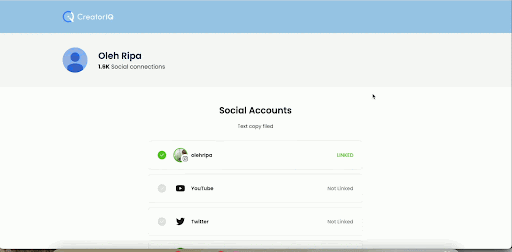 4. Controlled Permissions
‍
When requesting ad permissions, it's important to remember that creators may have varying levels of familiarity. There could be a number of reasons why an influencer might be hesitant to grant brands permission to run ads using their content, including access to private information, how long brands have access, and limited visibility over what a brand is doing with their content. At the end of the day, granting ad permissions is a win-win for both brands and creators, and brands that want to build better partnerships using paid media should ensure that the influencers they are working with have full transparency and control over the ad permissions process. In order to set the mind of your partners at ease, ensuring creator security should be a priority. Controlled permissions that restrict access to only applicable and granted information maintains security and privacy for both the creator and your brand. It's crucial that brands are able to access the pertinent information they need to run ads, and nothing else. Personal information and other account info will never be available for brands to access with the appropriate permissions in place. Added layers of security like the ability to set expiration dates and the ability to terminate a brand's access at any time should also be taken into consideration so that creators can trust that their accounts are secured. Ensuring security and giving influencers the power to revoke ad permissions at a date they choose can lead to a higher rate of granting ad permissions and optimize your ROI.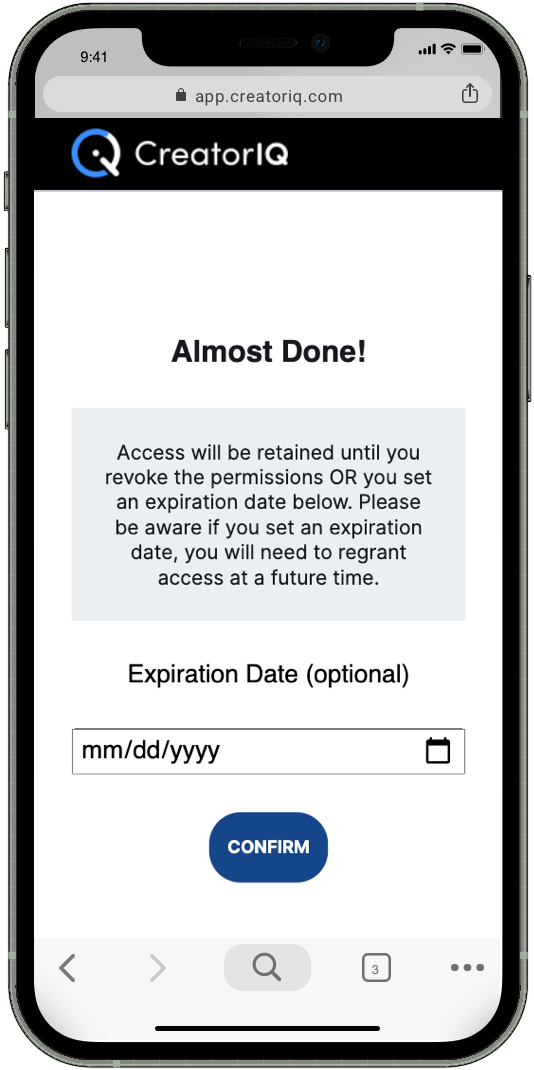 5. Creator Support
‍
Even if you've found a solution that completely automates and streamlines the ad permissions process for you, creators are bound to still have questions and concerns, or issues may still arise during the process. Most campaign managers, especially those who may be running high-volume campaigns, don't have the time to deal with back and forth creator communications to troubleshoot ad permissions issues. If you're working on multiple campaigns or with a large number of creators, obtaining permissions is only one small (but important!) aspect of your end-to-end campaign workflow. To help optimize your time, look for a platform with a dedicated support team on hand to handle the intake of all ad permissions-related support questions and communications with creators. This can help remove the friction often caused by managing the volume of work and influx of support requests you may receive from your partners.
Summary
‍
Ultimately, running ads using creator content and handles is a mutually beneficial practice for both brands and creators. Brands are able to enhance the performance of paid ads using creator content, amplify their reach, and better target their ads by creating unique look-a-like audiences from an influencer's followers. For creators, granting ad permissions can increase the reach of their content and scale their audience in ways they might not have been able to before. In order to truly maximize your campaign's potential ROI, a paid social strategy facilitated by ad permissions should be incorporated into your influencer marketing efforts. To learn more about how CreatorIQ's ad permissions solution can help you save time, minimize manual tasks, and streamline your workflow, request a demo.
Download the 2-page flyer on CreatorIQ's Creator Promote and ad permissions capabilities.