The pace of change in the creator marketing space is accelerating…rapidly.
To help brands better position themselves in this shifting landscape, we surveyed 150 brands and 200 creators to identify the priorities, practices, and preparations that will define the next 12 months.
The results span everything from budgets and compensation, to activation formats and platforms, to the emerging dominance of social commerce.
Here are some of the most notable takeaways from our research, with the key insights provided by CreatorIQ COO Tim Sovay.
Investment In Creator Marketing Is Growing
Brands are dedicating ever-increasing budgets and company resources toward creator marketing campaigns. A notable 66% of brands in our survey reported spending more on creator marketing in the past year, while 52% noted that their creator marketing teams have expanded.
In terms of spending, 48% of respondents reported investing over $100,000 annually on creator marketing, while 10% spent over $1 million. We can expect those figures to grow, as 59% of responding brands cited "inadequate budgets," and 66% cited inadequate personnel resources as a roadblock to their success.
Where might these resources be deployed? Creator discovery and retention practices ranked highly: 58% of brands ranked creator discovery among the top three most important aspects of their influencer programs (up from 34% in 2020), while also ranking creator retention among the three most important aspects of their earned media programs.
"Brands partnering with creators and influential customers to develop creative content generate strong word of mouth for the products they love. From expanding awareness and reach, to increasing sales, this growing partnership between creators and brands is the lifeblood of the Creator Economy."

Tim Sovay, COO, CreatorIQ
Creators Are Getting Paid
Part and parcel with increasing creator marketing budgets is the growing practice of paying creators for sponsored content. Not only are creators recognizing the value they generate for brands (and thus demanding payment in return), but brands are recognizing the same, and are happy to pay for the benefit.
Among the brands we surveyed, 94% reported compensating at least a portion of their creator partners for sponsored content, with 25% to 75% of these brands' creator marketing budgets dedicated to compensating creators. What's more, 50% reported that their proportion of paid creators increased over the past year.
But while creators want to be paid, they're wary of "selling out," with many citing "genuine brand affinity" as a prerequisite for paid relationships. Of those we surveyed, only 7% would work with brands they thought had lower-quality products if paid enough to do so. Meanwhile, 31% of creators would only work with brands that they "genuinely love," while 61% would work with a brand whose products they liked, even if that brand wasn't one of their favorites.
"Brands that treat creators as creative partners, develop trust, and build mutually beneficial partnerships will succeed. The key to accomplishing this is developing long-term relationships with creators, rather than one-off transactional campaigns."

Tim Sovay, COO, CreatorIQ
Social Commerce Rising
As brands invest more in creator marketing, the need to drive bottom-of-funnel sales goals increases. Complementing this is the effort from many social platforms to integrate e-commerce tools to retain creator engagement. Taken together, these parallel trends are driving social commerce to new heights.
Among the leading tactics are affiliate links and discount codes. Of the brands we surveyed, 94% provided creators with either discount codes or affiliate links to share with their followers. Those same brands reported moderate-to-strong success with the tactic, with 50% saying the tactic proved "very successful."
"Social commerce is more than a trend…it's a multi-trillion dollar consumer spending opportunity. We're just seeing the tip of the iceberg with creator commerce, as social platforms and e-commerce giants like Amazon pour billions into solutions like live streaming events, in-app checkout, and virtual product testing and try-on."

Tim Sovay, COO, CreatorIQ
TikTok & Instagram Stories Lead The Way
TikTok has established itself as perhaps the world's most powerful platform connecting creators and fans, something we expect will continue into the new year. While Instagram and Instagram Stories continue to command respect, TikTok has forced marketers to rethink their traditional methods for finding and engaging with customers, creators, and advocates.
In our survey, 96% of brands and 88% of creators reported regularly using Instagram Stories, while the breakdown for TikTok is 46% and 42%, respectively. Rather than competing with creators to get noticed on the platform, brands will increasingly partner with the right creators, letting them drive creative strategy, and scale content reach and conversion, through TikTok's Spark Ads. As the Creator Economy continues to mature, new tools and agencies will emerge to help creators develop their own DTC brands and launch creator-led products.
"Platforms are angling to attract Creators because they deliver users and engagement. This has sparked what we call the 'Creator Wars.' The result is a major shift in the power dynamic within this economy: where creators once needed platforms to build their audience, the platforms now need creators to retain and engage users."

Tim Sovay, COO, CreatorIQ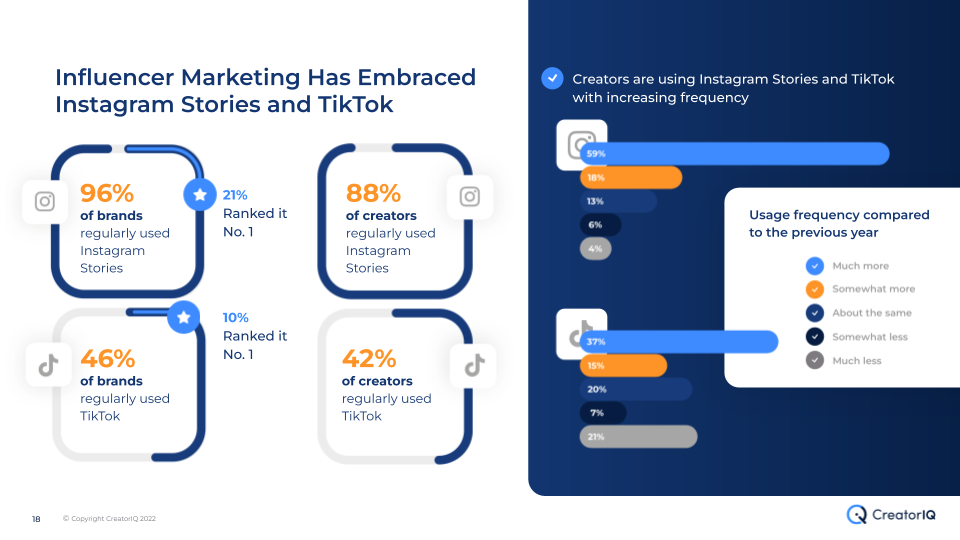 The Methodology
These results were all derived from responses provided by a diverse group of brands and creators in the U.S., U.K, and beyond, across a variety of industries.
As 2022 marches forward, brands and content creators will continue rewriting the rules of the Creator Economy, with brands hustling to take advantage along the way. For more comprehensive data on the trends currently shaping the industry, and insights on how the space has changed over the past year, download our full report today.
Want to learn more about the evolution of the Creator Economy?