Following Meta's recent API enhancement, CreatorIQ now fully supports Instagram Reels throughout our platform. We're excited to offer this automated support, especially as Reels continues to dominate on Instagram. To further assist businesses in planning and measuring their influencer marketing programs, our platform's users will also receive access to Reach, Shares, Saves, and Video Views metrics within CreatorIQ Campaigns for authenticated businesses or creator accounts.
New CreatorIQ Instagram Reels Capabilities
There are four key support features for Reels within the CreatorIQ influencer marketing platform:
Availability across the platform: users can view Reels in Discovery, CRM, Campaigns, and Social Timelines.
Reels are identified as their own content type, rather than being marked as a video for all business and creator accounts.
All Reels will be pulled in CreatorIQ's Campaigns feature, as long as they're in-feed or a Story.
Authenticated creators will enjoy additional supported metrics, which we've detailed in the chart below.
Available Metrics for Authenticated vs. Non-Authenticated Creators
Authenticated creators and businesses within the CreatorIQ platform enjoy a secure partnership with access to additional opportunities, such as real-time post metrics and automatic capture of story frames from Instagram Stories. The table below outlines the available metrics for authenticated and non-authenticated creators on Instagram: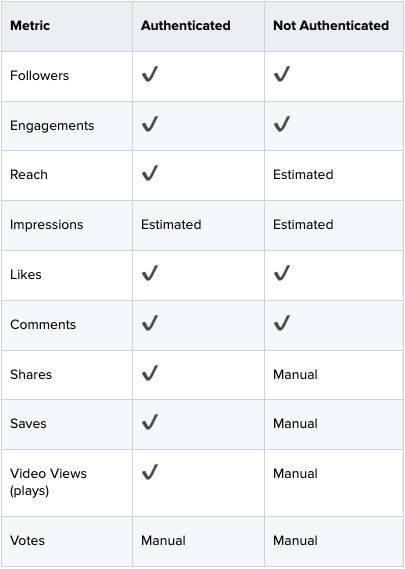 Scale Your Creator Marketing Program
Once your creator community is assembled, and your team has outlined your process and procedures, the work doesn't end. Adding enhancements and new measurement channels to your program, like support for Instagram Reels, can help you better demonstrate ROI, and gain actionable insights to further improve your influencer marketing strategy.
Curious to see how your business can optimize its influencer marketing program with Instagram Reels?