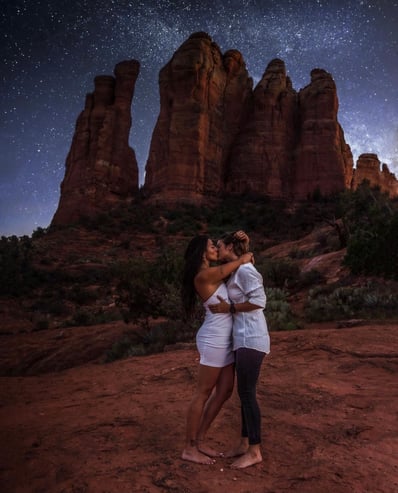 By now there's no question that social media has the power to affect lasting societal change. Its ability to generate authentic discussion and disseminate meaningful insights is unparalleled, and has been proven countless times.
In the arena of influencer marketing, some creators have struck the perfect balance between generating content that not only moves the needle on important social causes, but also serves as a viable business model. In the spirit of Pride Month, we hovered our magnifying glass over inclusive content within the LGBTQ+ community, focusing on creators who are supporting their audiences via content directly catered to their experiences.
For this edition of our creator spotlight series, we spoke with Kirstie Pike, co-creator of On Airplane Mode (@onairplanemode__ on Instagram, @onairplanemode__ on TikTok) a social hub where LGBTQ+ travelers enjoy tips and tricks on traveling the globe directly from Kirstie and her co-creator/partner Christine Diaz.
After receiving an influx of questions from their audience on how to travel safely as members of the LGBTQ+ community, Kirstie and Christine officially launched On Airplane Mode in 2019. Intent on providing a safe, inclusive space for people to ask these questions, Kirstie and Christine transitioned into full-time content creation.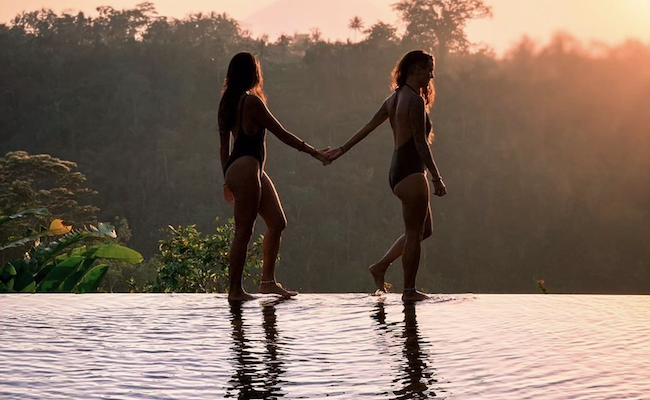 What inspired you to walk away from your sedentary lifestyle to become travel creators?
I was always big into the traveling lifestyle. I actually had to convince my partner Christine to step away from her professional career in New York City to join me on my travels. One month turned into two, which ultimately turned into a 10-month excursion to South East Asia. After one of the "best years of her life," Christine agreed to leave her career as long as we developed a system where we could continue saving and remain business-savvy. However, we both still have full-time careers outside of On Airplane Mode—I work for an LGBTQ+ influencer agency and Christine works at an ad agency.
Tell us a little bit about your iconic slogan—"Hustle. Travel. Repeat."
That slogan is rooted in a mentality I've carried with me since I left home at 16 years old. I would hustle and work non-stop to save enough money to travel to the next destination. I thought "if I work hard enough, I can continue traveling." The slogan has since been adopted into On Airplane Mode's ethos and we use it to inspire others to work hard and make their dreams a reality.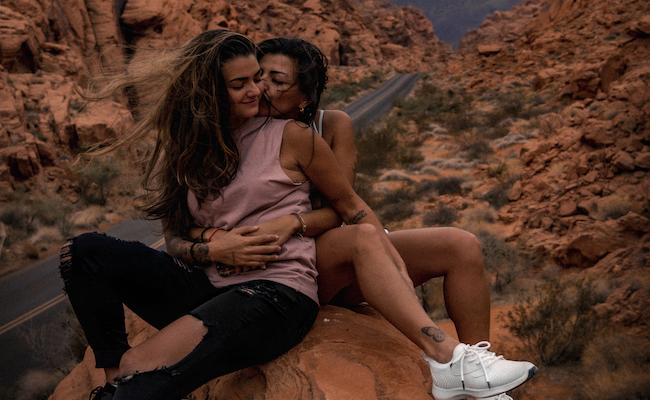 How have you leveraged TikTok to boost your reach?
We initially started with Instagram which is well-known for its beautiful aesthetic and distinct layout, which is perfect for travel content. But when COVID hit and travel was halted, we couldn't use the same strategy for our business and we had to pivot which, was when we turned to TikTok. The platform really blew up during the first few months of lockdown, with creators developing content that was more goofy, silly, and authentic and we loved creating that type of content ourselves. TikTok really accelerated our brand as we were able to create more lifestyle, fashion, and relationship-centered content. The speed at which TikTok grew was exponential compared to Instagram. We also had to untrain ourselves to be as curated on TikTok as we were on Instagram, since the platform is so much more geared towards that kind of unfiltered, authentic content.
Why is representation important in the travel influencer space?
From a travel standpoint, there are still 70+ countries across the globe where it's criminalized to be LGBTQ+ and in some cases, there's even a death penalty. And that doesn't just apply to people traveling to those countries, but also to those who currently live there but have their voices silenced out of fear. That's why it's so important that social media provides a platform of awareness and acceptance for those who can't participate. We receive direct messages from people all over the world who are scared about coming out and sharing their stories, so it's a clear view into the current state of things where people within the LBGTQ+ community still have their voices stifled. That's why it's so important for our community to have representation on social media.
As an LGBTQ couple, what are some challenges you've faced in travel?
In terms of accommodations, we sometimes have trouble with acceptance as a same-sex couple, where they will book us two beds instead of one because they think we're friends. But that kind of uncomfortable feeling extends beyond just where we stay, sometimes when we walk the streets of a new place we do get stares and unwanted comments. But that comes with the territory of pushing the boundaries so we're prepared for it.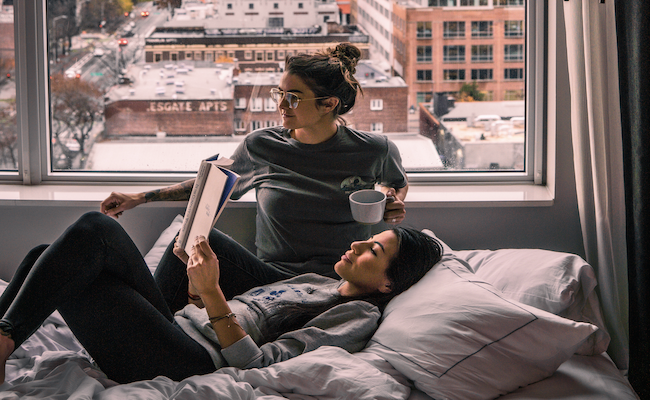 Tell us about The Purple Diaries, your blog containing tips for traveling safely as a member of the LGBTQ+ community.
We wanted to start a blog that was geared towards sharing tips and guides for other LBGTQ+ travelers. On The Purple Diaries, we share our personal experiences for every destination we travel to; how we felt during that trip, and whether or not we felt included and safe. We are as transparent and honest as possible because that's one of the only ways we can hold those destinations accountable for providing safe experiences to LBGTQ+ travelers. We were just in Orlando, Florida speaking at an LBGTQ+ travel conference and someone came up to us and told us how impactful our tips had been for their travel experience and safety. That was really humbling for us to hear how we have directly helped one of our community members.
What are some tips you'd give to aspiring LGBTQ+ creators?
Be consistent and recognize that it takes a lot of time. Success doesn't happen overnight and it takes a lot to break through as an LGBTQ+ creator. We as a community still have so much to fight for politically, so don't be discouraged and keep hustling. An unfortunate aspect of social media is that you will get hurtful and sometimes hateful comments as you put yourself out there. Don't let those people discourage you, and just know you will also receive plenty of positive feedback from those that want you to succeed and appreciate your content. In the end, that's what makes it all worth it.
From a creator standpoint, tell us about your philosophy when working with brands to promote Pride month or to support the LGBTQ+ community?
We work with brands on this all the time because although it's well-intentioned, many brands only show up for the LGBTQ+ community from June 1st to June 30th. However, our community exists all year round, so I'm interested in working with the brands, properties, and destinations to be inclusive outside of just Pride month. As a community, we really notice brands that show up for us because they want to versus because they feel they have to, or because they want to monetize off of the moment. Just slapping a rainbow flag on something doesn't mean your brand is committed to helping our community. I hope that brands become more dedicated to inclusion year-round. That being said I will give brands some credit, because 10 years ago we didn't see any support, and the rainbow logo trend certainly wasn't normalized.
Want to discover other great creators, and learn how to build a successful influencer marketing program for your brand?