Motorsports fans celebrated "the greatest spectacle in racing" during this year's 107th Indianapolis 500. The principal event of the IndyCar Series, the Indy500 was full of exhilarating activations that fueled racing fans.
From Josef Newgarden's win over previous winner Marcus Ericsson, to signage that decked the speedway, the seating arena, and athletes themselves, the IndyCar Series showcases how integrated marketing activations can boost fandom to new heights.
Taking place from March to September, the series presents an untapped opportunity for automotive and complementary brands to develop and scale excellent in-person marketing activations. Let's take a look at which brands accelerated their marketing this year.
The Winners of the IndyCar Series
Shell Powers Renewable Fuel
Replacing Speedway as the official fuel sponsor of the IndyCar Series, Shell's presence at the IndyCar races was undeniable. This sponsorship was a long time coming, due to Shell's close relationship with Roger Penske, a retired Formula One driver and IndyCar owner.
The multinational gas company fueled $13.5M EMV in Q2, with 65% of this total coming from a creator community that hadn't posted about Shell the previous quarter. #IndyCar contributed $137.2k EMV in May, the highest-performing month for Shell during the time period monitored.
The brand married these organic efforts with in-person activations such as signage at the Indianapolis airport, as well as decking out cars and drivers with its logo—including Indy500 winner Josef Newgarden (@josefnewgarden on Instagram).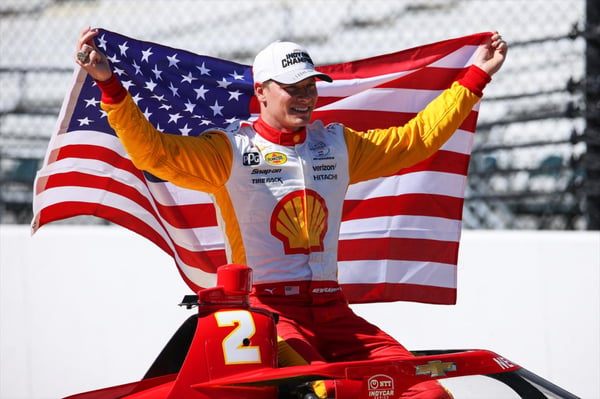 Photo Credit: Amber Pietz, NTT INDYCAR SERIES
Shell also launched its Renewable Race Fuel initiative, demonstrating the brand's ability to reduce emissions by 60%—even at 225 mph. Shell's sustainability efforts mark a monumental occasion for the IndyCar Series, the first motorsports series in the U.S. powered by renewable race fuel.
Shell's sponsorship of the event raises a critical question in the sports community: how do you translate the power of in-person signage to trackable, scalable efforts?
Honda Outpaces Chevrolet
IndyCar contributed $657.5k EMV in Q2 for Honda, up 189% from Q1's $227.7k EMV. Rahal Letterman Lanigan Racing (@RLLracing), which represents several IndyCar competitors, topped the charts for Honda's online momentum around the series. Honda featured in 56 IndyCar mentions in Q2 2023, powering $182.3k EMV.
In one popular post, RLL Racing showcased driver Katherine Legge sliding into a Firestone-decked Honda seat molding. A force to reckon with, Legge drew notice from several brands as the only woman competing in the Indy500. Her journey at the race included the whirlwind of qualifying, battling gender stereotypes, breaking a record, and dealing with a crash.
Additionally, Legge partnered with E.L.F. Skin, which was eager to work with a woman in a male-dominated field, particularly for the "largest single-day sporting event in the world." However, as Legge insists, "I don't care about fastest female—I care about fastest driver."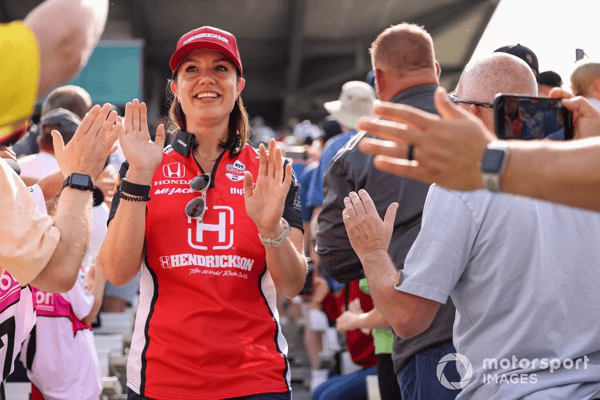 Photo Credit: Brett Farmer, Motorsport Images
Honda's great performance has less to do with the influence of a single creator, and more to do with the brand's general approach toward creator partnerships. Instead of one-off collaborations with the flashiest creators, Honda looks to build sustainable bonds with its partners, prioritizing long-term success.
In fact, Honda excelled at retaining its creator partners: the brand's top 25 creators for Q2 also posted about Honda in Q1. Honda's ability to maintain brand loyalty allowed it to top the list of brands drumming up momentum for the series. Notably, Honda pulled ahead of Chevrolet, the IndyCar Series' other official engine partner, in conversations about the racing events.
Other Noteworthy IndyCar Performances
Peacock
Peacock, which streamed the races, captured the Series' most exciting moments, including actor and Indiana native Adam Driver's role as honorary starter, a collision between Detroit Grand Prix winner Alex Palou and driver Rinus Veekay, and more.
Chevrolet
Chevrolet signage covered Jefferson Avenue for the Chevrolet Detroit Grand Prix, where cars zoomed at speeds higher than 160 mph. Another engine partner for the series, a Chevy Corvette Z06 Hardtop Convertible was the featured pace car for the Indy500.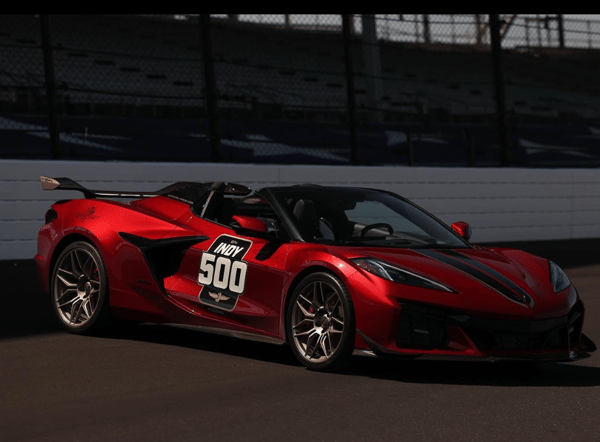 Photo Credit: IndyCar
Tag Heuer
Actress Stephanie Beatriz (@stephaniebeatriz) was not a competitor, but stopped by the Indianapolis Motor Speedway, with VIP access to the #Indy500 experience. Beatriz wore a Tag Heuer watch, which she captured in photos on the speedway. In stellar cross-promotional efforts, Beatriz promoted her Peacock series "Twisted Metal."
Mountain Dew
Pepsi's Mountain Dew Green Means Go campaign offered consumers QR codes that linked them to Indianapolis Motor Speedway merch and experiences, including the chance to wave the green flag and launch the race. Other food- and beverage-centered brands with an event presence included Coors Light (which sponsored an EDM concert), Instacart, and Hy-Vee.
The Finish Line
What's thrilling about racing, and sports more broadly, is its focus on athletes, who have all the competencies needed to thrive online as creators.
Though activations around the IndyCar Series made a splash, particularly for fans watching the racing events in-person or via streaming services, brands partnering with teams or individual athletes still have room to expand their marketing efforts.
To capitalize on motorsports fandom and develop integrated campaigns, marketers can:
Partner with competing motorsports athletes, or invite content creators to attend these events, powering targeted online conversations that really move the needle.
Incorporate unconventional marketing engagements by thinking beyond the world of cars, fuel, and parts, as seen by Katherine Legge's E.L.F. Skin partnership or Hy-Vee x IndyCar.
Enable creators with the correct hashtags and creative notes for campaigns, allowing these initiatives to be analyzed by an influencer marketing software like CreatorIQ.


To get a peak of the in-depth analytics we can track: