Each week, we'll be bringing you select insights from our newsletter, How to Build Brands and Influence People (HBBIP). To have all of these insights delivered directly to your inbox, subscribe today!
Maybe you've heard of this MrBeast guy. If you haven't, then he's probably about to film a video of himself rescuing you from that rock you've been living under.
I won't belabor the point, but if there's one thing to understand about MrBeast—or James Donaldson, as he's known at the DMV—it's this: no one on earth has come closer to perfecting the art and science of virality. Love or hate his content, MrBeast has put a genuinely astounding effort into understanding how the premise, style, and marketing of video content can draw viewers. The algorithm is a code, and he's cracked it.
The results speak for themselves:
- MrBeast subscribers would be the No. 8 most-populous nation in the world. Move over, Bangladesh!
35.6B total YouTube views
- Everyone on earth has watched at least four MrBeast videos. That's just math.
The first person to amass 1M followers on Threads
- MrBeast achieved this feat in the time it takes to read this blog post.
MrBeast has also gotten into the brand-building game—which is where this analysis kicks in.
In January 2022, MrBeast launched Feastables, a snack brand primarily known for its "MrBeast Bars," a range of chocolate delicacies famously made with just four base ingredients. Clearly, Feastables posed an incredible opportunity. You know what's even easier than taking candy from a baby? Selling candy to a group of consumers who treat you like a living god. The Willy Wonka of YouTube had become just straight-up Willy Wonka.
I wanted to check in on Feastables nearly two years into its run, and see how it's stacking up against some of the biggest names in chocolate. While I expected it to be blowing out the competition, the results were a bit more nuanced: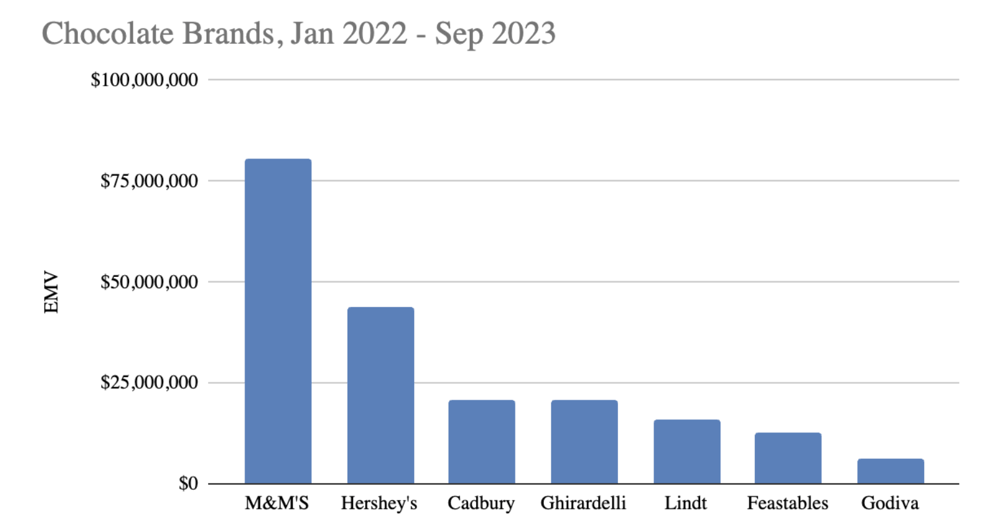 Earned Media Value of Chocolate Brands from January 2022 - September 2023
Why the discrepancy between social buzz for Feastables and its EMV figure? One big reason is because EMV is, after all, EARNED media value—if you own the brand, your posts don't count. Which is a real bummer for Feastables, since posts by MrBeast tend to drive, anecdotally, more EMV than I've ever seen from any individual creator, with the possible exception of Lionel Messi, who's sort of like the MrBeast of soccer.
While plenty of other big-name creators touted Feastables over the past two years, including Matt Stonie (16.3M YouTube followers), Nick DiGiovanni (12.6M YouTube followers), and Milad Mirg (6.5M YouTube followers), mathematically inclined readers will note that 205M is bigger than all of those other numbers—bigger than all of them put together, in fact.
Thanks to the wizards in the CIQ data department, we were able to see what would happen if MrBeast's posts about Feastables counted toward the brand's EMV. The results paint a different picture: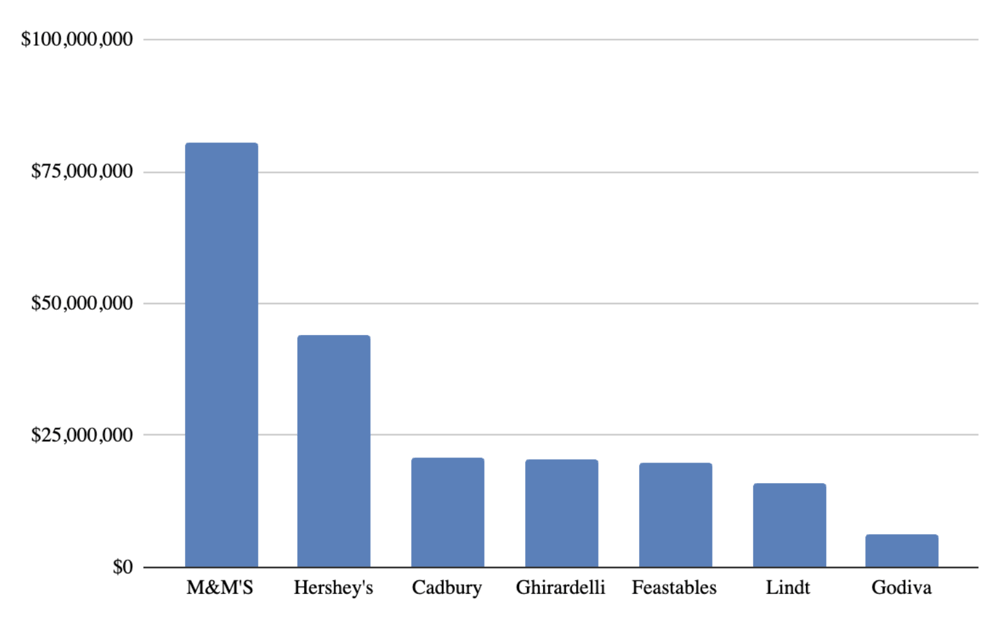 Mr. Beast's Feastables Earned Media Value vs Top Chocolate Brands Jan 2022 - September 2023
In this scenario, Feastables leapfrogs Lindt and stands more or less even with Cadbury and Ghirardelli. MrBeast's mentions would amount to $7.0M EMV—more than Godiva's total, and roughly one-third of Feastables' new EMV total as a whole.
Still, counting MrBeast's posts wouldn't propel Feastables to the very top, in part because the creator doesn't spam the text or descriptions of his content with Feastables promotions—a savvy play for driving engagement and authenticity.
But there are other ways than EMV to measure the MrBeast bump. And that's where Feastables really sets itself apart.
Consider that during the time period monitored, Feastables had by far the smallest creator community of the chocolate brands in this analysis—just 736 creators, compared to 5.6k for M&M's or 4.2k for Hershey's.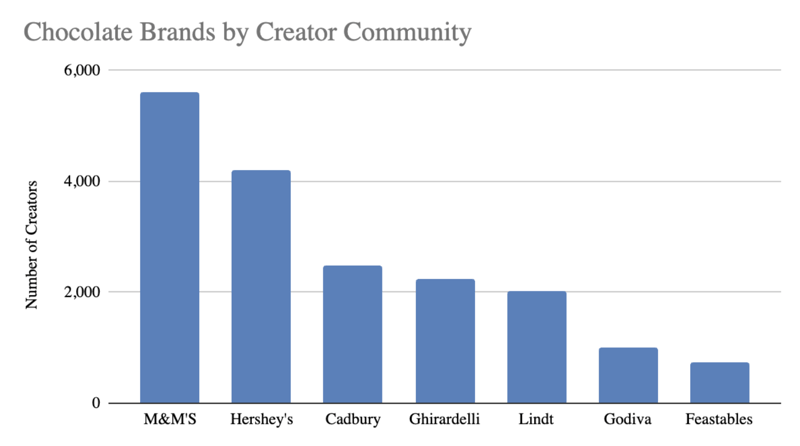 Chocolate Brands + Feastables by Creator Community January 2022 - September 2023
Now consider the impact of this small-but-mighty community when it comes to Engagement: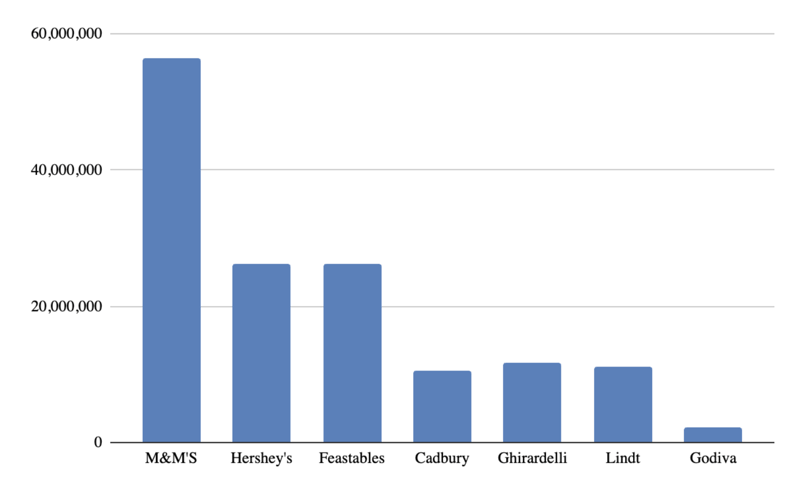 Chocolate brands by Engagement January 2022 - September 2023
There might be fewer people talking about Feastables relative to household names like M&M's and Hershey's, but when Feastables is discussed, people listen—and demonstrate their enthusiasm via likes, comments, and shares.
Interestingly, while Feastables was founded by a YouTuber, and received support from many other prominent YouTubers, its most dramatic outperformance of the competition came on TikTok. Many of the YouTube creators who embraced Feastables posted short-form versions of their content on TikTok, leading to a groundswell on that platform that larger chocolate companies had trouble matching. Just take a look at Feastables' numbers for TikTok Engagement: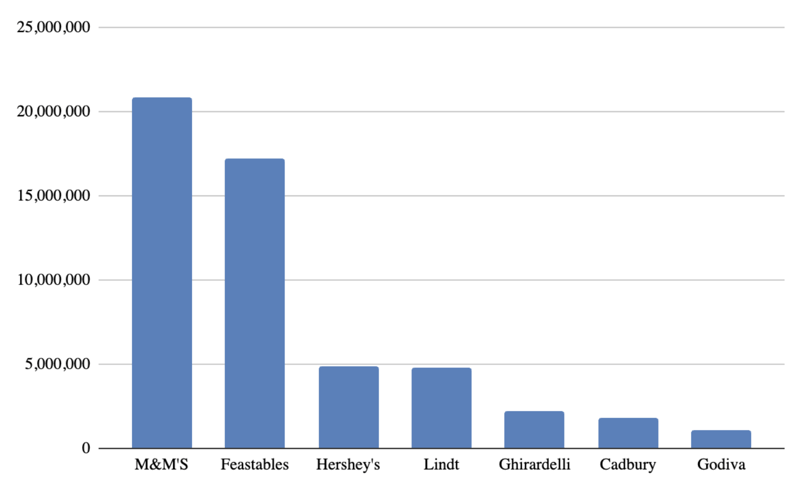 TikTok Engagement for Feastables vs other Chocolate Brands January 2022 - September 2023
Feastables' 85 TikTok creators nearly matched the total Engagement garnered by M&M's' 438 TikTok creators. That's pretty wild stuff, and indicative of the passion and product market fit that typically makes for winning brands.
And to circle back to EMV, while Feastables may not be at the top of the pack just yet, it's growing at a rate that outpaces its competitors. Comparing Jan-Sep 2023 to Jan-Sep 2022, Feastables improved at a best-in-class 144%: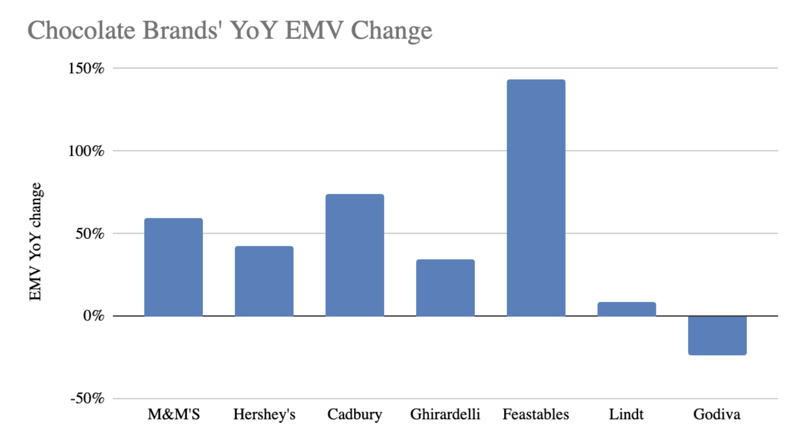 Top Chocolate Brands YoY EMV Changes
The framework for explosive growth is there, but in many respects, Feastables still has its work cut out for it. Granted, it's unrealistic to expect a brand that's not even two years old to rocket straight to the top versus brands with hundreds of years of history—but it's also unrealistic to help 1,000 blind people see for the first time. MrBeast has made a career of shattering expectations, and I'd be surprised if Feastables didn't follow suit.
This Week's Headlines
Key Takeaways:
On the heels of a collaboration between the Charlotte Hornets and Feastables, the NBA as a whole is forging new ties to other creator-founded businesses.
A multi-year deal positions Kim Kardashian's Skims as the official underwear partner of the NBA, further setting up the clothing brand's showdown with the Nikes and Adidases of the world.
Skims also recently announced its men's line, fronted by Oklahoma City Thunder star Shai Gilgeous-Alexander.


The CIQ Perspective:
Another week, another blockbuster collaboration between an established business empire and a creator venture.
The move represents a major achievement for Skims, which has steadily increased its EMV since being founded in June 2019:
Looks out for an EMV rebound for Skims in October, along with what could very well be coverage in our forthcoming TTT.


Conor's Corner
If there's anyone on earth who lives, breathes, and truly believes in the Creator Economy, it's Conor Begley: CreatorIQ's Chief Strategy Officer, and a burgeoning creator in his own right. When he's not basking in the glory of CreatorIQ Connect, the world's greatest creator marketing summit, and planning future editions of the smash-hit event, Conor shares his exclusive research on trending creator marketing stories with his followers on LinkedIn. But you can check out his latest findings right here.
This week, Conor embraces his inner sneakerhead:
💰 Which sneaker brand:
Increased revenue by $1.8B to $5.3B from 2020 to 2022?
Went from #103 in our apparel rankings in 2018 to #14 in 2023?
Is worn by supermodels in London and dads in Ohio?
If you guessed New Balance—you're right!
With the rise of the chunky sneaker, made popular by celebrities and influencers alike, New Balance has enjoyed a major spike in popularity over the last few years. I mean, if Rihanna is wearing your shoes, you know you're doing something right (Rihanna if you're reading this, let's do a podcast together).
📈 US Apparel Rankings
#103 in 2018: $29.3M EMV, 18% YoY
#91 in 2019: $41.3M EMV, 41% YoY
#41 in 2020: $83.4M EMV, 102% YoY
#28 in 2021: $120M EMV, 44% YoY
#19 in 2022: $159.6M EMV, 33% YoY
#14 in 2023 YTD: $136.9M EMV, 16% YoY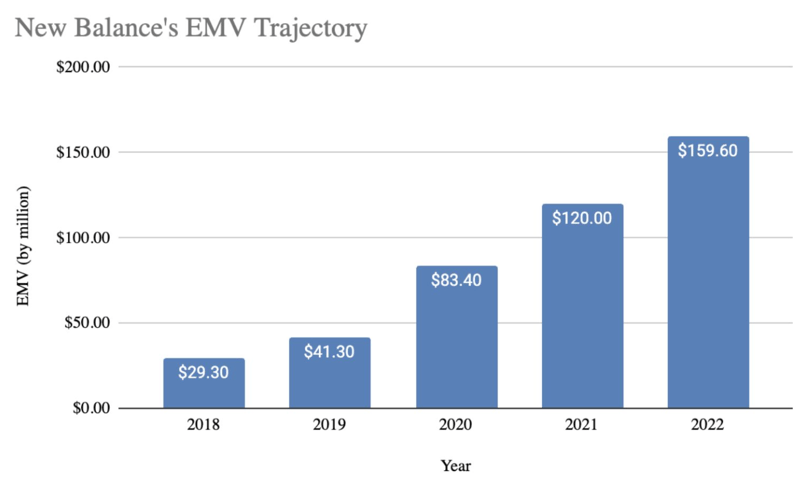 New Balance's EMV Change from 2018-2022
In 2023, New Balance outpaced competitors including Puma (#18), Converse (#27), Vans (#30), Reebok (#46), Hoka (#62), Yeezy (#77), Fila (#313), and Allbirds (#382).
If we zoom in on sneaker-forward brands, New Balance's EMV total is surpassed only by legacy icons of the sneaker world: Nike ($657.8M) and Adidas ($307M). However, New Balance's 16% YoY EMV growth in this time period beats Nike's 4% and Adidas' 12% YoY lifts.
🔍 Under the Hood:
11.1k creators (up 22% YoY)
47.9k posts (up 13%)
1.1 BILLION ?! Estimated Impressions (up 5%)
70M Engagements (up 6%)
Strong community retention
May be a little top heavy with creators over 1M+ followers contributing 38% (I'd love for this to be closer to 25%).


👯 Collabs for the win
In addition to organic love from Rihanna and Hailey Bieber, New Balance has demonstrated a concerted effort to tap into the creator economy in recent years by cultivating a roster of "fearlessly independent" brand ambassadors including artists, actors, and athletes like Jaden Smith, Jack Harlow, Aminé, Storm Reid, Kawhi Leonard, and Zach LaVine.
What's more, these ambassadors aren't just sporting existing New Balance kicks—they're actually partnering with the brand on their own collaborations that embody their own signature styles or creative ventures.
👟 Other sneaker brands to watch
A few other sneaker brands who are starting to exhibit similar cultural relevance and EMV growth trajectories…
Hoka, which ranked at #101 by EMV in 2022, is currently sitting at #62 in 2023 so far.
On Running (a shoe many of our team were running around in at Connect) ranked 197th last year, before climbing 72 spots to sit at #125 this year.
To get all of these stories, plus much more, delivered to your inbox weekly, be sure to subscribe to our newsletter.