A podcast dedicated to earned media and influencer marketing? Today we're introducing Earned, our new podcast and video series in which Tribe Dynamics co-founder Conor Begley sits down with esteemed industry leaders, exploring the minds—and marketing strategies—behind the most successful beauty and fashion brands in earned media.
In Episode 1 (recorded in January), Conor chats with Ashton Wall, the director of performance marketing at ColourPop, one of today's hottest cosmetic brands online and off. Known for its high-quality but affordable makeup and trendy influencer collabs, ColourPop has cemented its coveted status as a consumer favorite: the brand ranked among the top 10 cosmetic brands by Earned Media Value (EMV) every month of 2019, even claiming the No. 1 spot in December. And Ashton has been a key contributor to ColourPop's ever-growing success: from February 2019—when Ashton joined the brand's team—to February 2020, ColourPop accrued $1.2B EMV, representing an impressive 129% year-over-year surge.
In this episode, Ashton shares the riveting journey that led her to landing her "dream job" at ColourPop. She reveals her career role models (including her former boss, Tracy DiNunzio, founder of Tradesy) and favorite marketing philosophies, before diving into the evolution of brand-consumer relationships in the social media era. Ashton also divulges a few of the strategies behind ColourPop's massive success—including the importance of intentional social listening, before lending advice to young professionals looking to build careers in marketing.
Below, we've included a few discussion highlights from the episode, but be sure to listen to the full episode above or tune into the podcast on Spotify, Apple Podcasts, or Google Podcasts—trust us, it's an insightful interview you don't want to miss.
The following interview has been lightly edited for concision.
The ColourPop Advantage: How the Beauty Brand Thrives With Short-Term Planning and Real-Time Reactions
Conor: How do you manage process in [a fast-paced] environment like [ColourPop's]? Obviously you've gotten to a scale and success that is beyond anything we've achieved, so how do you manage that as it scales? The organization's just really big right now, so to move fast is really hard.
Ashton: It is. So I attribute that to a few factors. One, we're vertically integrated. That is a huge competitive advantage, right? So, we answer to nobody but ourselves. We're not working with a contract manufacturer that's saying, "Hey, I have to have this concept nine months in advance," or whatever it might be, so that's a huge help. Two, I think that not necessarily the whole organization functions in the way that the marketing group does. I think [Laura Nelson, ColourPop's co-founder] does a fantastic job of kind of protecting us from that and saying like, "Okay, the magic happens in real time." That is one of my philosophies of marketing, right? That the magic happens in real time and you can't over-plan it. I know a lot of people would disagree with me, but…
Conor: Most marketing calendars are a year out, and product launches are two years out.
Ashton: Or more. And people want to know, what is your vision for 2024? Like, fuck, I don't know. Do you? I feel like you're lying if you do. I know what I'm doing tomorrow, I have a loose idea of next week, but who knows it could change. And I think that is really the magic of Laura and the magic of ColourPop, and I hope that we preserve that. And it goes back to social listening, too. I mean, that's something that's so important to us. What are people saying in real time? Because we have the operational capacity to react to that. Not many other people can say that.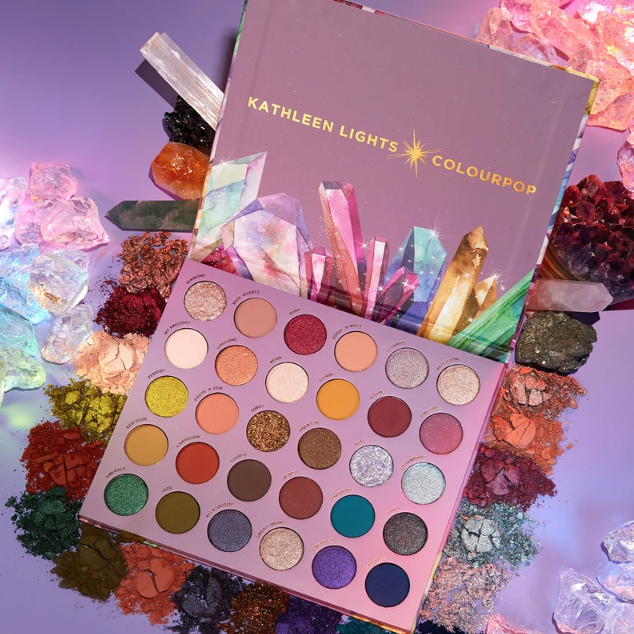 The Importance of Social Listening: How Consumer Feedback Informs ColourPop's Product Development
Conor: One of the ways that marketing and branding and brand building has changed over time, is now you have this direct access to the consumer [via social media], and that feedback loop you can get from them is so powerful. So how do you guys think about how marketing funnels into product development, and what are some of the ways that you guys do that? And obviously you guys have some special sauce on the manufacturing side that makes it really hard to replicate.
Ashton: So that is the center of ColourPop's world. Social listening is number one for us. We ask, what do you want to see next from us? What is the palette color that you're dying to have that you don't have in your collection? What do you like? What don't you like? Something that comes to mind is pressed glitters—people were really all about that until they weren't, and it just happened immediately, and we were able to react within weeks and say, "Okay, going forward, we're not going to put pressed glitters in palettes. We hear you." Which is incredible.
But it's so interesting to see, like another thing that we're seeing is cool tones versus warm tones, and what that looks like in our playbook. And just like another tidbit of why I love working [at ColourPop], is I'm a performance marketer through and through, but one day I tap danced over to product development and said, "Hey, I'm super pale. I cannot wear these warm tones. I really want a cool tone lip liner." And they're developing it and they're naming it Ashton. And I'm like, "What? Where do I work? This is crazy!" But yeah, it just goes back to ideas in real time, and it could be one comment on social media that [makes us say], "That's a good idea. That's wild, but that's a good idea." It doesn't have to be the masses.
Conor: You're crowdsourcing ideas, right? And these are people that are so embedded in the industry, they know all the products, they want what's best. They're not saying it for no reason, and if they're willing to go on social media and proclaim, "This is what I need," there's something real there and there's probably more than one person that thinks that.
Ashton: Absolutely. And if we release something and the formula's just a little bit off and we're hearing the same thing over and over again, guess what, that formula is being upgraded next week.
How to Accelerate Your Marketing Career: Advice From Ashton
Conor: So if you were to talk to people who are like, "I want to be the Director of Marketing at ColourPop," what would you recommend to them? For people that are really early in their career, how can they get better? What are some of the steps they can take to accelerate their own careers?
Ashton: I would say, find yourself at a company—it doesn't necessarily need to be beauty, even if you want to get into beauty—that gives you an opportunity to get your hands dirty in both paid, earned, and also owned media. Because at the end of the day, you have to be able to weave those disciplines together, whatever that means for you. People do paid in different vicinities, people do owned different ways, but if you aren't familiar with those three buckets, I think it'll be a hindrance. I was so lucky with my career at Tradesy because I got there so early on, I mean the marketing team was literally just me and Tracy, the founder. So I had to learn those things by default, but I didn't realize it at the time.
I think too, have at least a year on your resume where you can work closely to a founder. I've worked for founders and then I've worked for hired CEOs, and I will only work with founders from here on out. There's just a hustle to them and a belief that nothing is impossible, and it just takes you to a place where you're like, "Okay, I can do this." So those would be my two biggest pieces of advice.
--
Listen to the entire interview here, or listen to the full episode on Spotify, Apple Podcasts, or Google Podcasts! And be sure to subscribe to our podcast and YouTube channel so that you don't miss Episode 2 of Earned, featuring Jordynn Wynn—Co-Founder of rising hair extensions brand, Insert Name Here.