In Episode 44 of Earned, Conor sits down with Somer Tejwani, VP of Global Marketing at powerhouse beauty brand Too Faced, which ranked as one of 2021's top 15 EMV-driving cosmetics brands.
We start the episode by discussing Somer's long tenure at Too Faced, and hear how the brand's great products—and savvy influencer strategy—played major roles in Too Faced's $1.4B acquisition by Estée Lauder in 2016. We then dive into Too Faced's influencer marketing playbook, as Somer shares the brand's authentic approach to influencer collaborations. Switching gears to leadership philosophies, Somer explains why she prioritizes being tuned-in and involved with her team. We also explore Too Faced's approach to TikTok, and hear how the platform has sparked renewed interest in the brand's legacy products. Finally, we close the show with Too Faced's top three influencer marketing strategies, and learn how the brand's tactics for engaging influencers have evolved over time.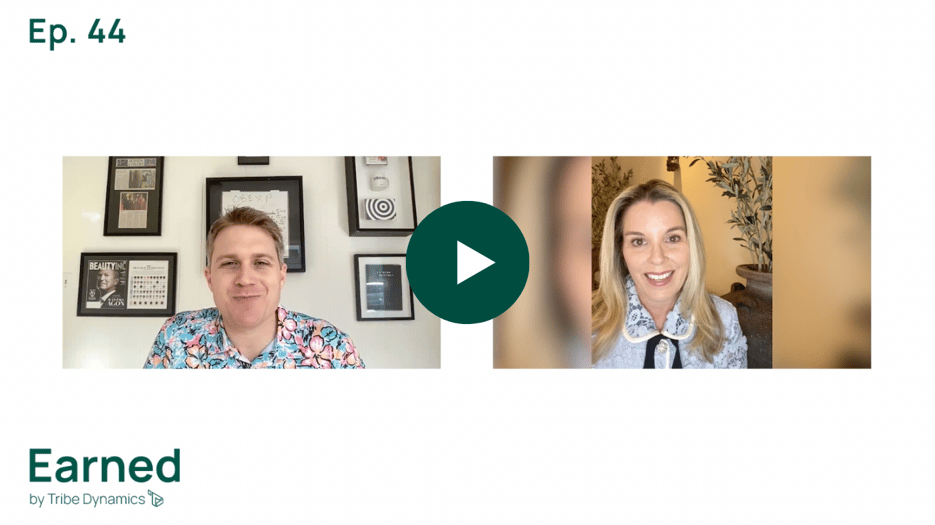 We've included a few highlights from the episode, but be sure to check out the full video above, listen to the podcast below, or tune in on Spotify, Apple Podcasts, or Google Podcasts!
The following interview has been lightly edited for concision.
"The most successful collaborations are when there's already that authentic friendship": Too Faced's Approach to Influencer Collaborations
Conor Begley: Talk to me about Too Faced's influencer collaborations, because I feel like that has been such a core part of your strategy and your success. When was the first collaboration and the first lightbulb moment of, "Wow, when we work with these people to co-create products, it can be really powerful?"
Somer Tejwani: Yeah, when we do [collaborations], it's not some big reverse-engineered [plan to fit them] into some product pipeline, like we're going to do two of these a year or once every quarter. It's nothing like that. It's truly authentic. Sometimes that word can be overused. You'll probably hear me say it 10 times during this session. But it's just the truth, there's not a better word for it. It's literally like you're chatting with someone, you're meeting with them, and Jerrod [Blandino], who heads up all things product, gets a connection with the person, and he goes from there.
I remember we worked with Vegas Nay, Naomi Giannopoulos, who is this incredible talent, and she truly had this really unique perspective on makeup, on how she wore makeup, on how she talked about makeup. Jerrod hit it off with her, and they were in the kitchen and were like, "Let's do a palette together." I think that is what makes the most successful collaborations: when there's already that authentic friendship that you can build off of, or that authentic mutual respect, love of each other's craft, love of what each other is doing, and you're trying to get together and make something even more special.
Conor Begley: And those are all long-term relationships as well, right? I think that's one of the other things that people miss is, they're like, "Oh, I'm just going to find a celebrity and we'll create a product together." And I don't know how long you knew Vegas Nay, but you didn't meet her that day, right?
Somer Tejwani: Yeah. Years, years, and we're still friends, and I think that is where the magic is. So when you have new brands, or if you have someone who wants to create a brand, that's something that's really important that you take into mind—who is going to be the face of your brand, or who are you going to partner with? It's not this scientific algorithm or something that can be contrived in a boardroom. Because consumers can totally sniff that out, right? It comes down to creating magic, creating something special together, and bringing together two unique, different people with different perspectives, personalities, past experiences, to birth something new. These are the kind of surprises and delights for the consumer that I think really get them excited too.
"Be a mentor for your team and have that seat at the table with them": Why Somer Tejwani Prioritizes Being a Tuned-In Leader
Somer Tejwani: As a leader, you have to also roll up your sleeves and have your head in the game. A lot of times it can become easy, I think, for leaders to go and be disassociated with the day-to-day workings of a brand or of an organization—they're in their corner office, door closed, head in the weeds of some Excel spreadsheet. You've got to make the time to actually be the one in meetings, involved, strategizing, talking to influencers still, meeting with influencers still. That doesn't mean micromanaging your team. It's very different. What it means is truly being a leader and a mentor for your team, and having that seat at the table with them.
The other thing I would say in terms of being in the weeds is, something that's really helped me—and anyone who knows me knows that this is so, so important and I think is really key to our success—is when we were in the office and living our best lives a couple years ago, I had two desks. I had the office with a closed door for those personal meetings that I needed to have with people that I'm in for maybe 10 minutes every couple of days. But my real desk that I do my work at is in the middle, the seat right next to the team. It is in the weeds. The person who taught me that was Jerrod, who also has this beautiful designed office that he never sits in; he drops off his bag in the morning and he would leave. He sat in the middle, right next to everyone with his product development team and his head graphic designer. The stories you're hearing, the banter in the morning, the watercooler talk, just what people care about—it's so key to be in the weeds with people where they're seeing you as their leader, right? Getting in with them, rolling up your sleeves, building those relationships, that's really important.
I think a lot of leaders have this false sense of like, "Oh, when I've made it and I get my office, I'm going to stay in there and invite people to sit down across from me at a desk." That is not how you build teams that want to work for you. It just isn't. Yes, you have to have a closed door to have certain conversations when you get to a certain level, but go out there and get in with people. Obviously now that most people are virtual, how do you do that in a virtual sense? Well, you just join them to riff. Sometimes I just call them, right? Pick up the phone and ask how are you doing? Don't get into just barking orders and telling people what to do. Just ask them, how are you doing? Call casually, and say, "I wanted to see how you are doing and check in."
–
You can watch the entire interview here, or listen to the full episode on Spotify, Apple Podcasts, or Google Podcasts. To catch up on our other 43 episodes, featuring leaders from brands like Milk Makeup, Gymshark, Gucci, and Summer Fridays, visit our Earned Podcast page.