It's #VaxGirlSummer, which means we're saying goodbye to the sweats we've been living in for the past year, and hello to outfits we actually want to be seen (and photographed) in. And when it comes to Instagram fashion, one brand in particular is stealing the spotlight on social media: Australian label Princess Polly. From May 2020 to April 2021, the affordable, trend-conscious clothing brand collected $207.7M in Earned Media Value (EMV) from 4.6k content creators, enjoying a 33% year-over-year EMV growth fueled by a 34% increase in community size.
In this post, we'll take a look at two keys to Princess Polly's success over the past year: consistent inclusion in fashion influencers' daily outfit posts, and an emphasis on nurturing long-term relationships with fans. Drawing on takeaways from the label's runaway success, we'll also outline influencer marketing strategies that all brands can leverage to expand their earned media footprints in a post-pandemic world.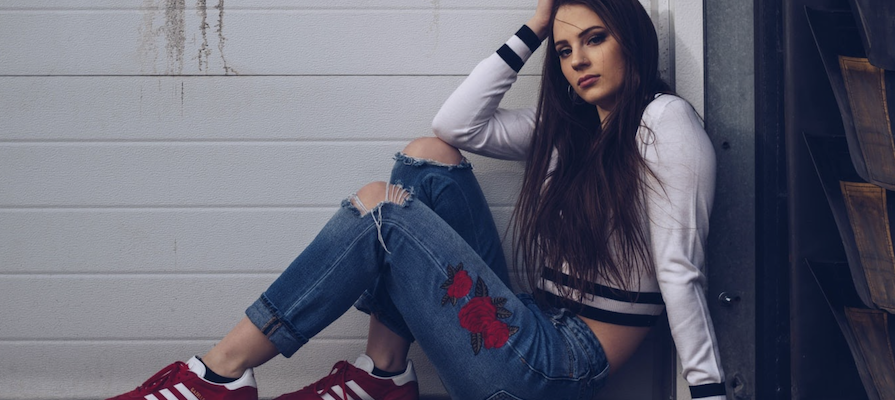 Fashion Influencers' Daily Outfit Posts Fuel Princess Polly's Rise
Like sundresses and cropped tees, Princess Polly's popularity in 2020 and 2021 is hardly a new development. In fact, the brand's prominence in style bloggers' content over the last 12 months marked the continuation of an impressive growth trajectory dating back to 2018: from 2018 to 2019, the brand's EMV more than doubled, jumping from $57.8M to $135.1M, while its influencer community exploded from 996 to 3.0k content creators.
This momentum can be partly attributed to an increased volume of "outfit of the day" content, which has continued to bolster Princess Polly into 2021. #OOTD ("outfit of the day") ranked among the Instagram fashion brand's top five EMV-driving hashtags in both 2018 and 2019, surging from $1.4M in the former year to $4.2M in the latter. Organic outfit posts have remained a staple of Princess Polly's social media presence, with mentions of #OOTD garnering $3.1M EMV via 325 influencers from May 2020 to April 2021.
A weatherproof (and pandemic-proof) source of consistent influencer activity, Princess Polly's reliance on unsponsored, everyday fashion content, rather than coordinated events and getaways, proved especially valuable during last year's shelter-in-place orders. While many brands struggled to engage fans without in-person activations, Princess Polly leaned into the "at-home outfit" trend, with posts tagged #StayHome garnering $1.2M EMV in 2020. What's more, as reopening venues and summer travel plans offer even more opportunities to look cute on camera, the volume of outfit content featuring the brand's apparel is set to increase.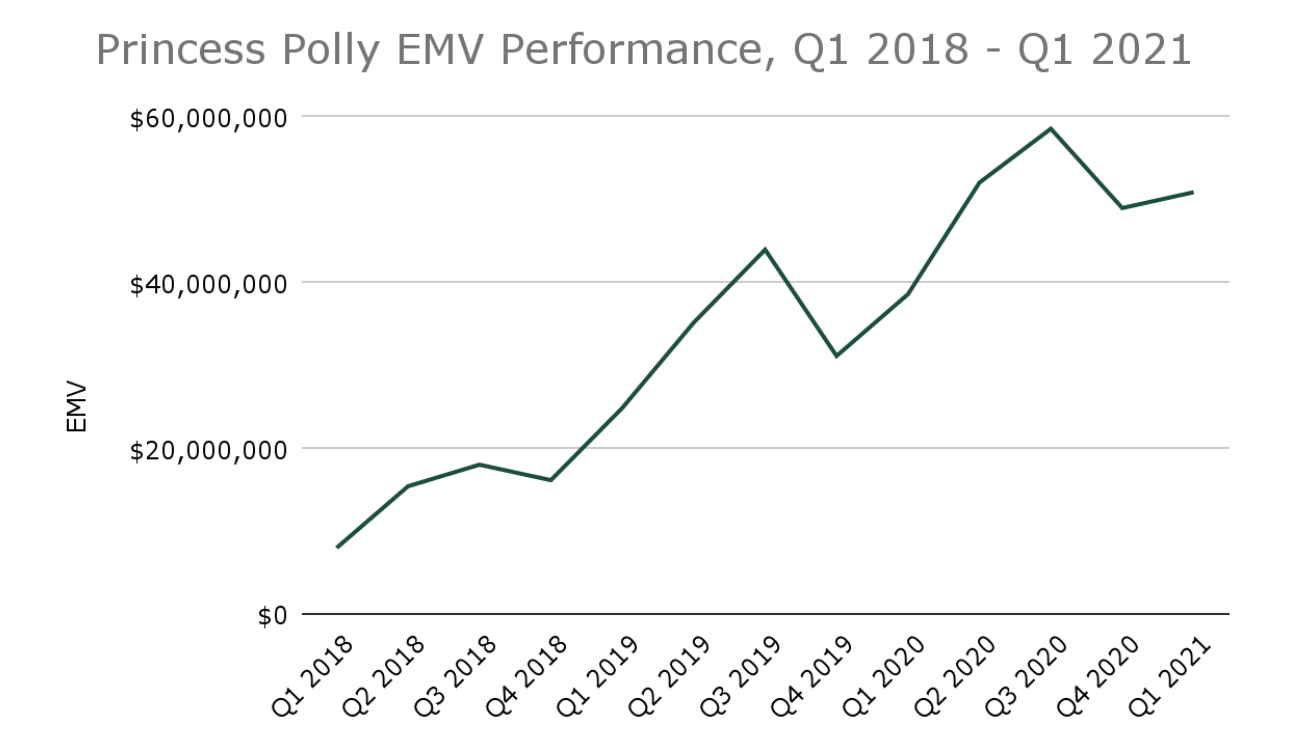 Princess Polly Sustains Influencer Enthusiasm By Building Long-Term Relationships
Thanks partly to an influencer marketing strategy aimed at inspiring a steady stream of outfit content, Princess Polly's fans have demonstrated remarkably consistent brand affinity. Over 60% (2.1k) of the influencers who mentioned the Instagram fashion label from May 2019 to April 2020 continued to endorse Princess Polly from May 2020 to April 2021, including all of the brand's top five EMV-drivers during the latter period.
As is often the case for long-term brand-influencer relationships, these consistent content creators grew more valuable to Princess Polly over time: loyal influencers who posted about the brand in both the past 12 months, and the 12 months prior to that, collectively drove $154.0M EMV—74% of Princess Polly's total—from May 2020 to April 2021, an improvement upon their $131.4M from May 2019 to April 2020.

Style blogger Viviane Audi's (handle) time-honored affinity for Princess Polly offers a particularly telling example of how the label's long-term connections to influencers have gained over time. Viviane, who first mentioned Princess Polly in 2017, generated $3.3M EMV as the brand's No. 1 earner from May 2020 to April 2021 after contributing $1.5M from May 2019 to April 2020. Even though Viviane's 108 posts during the past 12 months marked just a slight uptick from her 98 pieces of content in the previous 12 months, her own rising profile within the Instagram fashion space rendered her an increasingly impactful brand advocate. By continuing to work with the influencer as she expanded her own audience, Princess Polly reaped the rewards of a genuine, mutually beneficial partnership.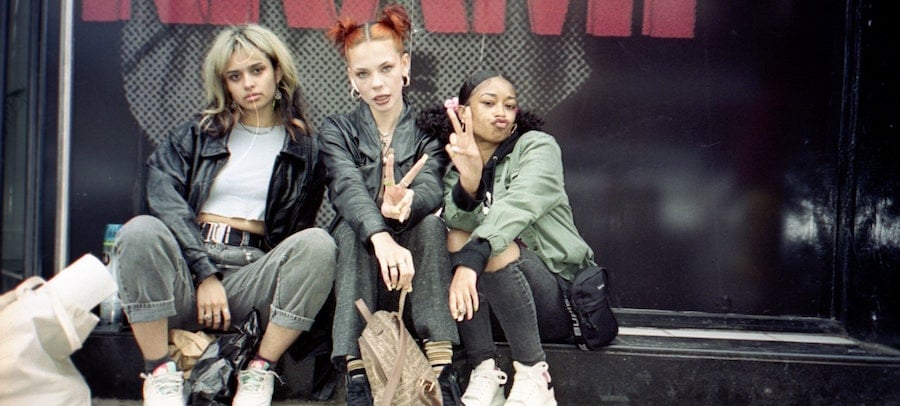 For years, Princess Polly developed a dependable strategy for garnering fashion influencers' endorsements, grounded in everyday fashion content from loyal fans. Last year, this long game paid off in a big way. However, brands don't need years of EMV growth to start laying the foundation for a crisis-proof influencer marketing strategy. Here are a few tips for brands in any vertical that want to sustainably and reliably increase their earned media presence.
Identify avenues for ongoing content creation. One-off activations like events tend to generate significant buzz, and can help you recruit new fans. But chances are you don't have the resources to host a party every month. For that reason, it's also helpful to create ongoing, lower-lift opportunities for influencer activity—whether that looks like encouraging content creators to feature you in their everyday outfits, or keeping their shelves stocked with their favorite moisturizer to remain a mainstay in their daily self-care rituals.
Identify and engage consistent advocates. We've said it before, and we'll say it again: loyal influencers are the most valuable members of your community. Keep track of content creators'

posting activity

in your Tribe Dynamics dashboard so that you can make a note of the influencers who continue to stand by you, and prioritize them accordingly in brand initiatives.
Build mutually empowering influencer relationships. As obvious as it seems, it bears repeating: content creators will share more genuine, enthusiastic endorsements of your brand if they like you. Rather than taking a transactional approach to your

influencer partnerships

, make sure that you're supporting content creators'

unique interests and objectives

through gestures as simple as reposting their work, or as intensive as inviting them to collaborate on a new product or campaign.
To learn how to monitor the loyalty of your influencer community, read our special report on How to Measure Influencer Marketing Success.