Looking to hype up your next product launch, or connect with audiences on TikTok? Unsure which influencer relationships you should prioritize, or which metrics will give you the most accurate assessment of your community's performance? Tribe Dynamics' new Influencer Marketing Training and Certification Program provides practical guidance on these and more topics, helping marketing professionals and students alike build a strong foundation in key influencer marketing strategies, concepts, and measurement tools.
Through five online multimedia courses—featuring interactive lessons, videos, case studies, and practical training exercises—learners will explore all the steps required to build, measure and maintain a competitive influencer marketing program, such as: identifying promising influencers, navigating different social platforms, evaluating and benchmarking your brand's success, and more. Learners who complete this training and pass the final exam on the course material will earn a shareable Influencer Marketing Certification (and bragging rights).
To paint a better picture of what the program offers, we've covered a few frequently asked questions below.

Who Should Take the Influencer Marketing Training and Certification Program?
The program is available to anyone interested in learning about, or deepening their understanding of, influencer marketing strategy and best practices. However, the course material is specifically designed with three groups of people in mind:
Marketing professionals new to influencer marketing
Students hoping to build a career in influencer marketing
Anyone hoping to make a transition into influencer marketing
Do I Need Tribe Dynamics' Software to Take This Program?
Nope! The Influencer Marketing Training and Certification Program is software-agnostic, meaning that the concepts and strategies covered in the course material are applicable to any influencer marketing team, whether or not you use Tribe Dynamics.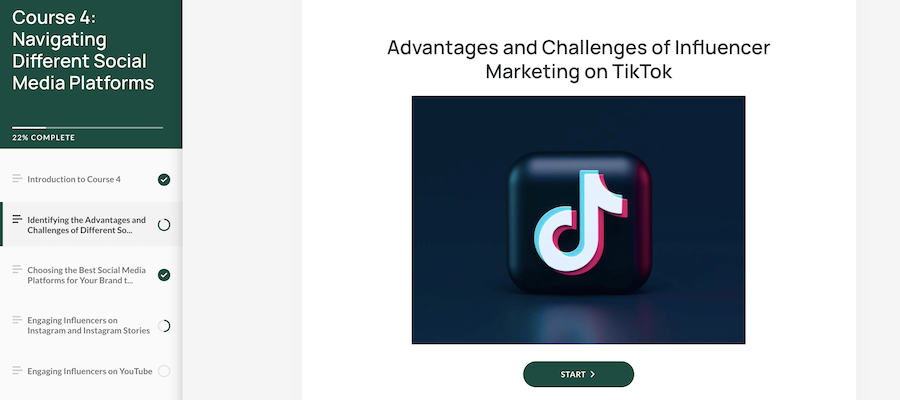 What Does This Program Include?
The program consists of five multimedia courses addressing core aspects of influencer marketing, followed by a certification exam. The course topics are:
1) Introduction to Influencer Marketing
2) Building and Activating Your Influencer Community
3) Strengthening Influencer Relationships
4) Navigating Different Social Platforms
5) Evaluating Your Influencer Marketing Performance
How Long Does it Take to Get an Influencer Marketing Certification?
Each course is designed to take between 15 and 30 minutes to complete. However, the program is self-paced with no specific time limits, meaning you can move through the material at your own speed.
Ready to level up your influencer marketing skills? Enroll today and gain the knowledge you need to stand out in a rapidly growing industry.