2020 is "the year of" many things, with self-care being one of particular importance to social media and the influencer marketing space. As the world made economic and personal shifts in response to an unexpected global crisis, industries have grown, shrank, and evolved to meet consumers' changing needs. While this year's events have incited many of these changes, they have also catalyzed some shifts that were already in motion—like the blurring of the lines between beauty and wellness.
Over the past couple of years, especially as online influencers and consumers have helped grow the global wellness space to a reported $4.2 trillion industry, many beauty brands have sought to expand their identity and product offerings into the broader lifestyle and wellness categories. And 2020's social media trends have confirmed that this is, in fact, the right move. Even major beauty retailer Sephora devoted an entire section of its website—what it calls "The Wellness Edit"— to these offerings, from collagen and "complexion fixers" to supplements and "self care staples."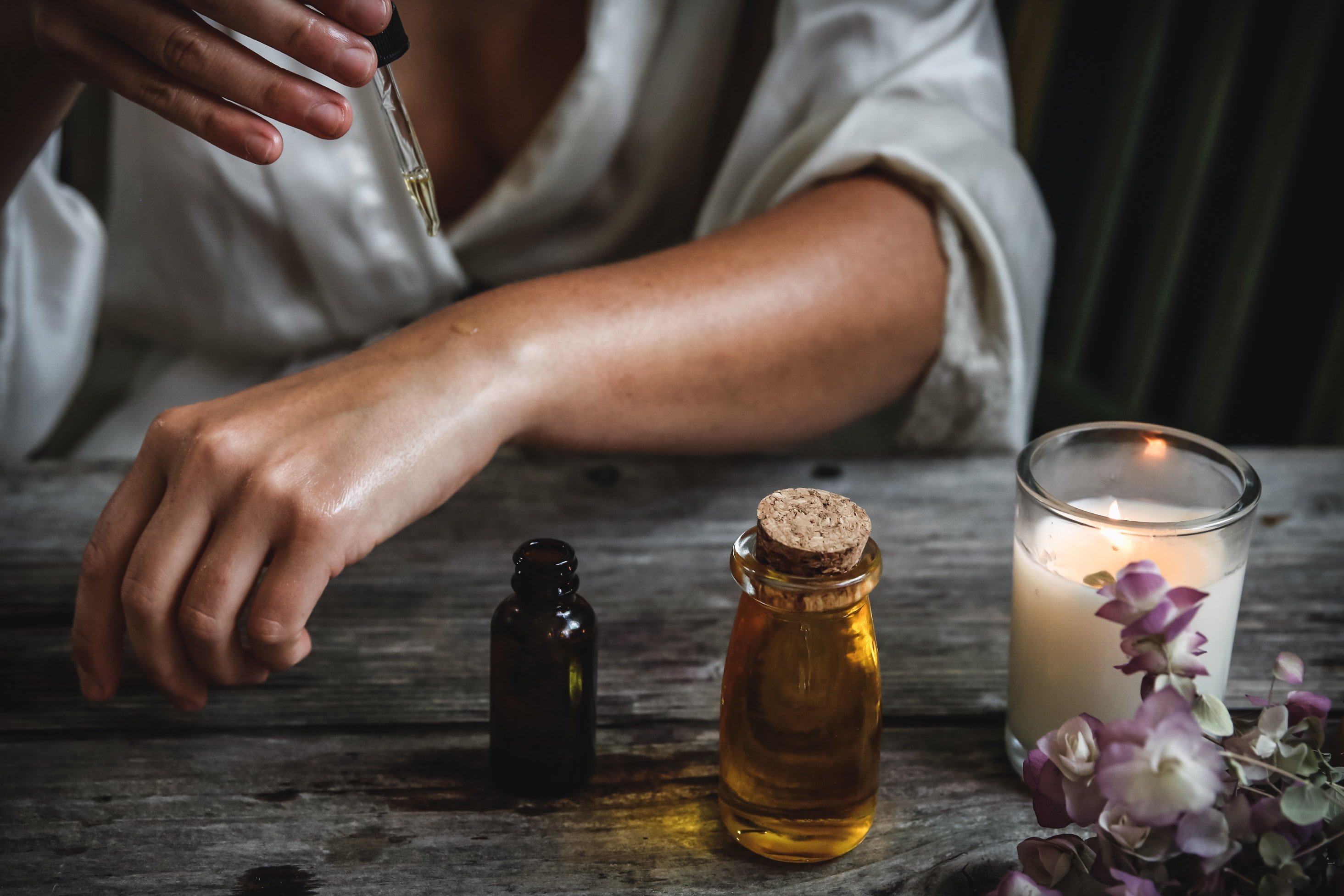 To better understand how brands at the intersection of beauty, lifestyle, wellness, and health can build influencer marketing programs that keep up with rising consumer interest, Tribe Dynamics created the Influencer Marketing Playbook for Fitness, Health, and Wellness Brands. In this post, we'll outline some key content trends from the report, as well as some key examples of brands succeeding by crossing the ever-narrowing boundary between beauty and wellness, but be sure to download the full report to gain access to all of the industry's most important influencer marketing insights and best practices.
Influencers Work to Meet Audience's Shifting Needs Through Self-Care and Wellness Content
As we reported in our COVID-19 Influencer Marketing Impact Study in March, social media has long been a way for people to share their lives with followers, and as lives changed in March, so did social media content. Since March, influencers have continually adapted their content to fit into their own "new normal" and better meet the new needs of their followers, many of whom are working from home for the first time, cooking more than before, and in urgent need of some de-stressing self-care tips.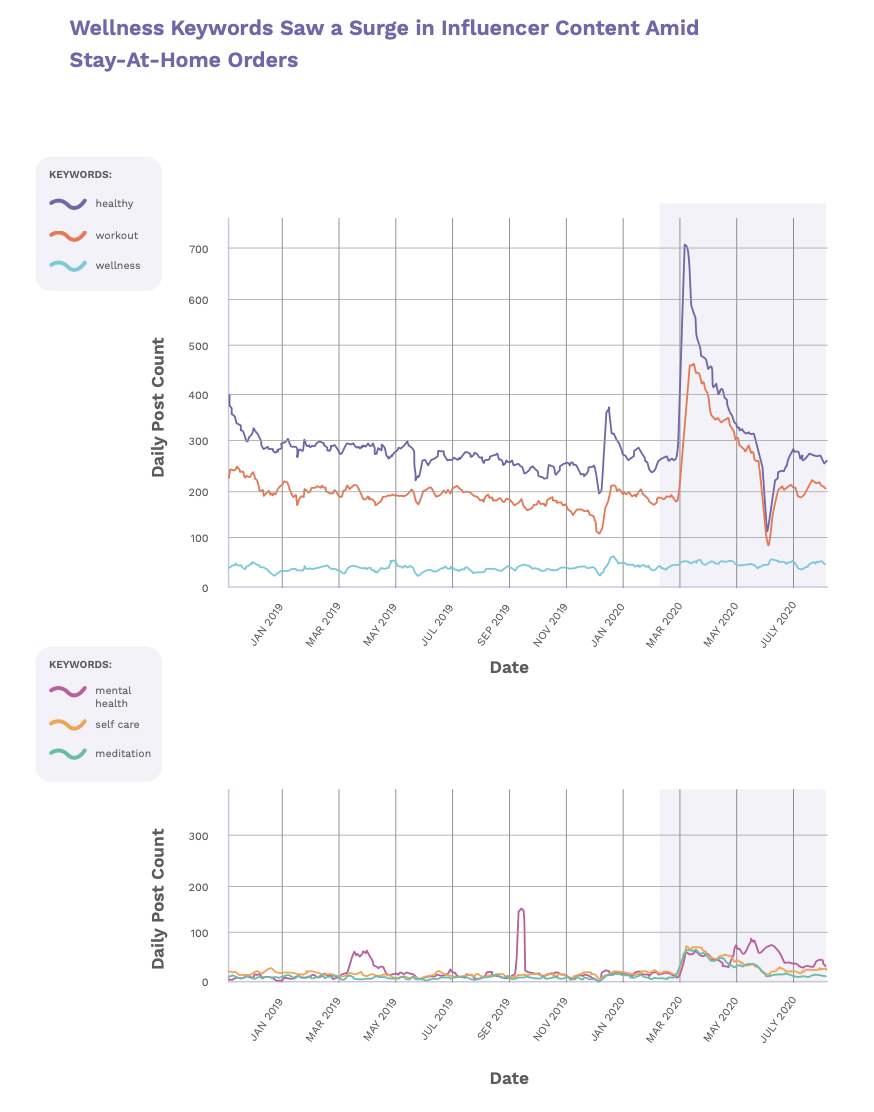 In our analysis of how frequently several wellness-related keywords appeared in influencer content between January 2019 and the present, not only did we see a steady, daily stream of posts revolving around "self care," there was a significant surge in March 2020. Influencers have continued posting about self-care in content that ranges from at-home spa ideas to socially-distanced fitness routines, to open discussions of how influencers are mentally coping with the crisis. This kind of content signals the growing importance of the wellness space—a signal that many brands have successfully heeded, both pre- and post-COVID.
Beauty Brands Broaden Offerings to Wellness and Health With Category-Adjacent Launches
Amid the rise of wellness content, several beauty brands have begun to explore the world of wellness through launches into new verticals that play into their existing brand stories. In June 2020, clean beauty brand Kosas launched Chemistry, an AHA-powered, aluminum-free deodorant that promises "the ultimate BO-fighting treatment." Chemistry represented the brand's first foray into body care and wellness, and Kosas celebrated with a virtual yoga class with its influencer network to put the new product to the test. Kosas, which saw a 409% year-over-year sales boom in 2019, has enjoyed a 151% YoY surge in the size of its influencer community so far in 2020, suggesting that the brand's wellness expansion efforts are clearly paying off.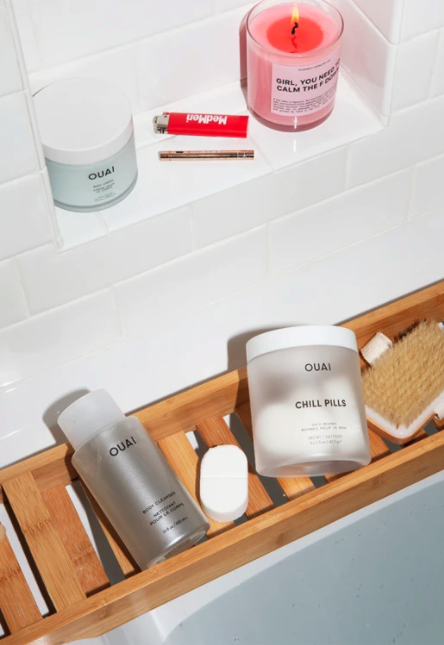 In January 2019, influencer-beloved haircare brand Briogeo expanded into wellness with its B.Well line, beginning with castor oil and tea tree oil offerings before releasing other staples that included a deodorant and a biotin supplement to "support health, strong hair." Like Kosas, Briogeo is seeing a significant expansion in popularity: so far in 2020, the brand's influencer community has grown 45% from 2019. Another haircare brand, Ouai, which similarly began offering supplements to stop hair thinning in 2017, launched their Chill Pills bath bombs at the end of 2019. The brand has adapted its Chill Pills to the 2020 post-pandemic life, with the bath products promising "to make lockdown life bearable." Ouai's influencer community has grown 13% YoY.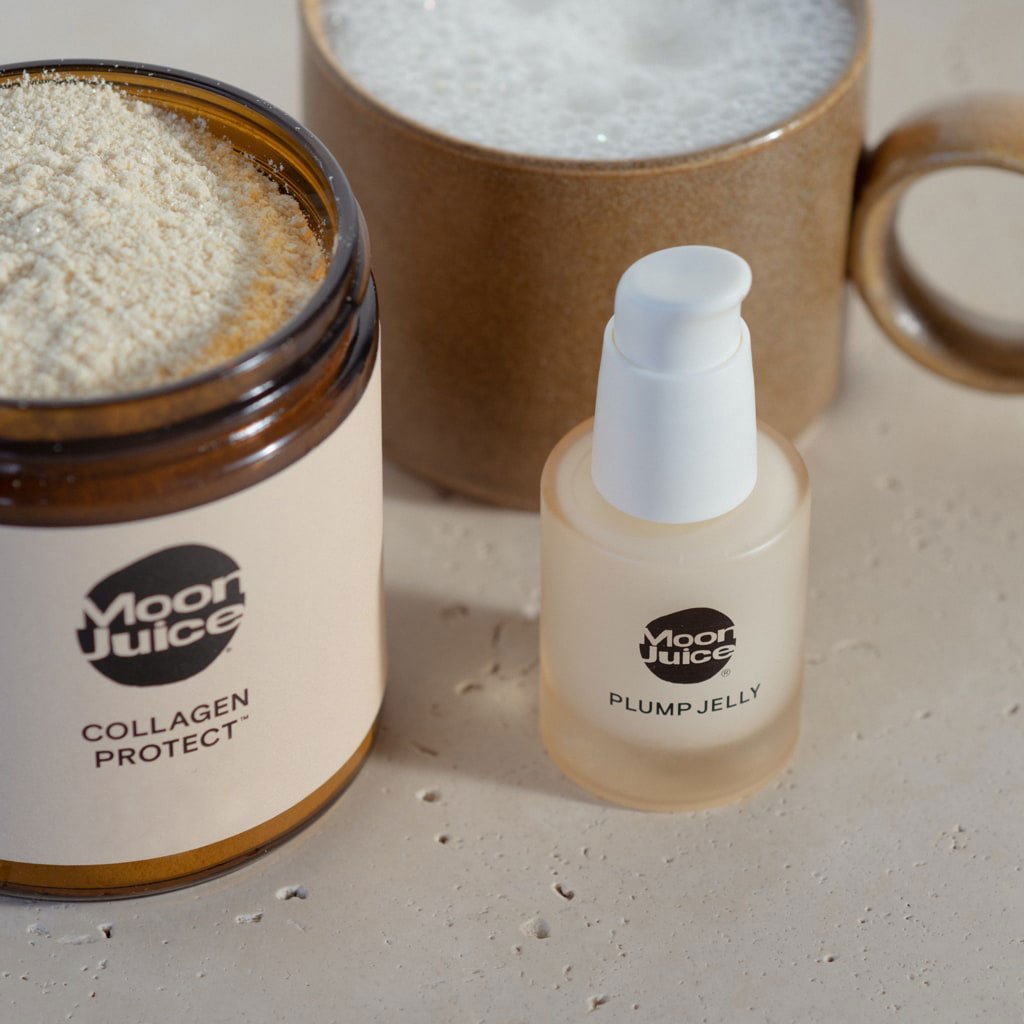 Supplements Brands Focus on Beauty That Starts Within
While many beauty brands are expanding into the wellness space, on the other end of the spectrum, traditional wellness brands are targeting the active beauty community online with supplements and adaptogens that support beauty at its source. Moon Juice, known for its cosmic-branding and "Intelligent Self Care," offers several concoctions that seek to support beauty, like the SuperBeauty capsules and the Beauty Dust adaptogenic powder supplement. The brand has also begun offering skincare products like Cosmic Cream and Plump Jelly. So far in 2020, 935 content creators have posted about Moon Juice, a 98% increase for the celestial brand. Meanwhile, supplement and adaptogen brand The Beauty Chef, which claims "beauty begins in the belly," retails products like the Omega Elixir and Sleep powder for "Inner Beauty Support." Similar to Moon Juice, The Beauty Chef saw a 98% YoY increase in community size from 2019 to 2020.
Whether it's beauty brands expanding to wellness, or wellness brands boosting beauty, the takeaway here is clear: wellness is increasingly becoming a priority among brands, influencers, and consumers. To learn about all of the key takeaways from the rise of the wellness industry, be sure to check out the full Influencer Marketing Playbook for Fitness, Health, and Wellness Brands below.