When it comes to the top skincare brands, we can pretty much expect to see names like Tatcha, Farsáli, and Drunk Elephant in the mix. These brands have garnered such powerful cult followings around their products that they've established themselves as mainstays in influencer routines. And because influencers don't change up their skincare routines as often as they do their makeup, top skincare brands tend to stay on top. But that doesn't mean there isn't a way for other skincare brands to shake up the status quo. Brands that give influencers a reason for content creation—whether through product launches or brand activations—have a much better shot at jumping into the Top 10.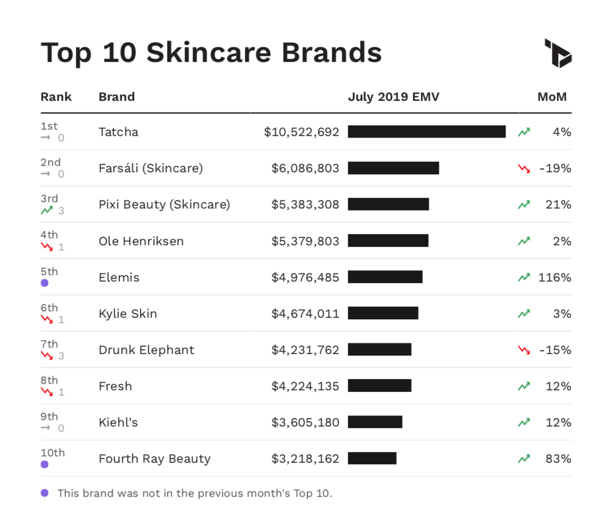 Elemis and Fourth Ray Beauty Break Into Top 10
Take Elemis and Fourth Ray Beauty—brands that made their Top 10 debuts this month. These brands enjoyed respective 116% and 83% month-over-month growths in Earned Media Value (EMV), which outpaced the Top 10's average 22% increase. Elemis' surge stemmed from its inclusion in Boxycharm's July box, inspiring a flurry of content from influencers reviewing the box's offerings. This activation also fueled a notable 134% MoM expansion of the brand's influencer community. But with the boom-and-bust cycle of subscription box hype, Elemis must continue to engage these new members of its community in order to sustain this growth. Meanwhile, Fourth Ray Beauty inspired content creation by partnering with sister brand ColourPop to host product giveaways. The brand also saw organic attention from prominent influencers surrounding its top July product, the Turmeric Face Milk.
In addition to these new faces, we also looked into what was spelling success for the following Top 10 repeaters:
Pixi Beauty Skincare Launches Vitamin C Line
Pixi Beauty skincare has maintained a consistent presence in the Top 10 Skincare brands this year, a notable feat in a group otherwise dominated by brands with higher price points. The brand has cemented its status as an affordable, and highly acclaimed, alternative to more expensive brands, and its continued success can be largely attributed to influencers' organic affinity for its products: by now, the hero Glow Tonic toner has remained a staple in influencers' medicine cabinets for years. In July, Pixi Beauty skincare stirred new influencer excitement by hopping on the much-hyped Vitamin C train: the brand launched a new collection dedicated to the star skincare ingredient, helping fuel a 21% month-over-month EMV growth.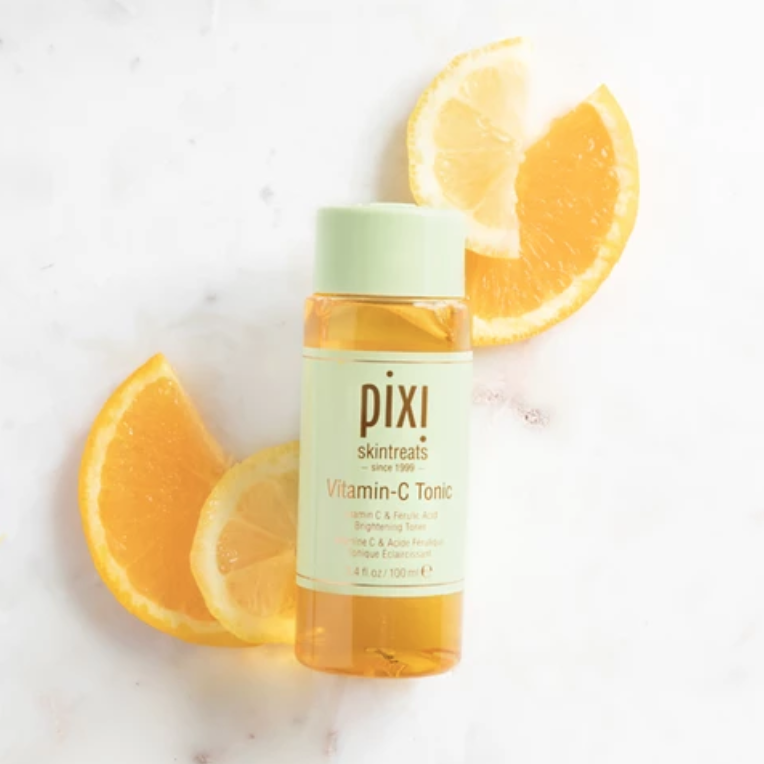 Kylie Skin Promotes New Products With Pop-Up Truck
Since its launch in May of this year, Kylie Skin has also enjoyed repeat Top 10 status. This month, the brand inspired content creation with the launch of its Summer Body Collection of body lotion, scrub, and SPF, promoting the release with an Instagrammable pink #KylieTruck pop-up in LA. Kylie Skin continues to benefit from high-impact endorsements from Kylie Jenner's inner circle of family and friends, and—because the world remains fascinated with her every move—influencers race to review the brand's latest offerings. However, influencer content for Kylie Skin often showed less evidence of genuine product enthusiasm compared to brands like Pixi Beauty and Tatcha, so whether Kylie Skin can sustain this early launch hype remains to be seen.
To see the full breakdown of the Top 10 skincare brand rankings, EMV performance, and community metrics, check out our July Skincare TTT below.