For most of us, the past 12 months have been a period of significant change. Between the election of a new U.S. president and the easing of pandemic-related restrictions on business, travel, and socializing, the world began to recover from the turbulence of 2020, settling into a more predictable pace of life. Like just about every other industry, the influencer marketing industry also adapted for a new era, with TikTok continuing to captivate consumers and the wellness craze showing no signs of slowing down.
To better understand precisely how the past year has impacted the influencer marketing landscape, we surveyed nearly 150 brands and 200 influencers about their priorities and practices, covering topics from budget and compensation to activations and preferred social media platforms. Here are some of the most notable takeaways from our research.
Investment in Influencer Marketing is Amping Up
As more and more brands reap the benefits of influencer marketing, working with content creators is becoming an integral part of many companies' overall marketing strategies. Correspondingly, brands are devoting more resources than ever to their influencer programs: a significant 66% of surveyed brands reported that their influencer marketing spend had increased over the past year, while 52% said their teams had grown over the past year.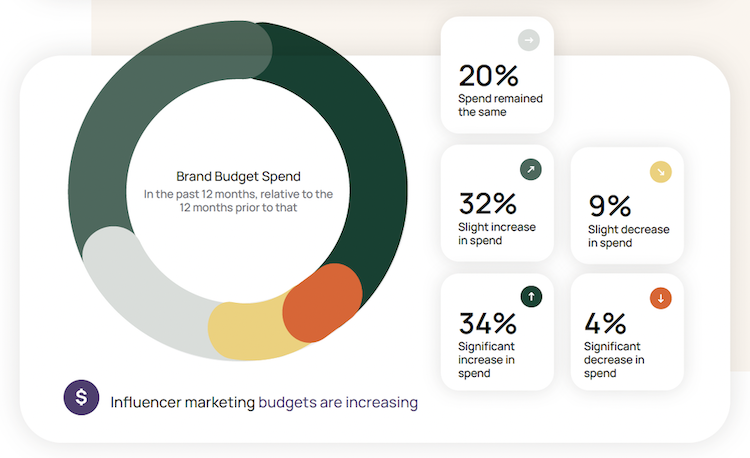 Heightened investment in earned media programs can be partly attributed to the fact that brands are no longer struggling to win executive buy-in. While 24% of brand respondents to our 2020 survey cited lack of buy-in from senior leadership as a roadblock to their success, just 12% of respondents this year had trouble justifying their efforts to executives—suggesting that influencer marketing is now an established, mainstream practice.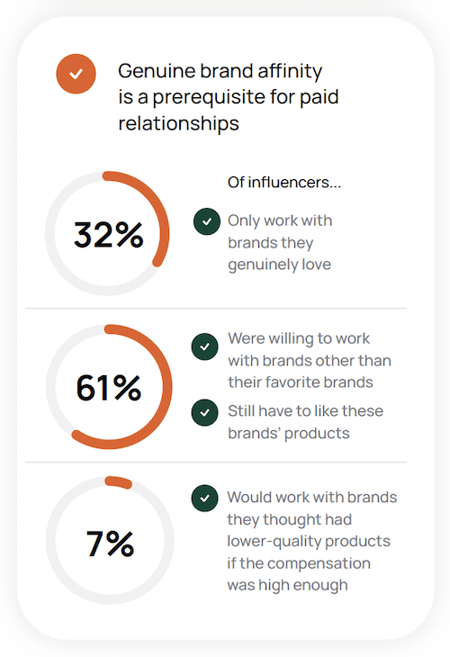 Paid Content is Protocol, but Influencers Won't Sell Out
If you feel like you've seen more #SponCon on social media lately, you're not alone. In 2021, content creators recognize the value that they generate for brands, and expect corresponding compensation. In turn, brands are increasingly willing to pay influencers for their work. An overwhelming 82% of the content creators we surveyed had partnered with brands in a sponsored capacity over the past 12 months, and 81% of influencers considered payment a motivating factor in their decisions to work with brands. Among brand respondents, 94% had compensated at least some of their online advocates, with 50% reporting that the proportion of influencers they paid had increased relative to the previous year.
Although sponsorship is playing a greater role in brand-influencer relationships, content creators nevertheless prioritized the integrity of their brand endorsements. Influencers overwhelmingly ranked product quality as one of the primary reasons they posted about brands, and the vast majority of content creators were only willing to accept payment from brands they genuinely liked: just 7% of influencers said they would work with brands that had lower-quality products if the compensation was high enough. Additionally, influencers strongly reaffirmed the importance of retaining creative agency over sponsored posts.
TikTok is a Top Platform for Brands and Influencers
Once an emergent channel for teens, TikTok has established itself as a primary channel for both brands and influencers: the short-form video sharing app proved the third-most popular platform among content creators, behind Instagram and Instagram Stories, as well as one of the three most integral platforms to brands' marketing strategies. TikTok's dominance has forced marketers to rethink their traditional methods for finding and engaging with advocates: 60% of brand respondents said TikTok impacted how they approach influencer discovery, and 59% said it had impacted how they approach influencer activations.
COVID-19 Poses Long-Term Effects for Influencer Marketing
The world may be re-opening, but the COVID-19 pandemic has left a lasting mark on the influencer economy. Even eighteen months after the U.S. first went into lockdown, brands widely reported that key roadblocks—inadequate budget, inadequate manpower, and difficulty hosting activations—were affecting them the same amount, or more, relative to before the pandemic hit. Yet while COVID-19 introduced challenges for many brands, it presented new opportunities for others, particularly those in the high-growth categories of wellness, fitness, and home decor. Nearly 40% of influencer respondents began posting about wellness, fitness, and/or home decor brands during the pandemic, and the majority of these content creators were still doing so at the time of our survey.
With the final quarter of 2021 here and 2022 on the horizon, brands and content creators will continue rewriting the rules of influencer marketing. For more comprehensive data and insights on the trends currently shaping the industry, and how the space has changed over the past year, download our full 2021 Influencer Marketing Trends Report.