Inspired by the hotly anticipated September launch of Rare Beauty, the makeup brand created by Selena Gomez that's celebrating and destigmatizing mental health, our most recent Tribe Top 10 took a look into five celebrity-founded brands that have made waves in the influencer space this year, including Rare Beauty (of course), as well as Haus Laboratories, Florence by Mills, Savage x Fenty, and Skims. While each of these companies was founded by a beloved celebrity with their own expansive and passionate followings, their success can be attributed to much more than that. These brands all boast a clear purpose and authentic mission statement, an inclusive and quality product range, and a digital strategy that focuses on building genuine relationships with influencers and consumers—and those are the reasons they continue to grow their communities and drive enthusiastic conversation, in addition to impressive Earned Media Value (EMV).
But when talking about exemplar celebrity-founded brands, we'd be remiss not to also shout-out two other brands that took their industries by storm and helped create the playbook for influencer marketing best practices: Fenty Beauty by Rihanna and Fabletics by Kate Hudson.
Fenty Beauty Engenders Organic Brand Loyalty With Quality and Inclusive Product Range
Launched to total fanfare in September of 2017, Fenty Beauty revolutionized the beauty industry, answering the community's calls for inclusivity and representation with a then-groundbreaking release of 40 (now 50) foundation shades. And thanks to its continued dedication to creating an inclusive space for all beauty consumers, as well as its savvy social media strategy, the brand's momentum hasn't slowed down. From January to September of 2020, Fenty Beauty garnered a whopping $451.4M EMV from 12.5k influencers. Rihanna continues to play an active role in building relationships with content creators: in early March, several influencers including Bretman Rock (@bretmanrock), Karen Gonzalez (@iluvsarahii), and Shayla Mitchell (@makeupshayla), enthusiastically shared Instagrams posing with the queen Rihanna herself at the brand's intimate LA gathering.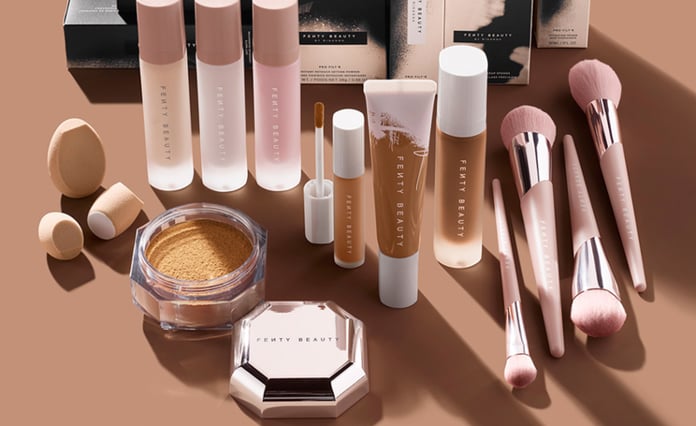 Fenty Beauty also inspired content around its various product launches throughout the year. In March, the brand expanded its Match Stix "complexion stick" range, and in April, Fenty Beauty introduced its Cheeks Out blush and bronzer collection, both of which landed among the brand's top five EMV-driving offerings from January to September with a respective $30.6M and $30.5M EMV. And while Fenty Beauty's events and launches continue to spark excitement among the beauty community, the majority of influencer content about the brand organically and consistently features its products in their makeup routines, suggesting that Fenty Beauty's quality and inclusive product lineup has helped engender long-lasting brand loyalty.
Fabletics Sparks Excitement With New and Repeat Collaborations
While 2020's rise in activewear content has certainly benefited brands like Fabletics, the brand's path to success started long before the pandemic. Since its launch back in 2013, Fabletics has never underestimated the value of building a robust online presence and has continued to grow its passionate community of organic enthusiasts and official brand ambassadors. In fact, #FableticsAmbassador ranked as the brand's No. 1 EMV-driving hashtag between January and September 2020, netting an impressive $26.6M EMV from 708 influencers—25% of the brand's overall EMV total and a significant jump from the hashtag's $3.7M EMV via 112 content creators between January and September of 2019. In all, Fabletics collected $107.6M EMV from 3.3k influencers, achieving notable 163% and 54% year-over-year growths in EMV and community size, respectively.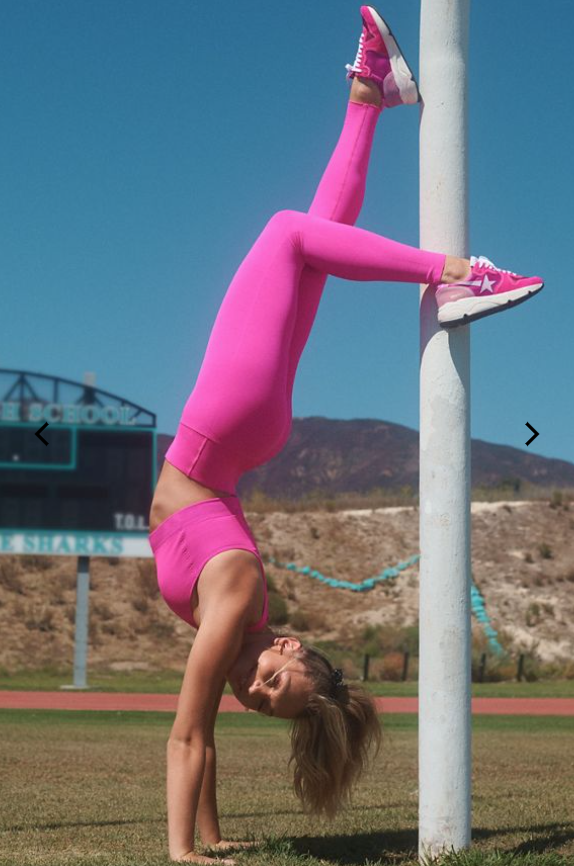 Much of Fabletics' momentum this year can be attributed to its long (and growing) list of new and repeat collaborations with fellow celebrity partners. In February, the brand released its second collaboration with dancer Maddie Ziegler, only to follow up with a third installment in September. The associated #MaddiexFabletics drove $2.4M EMV this year, and Ziegler herself ranked as one of Fabletics' top ambassadors between January and September, generating $6.3M EMV across 179 posts. In April, the brand partnered again with singer Demi Lovato on the #Demi4Fabletics ($1.3M EMV) collection, with Demi sharing how she was "in love" with the range and noting that a portion of its proceeds would be benefitting the COVID-19 Solidarity Response Fund. Then in August, Fabletics teamed up with actress Madelaine Petsch, inspiring $2.6M EMV from 86 content creators for the hashtag #MadelainexFabletics. Madelaine proved another of Fabletics' top three earners between January and September 2020, contributing $3.7M EMV across 55 posts hyping her collection. The actress enthusiastically shared that she has "always loved Fabletics and the fact that they champion the customer, making their products accessible to all shapes and sizes at an affordable price point (without sacrificing the quality and cuteness)." Fabletics' pattern of repeatedly working with its brand partners over the years demonstrates its commitment to inviting influencers into its brand narrative and fostering long-term partnerships.
To check out our other notable celebrity-founded brand spotlights, as well as insights into September's top-performing beauty and fashion brands and influencer content trends, download our September Tribe Top 10.