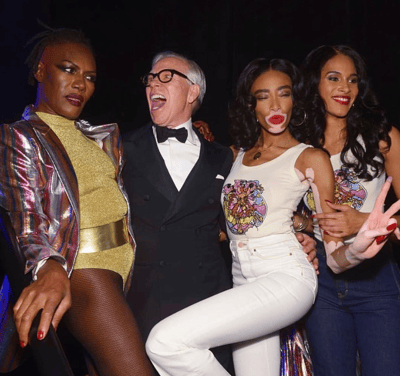 In March, Tommy Hilfiger made a splash via its '70s-themed capsule collection with actress and activist Zendaya (@zendaya on Instagram). The Spring 2019 collaboration debuted at the Théâtre des Champs-Élysées during Paris Fashion Week with a lavish spectacle inspired by the 1973 "Battle of Versailles." The historical event had famously pitted French and American designers against one another and featured 11 black models, an unprecedented number at the time. Tommy Hilfiger's PFW show garnered similar praise for its inclusivity—the event's all-black cast featured models of all ages, shapes, and sizes, from newer faces like Jourdan Dunn (@jourdandunn) and Winnie Harlow (@winnieharlow) to veterans like Beverly Johnson (@iambeverlyjohnson), the first African-American supermodel to appear on the cover of American Vogue.
Although Tommy Hilfiger placed outside the Top 10 brands in March, the brand boasted a 237% month-over- month growth in EMV against the set's average 7% increase. In addition, Tommy Hilfiger enjoyed notable MoM increases in community size (87%) and post count (155%). In all, #TommyxZendaya powered $3.3M of the brand's total $9.0M EMV for March, earning mentions from 129 ambassadors.
Find out which brands made the Non-Luxury Top 10 this month!
Tribe Top 10, our monthly publication series, ranks the top beauty and fashion brands in earned media performance and reveals exclusive insights into trending content, products, and brands. We publish, and work with brands, in Cosmetics, Skincare, Haircare, Luxury, Non-Luxury Fashion, and Fashion Retailers in the U.S., as well as in 13 international markets. Visit TribeDynamics.com for full access to our reports.