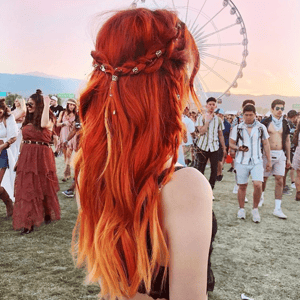 The Coachella Valley Music & Arts Festival once again inspired influencers to flaunt their #FestivalHair on Instagram, prompting a boom in content creation for certain brands. This year, among the Top 10 brands, the music festival proved most impactful for Pantene and IGK Hair, sparking a significant portion of each brand's April EMV total.
Pantene achieved a Top 10-leading 86% month-over-month growth, surging to No. 6 with $3.9M EMV after not ranking in March. Mentions of "Coachella" netted $1.4M EMV, while #PanteneFestivalHair garnered $1.2M EMV as the brand's No. 2 April hashtag behind #ad ($1.4M EMV). Forty-four ambassadors used #PanteneFestivalHair across 99 posts, with 32 influencers including the tag in multiple pieces of content. Many influencers promoted the festival's Pantene Style Lounge in a series of sponsored posts, while others organically credited the brand in content showing off their Coachella 'dos.
Meanwhile, IGK Hair experienced a 41% MoM growth, enjoying its first Top 10 appearance since April 2018, when the brand saw a similar boost from its Coachella 2018 activations. IGK Hair once again enjoyed posts from a range of influencers who tagged the brand in their festival looks, including musician Montana Tucker (@montanatucker on Instagram) and blogger Violet Benson (@violetbenson). In all, mentions of "Coachella" drove $592.4k EMV for IGK Hair.
Find out which other brands made the April Haircare Top 10 by reading the full report!
Tribe Top 10, our monthly publication series, ranks the top beauty and fashion brands in earned media performance and reveals exclusive insights into trending content, products, and brands. We publish, and work with brands, in Cosmetics, Skincare, Haircare, Luxury, Non-Luxury Fashion, and Fashion Retailers in the U.S., as well as in 13 international markets. Visit TribeDynamics.com for full access to our reports.