As consumer and influencer interest in physical activity has steadily increased during the pandemic, with running and cycling seeing particularly strong gains, more and more individuals are looking for ways to maximize their peak performance. Enter supplements, the driving force behind many athletes' ability to push themselves to the next level. In this blog post, we take a look at supplement brands to watch as Q4 begins, and the influencer marketing strategies these brands have implemented to capitalize on the fitness frenzy.
Persona Nutrition: A Futuristic Take On Supplements
Personalized supplement brand Persona Nutrition brought health fiends into the next century via its subscription-and-delivery business model. Between January and August 2021, the brand collected $2.0M in Earned Media Value (EMV), a respectable 4% year-over-year increase. Contributing to Persona Nutrition's success was an expansion of the brand's influencer community, which grew by 28% YoY. Content creators who posted about Persona Nutrition during this time period after not mentioning the brand during the preceding eight months accounted for a collective $676.1k EMV, or 34% of Persona Nutrition's year-to-date total. Among the brand's most impactful new influencers was lifestyle guru Daye La Soul (@dayelasoul on Instagram), who frequently tagged Persona Nutrition in her Story posts, generating $36.1k EMV from January to August.

SmartyPants Vitamins: A Colorful, Fun Lifestyle Companion
SmartyPants Vitamins has taken the supplement industry by storm this year, securing $1.2M EMV, an impressive 122% year-over-year increase. A major factor in the brand's success since January has been its focus on community expansion. Between January and August 2021, 358 influencers posted about SmartyPants Vitamins, an 81% YoY increase. In tandem, posts about the brand skyrocketed by 200% YoY, settling at 1.0k pieces of content. While SmartyPants Vitamins hasn't engaged in major campaigns, the brand's general-use influencer slogan (#SmartyPartner) has proved to be its most impactful hashtag, driving $717.8k EMV via 452 posts from 169 content creators. Most #SmartyPartner posts took the form of Instagram Stories showcasing how vitamins fit into an influencer's daily routine, and the health benefits associated with this influencer's favorite vitamins.
Nordic Naturals: A Dietary Staple For Athletes
Norwegian supplement brand Nordic Naturals has enjoyed a standout 2021 so far, growing by 23% year-over-year and achieving $1.0M EMV between January and August. The brand saw matching increases in community size and average influencer potency, both of which increased by 11% YoY. Two of Nordic Naturals' top three EMV-drivers were new additions to its community, with athletes JJ Yosh (@jjyosh on Instagram) and Rob Kearney (@worlds_strongest_gay) collectively delivering $152.2k EMV. JJ's most impactful piece of content was a professionally edited Instagram video highlighting Nordic Naturals' Omega 3 supplement, while Rob consistently tagged the brand in his workout posts, citing them as a crucial component of his routine.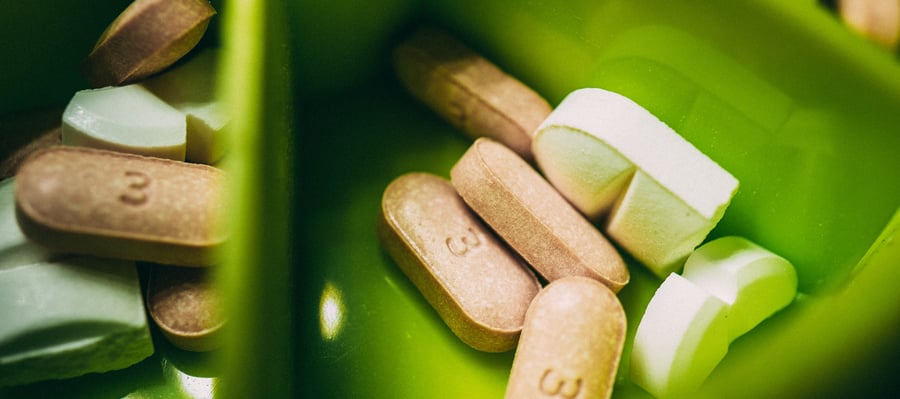 With enthusiasm for health and fitness showing no signs of abating, keep an eye on these brands—and the supplement industry at large—to continue their upward momentum. As these brands keep growing, influencers and influencer marketing will no doubt remain integral to the marketing strategies of successful supplement companies.
Want to learn more about how leading brands are using innovative marketing strategies to edge out the competition? Register for our Earned Summit 3.0, a free, one-day virtual conference featuring live talks and panel discussions from executives at best-in-class beauty, fashion, fitness, and health brands.