While summer began to wind down in September, the top makeup brands picked up steam. We saw some pretty dramatic month-over-month Earned Media Value (EMV) surges in the cosmetics vertical, with several exciting, star-studded entries into the rankings. Here's a look into the source of September's influencer excitement and how the top makeup brands made some serious moves this month:
Top US Makeup Brands, September 2019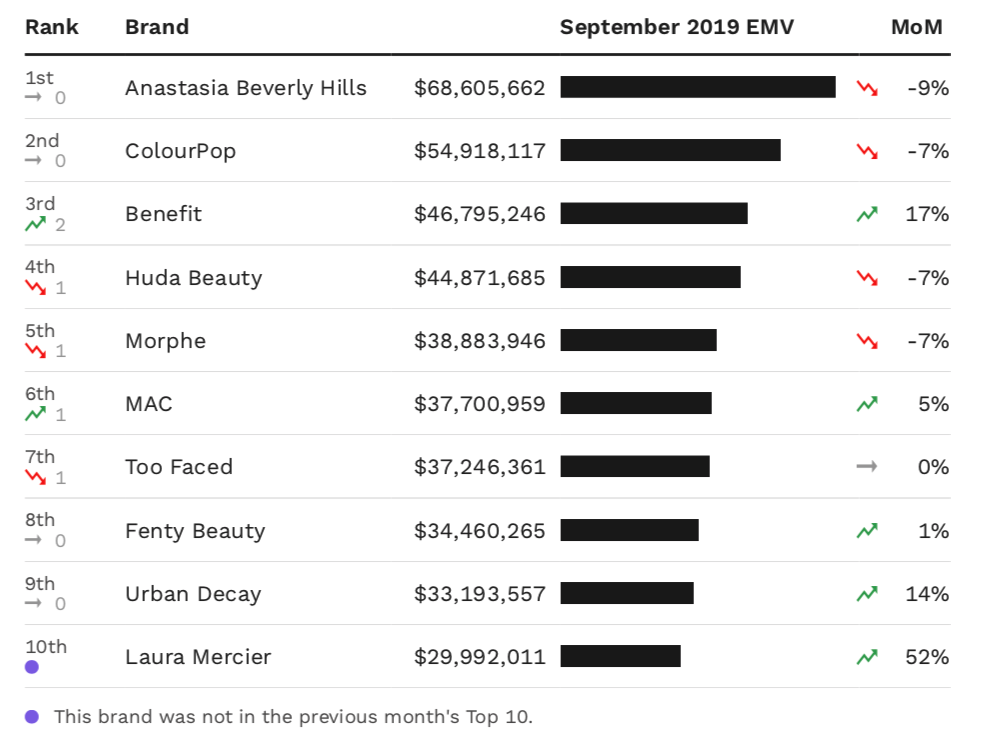 Laura Mercier
Laura Mercier finally made its Top 10 debut in September, an exciting feat for a brand that has stepped up its influencer marketing game over the past few years. While Laura Mercier has built an incredibly loyal influencer fanbase around its hero product, the Translucent Loose Setting Powder (or TLSP in the beauty community), the brand also executed some exciting launches and campaigns this year. We spotlighted Laura Mercier's first-ever influencer getaway to Saint-Tropez, France, in our May Cosmetics TTT, and highlighted the brand's increasing community potency in our July Cosmetics TTT. With the consistent power of a cult-favorite product, as well as thoughtful influencer activations that have helped build out its community of Brand Champions, it's no wonder Laura Mercier is such a force to be reckoned with in the space.
Haus Laboratories
If there's anything we know for sure about Lady Gaga, it's that the multi-Grammy-winning performer knows how to make an entrance. In September, Gaga took the beauty community by storm with the official launch of her makeup brand Haus Laboratories (following its pre-order frenzy in July). The singer celebrated with an influencer meet-and-greet in LA, inspiring attendees to post photos with lengthy captions describing the life-changing moment of meeting Gaga, who, for some, has been a lifelong idol. And while it's not surprising that a chance to meet Lady Gaga spurred significant content creation and EMV, the beauty community did not stop there. Influencers flocked to social media to provide in-depth reviews to their eagerly awaiting audiences about whether the products were worth the huge amount of hype—with many big names, including Jeffree Star (jeffreestar on YouTube) and Nikkie de Jager (NikkieTutorials), driving significant conversation.
Benefit, Maybelline & L'Oréal Paris
While Gaga pretty much stole the show in September's TTT, we also covered Benefit's jump in the Top 10 rankings, which stemmed from an influencer getaway to Tokyo to celebrate the brand's new Brow Styler Eyebrow Pencil & Powder Duo. Meanwhile, mass makeup brands Maybelline and L'Oréal Paris leveraged their consistent Fashion Week presences to power notable growth outside the Top 10.
To read more about Laura Mercier's and Haus Laboratories' EMV performance in September, and see how Benefit, Maybelline, and L'Oréal Paris powered growth through their influencer initiatives, download our September Cosmetics TTT.