When it comes to the influencer marketing game, online fashion retailer Revolve (which just filed for an IPO in June) knows how to play—and win. Social media influencers have always been the driving force behind Revolve's digital success, tagging the brand in their "outfit of the day" Instagram posts, which Revolve then reposts on its owned account. And while the retailer frequently inspires content creation from its stylish squad of ambassadors through brand events and getaways, it has arguably become most famous for its annual Revolve Festival: Revolve dominates the Coachella scene, and our Instagram feeds, every year, inviting members of its brand family to mingle with A-list celebrities at an Insta-worthy VIP event that has come to rival the music festival itself.
Influencers have always played a core role in Revolve's story, but now the retailer is taking these relationships one step further: collaborations. In May, Revolve released its first in-house influencer collection, Song of Style, with powerhouse fashion blogger and longtime Revolve advocate Aimee Song. The label, named after the blog that shot Aimee to star status, proved Revolve's most successful launch to date, with numerous pieces selling out the day of the release. Fresh off this buzz, the retailer sent fans into another frenzy by dropping its second influencer collection in June, this time with Brazilian blogger Camila Coelho. The partnership was received with similar acclaim, with pieces from her collection flying off the virtual racks. We took a look into how Revolve celebrated the launch of these new labels with fellow influencers, and how much earned media the collections have generated so far.
Revolve Fêtes Song of Style Launch in Lisbon
To celebrate the launch of Song of Style in mid-May, Revolve whisked Aimee, along with a group of her best influencer pals, including Camila Coelho and Lily Maymac, away to Lisbon, Portugal. Attendees chronicled their time exploring the city's sights and cuisines together, all while dressed in pieces from the collection. Song of Style generated $5.1M EMV for Revolve in its debut month, featuring in 226 posts from 74 influencers. (In all, Revolve netted $37.3M EMV for the month of May.) Aimee powered $925.4k of this May EMV total across 22 posts as the collection's top earner, while her bestie and future Revolve collaborator Camila drove $887.6k via 22 pieces of content.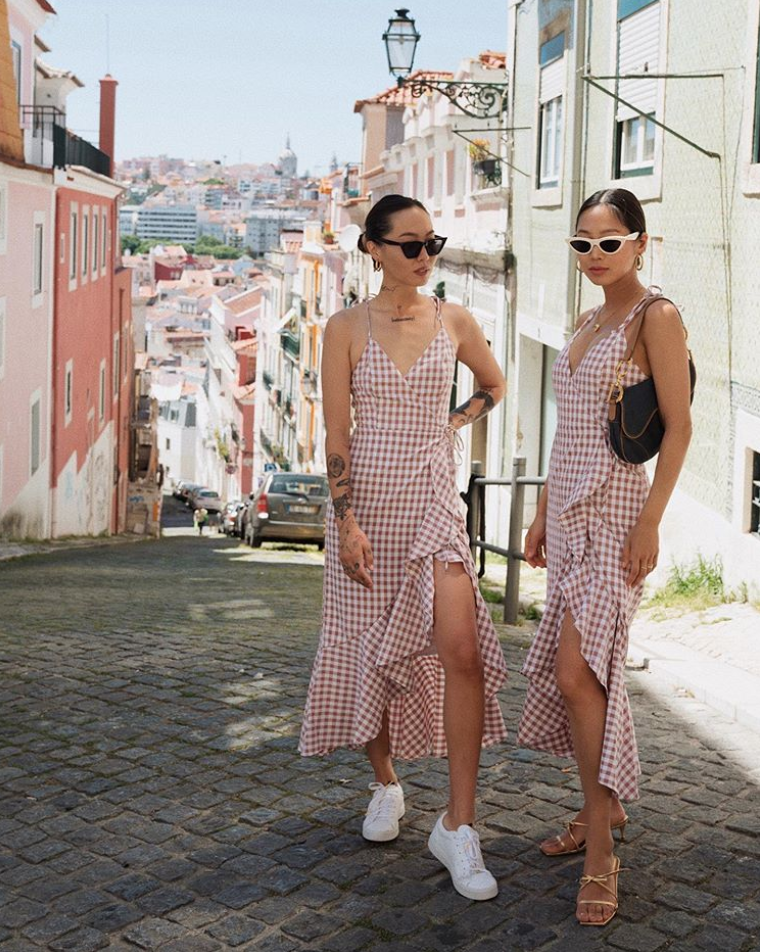 Source: @aimeesong via Instagram
Revolve Rings in Camila Coelho Collection in Rio
Following the launch of Song of Style, Revolve celebrated the June debut of its eponymous clothing line with Camila Coelho with another influencer getaway—this time to Rio de Janeiro, Brazil. Camila, who generated $9.4M EMV for Revolve between June 2018 and June 2019 as one of its top three influencers, shared that she felt "so blessed" to "celebrate [the launch] in my home country, alongside power women that I love and admire." Though the range did not drop until June 19th, it powered $6.6M EMV that month from 35 influencers, many of whom donned pieces from the line in posts tagged #MyCCLook ($1.9M EMV). Camila was, unsurprisingly, the collection's top content creator, driving $2.7M EMV across 44 June posts, though the label also garnered support from fellow influencers like Julie Sariñana (@sincerelyjules on Instagram) and Yovanna Ventura (@yoventura). Revolve closed June with a monthly total of $42.8M EMV.
Source: @camilacoelho via Instagram
By investing in Aimee's and Camila's career growths in such a meaningful way—empowering them with creative agency—Revolve continues to demonstrate the gold star approach to building long-term brand-influencer partnerships. For the retailer, whose story has always centered around its influencers, these collaborations are just the next chapter.
We can't wait to see who they work with next.