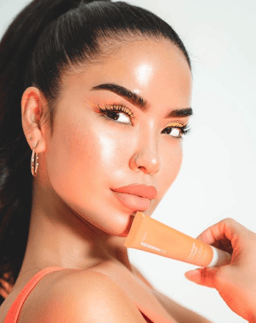 Last summer, Tribe Dynamics conducted a deep dive into the top cosmetics products from the top cosmetics brands, highlighting the factors that made them so successful among the beauty community. Now, we've got you covered in skincare too: We looked into the top 10 products from the top 10 skincare brands for Q1 2019 (January through March) and pulled out the most noteworthy trends.
Primers Are a Beauty Guru's Best Friend
Ask any beauty influencer and they'll tell you that priming your face prior to makeup application is a must. These types of "everyday" products find success because they provide more opportunities for content creation. Savvy skincare brands have capitalized on the opportunity to create versatile offerings that blur the lines between cosmetics and skincare by adding primers to their product lineups:
No surprise, Tatcha continues to reign supreme with its hero Silk Canvas Primer. The product maintained its No. 1 spot in Q1 2019's top 10 skincare products with $11.9M EMV. Talk about staying power. Come on, it's impressive.
Following Tatcha's lead, Ole Henriksen released its new-kid-on-the-block Banana Bright Face Primer, which broke into Q1's top 10 with $2.6M EMV, a noteworthy feat considering its late-February launch.
Farsáli Serums For The Win
Serum tears (re: when influencers dispense serum on their cheeks via dropper) are alive and well in 2019, and Farsáli Skincare remains the queen of this fad:
The brand's Unicorn Essence ($5.7M EMV), Skintune Blur ($4.7M EMV), Rose Gold Elixir ($4.0M EMV), and Liquid Glass ($2.5M EMV) all ranked among the top 10 skincare products in Q1, just as they did in Q4 2018. Additionally, all except the Skintune Blur increased their EMV totals quarter-over-quarter. The virality of the Unicorn Essence (which accounted for 40% of Farsáli Skincare's Q1 EMV) likely made content creators more keen to use the brand's later releases.

Facial Mists Make an Entrance
Who doesn't love a nice spritz of hydration to the face? And if that spritz can also set your makeup? Even better. While Tatcha's Luminous Dewy Skin Mist has been a staple in this category for some time (the product ranked third in Q1 2019's top 10 with $4.8M EMV), new mists from other brands have started to gain traction:
Although it fell just outside the top 10, the new Rose Gold Skin Mist from Farsáli Skincare (inspired by the brand's Rose Gold Elixir) garnered $2.0M EMV following its March release. The product emerged as Farsáli Skincare's No. 1 product that month.
Pixi Beauty's Rose Glow Mist nearly made the top 10 with $1.8M EMV. The brand's full Pixi Mist range ranked as its top Q1 collection with $3.5M EMV.
Glow Recipe, the brand known for its line of deliciously scented watermelon skincare products, also launched a facial mist in March. The Watermelon Glow Ultra-Fine Mist netted $1.1M EMV, accounting for over one-third of Glow Recipe's $3.0M EMV March total.
The Art of Glowing Up
Influencers are gravitating toward products that promise to give their skin a nice #glow. These products generally contain magic ingredients like exfoliating AHAs or Vitamin C that help brighten and even out one's skin tone, repairing sun damage and hyperpigmentation.
Pixi Beauty's hero exfoliating Glow Tonic toner drove $2.9M EMV in Q1, ranking No. 6 in the top 10.
Both of Ole Henriksen's Vitamin C-infused Banana Bright offerings—a face primer and an eye cream—made Q1's top 10, each collecting $2.6M EMV. Brand founder Ole Henriksen himself hosts a #GlowCamp influencer retreat every year; the man loves to glow!
While these products fell outside Q1's top 10, they were still high on influencers' glow radar: Ole Henriksen's (yes, again) Glow2OH Dark Spot Toner and Tatcha's Violet-C Brightening Serum both garnered $1.1M EMV in Q1, while Drunk Elephant's C-Firma Day Serum netted $974.2k EMV.
What else is trending? More and more skincare brands are incorporating Cannabidiol (CBD) oil into their products to harness its skin-soothing benefits. But are these products high in EMV (pun intended)? Stay tuned for our upcoming post to find out.