On December 3, Procter & Gamble announced an agreement to acquire Ouai, marking the multinational consumer goods corporation's first foray into the prestige haircare space. Coming on the heels of several buzzy end-of-year makeup and skincare deals, news of the acquisition took the indie beauty community by storm. However, given Ouai's high standing among content creators—the product of a robust influencer marketing program—the brand's accomplishment, while impressive, is hardly shocking.
Founded in 2016 by celebrity hairstylist Jen Atkin, known for her work with pop culture royalty like the Kardashians and Bella Hadid, Ouai has emerged as one of the most talked-about brands on social media. From January to October 2021, Ouai ranked No. 6 in the haircare category by Earned Media Value (EMV), powering $37.5M. What's more, the immense volume of online conversation about Ouai has paid off IRL: according to WWD, the brand is projected to surpass $50M in sales in 2021, and $80M in 2022.
Let's explore a few of the key factors that have fueled Ouai's stand-out performance on social media, positioning the brand as an impactful new member of P&G's family.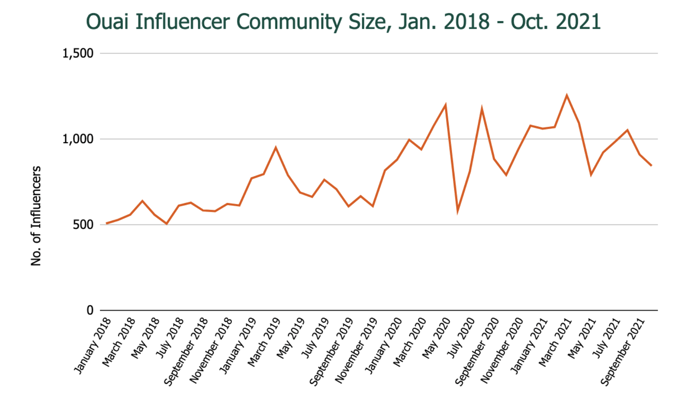 Ouai Expands Fanbase via Grassroots Community-Building
Ouai's sizable earned media footprint stems mainly from its expansive influencer network: the brand boasted the second-largest fanbase of any haircare brand from January to October 2021, with its 4.8k content creators falling behind only Olaplex's 6.4k. Even more notably, Ouai continued to recruit new advocates during this time period, enjoying a 13% year-over-year increase in community size.
In contrast to many other top haircare brands, which rely heavily on paid partnerships with professional salonists, Ouai has focused almost entirely on fostering organic relationships with lifestyle influencers. Thanks in part to Atkins' own star status, the brand has secured consistent endorsements from some of the biggest names in Instagram beauty, including Desi Perkins (@desiperkins) and Karen Gonzalez (@iluvsarahii)—not to mention the Kardashian-Jenner clan. However, outreach to smaller-scale content creators remains an integral part of Ouai's strategy, particularly when it comes to inspiring new fans: of the 2.8k influencers who joined the brand's community between January and October, 2.1k were smaller-scale bloggers, with this cohort collectively generating $4.7M EMV—13% of the brand's total.
Influencer-Favorite Products Inspire Ongoing Enthusiasm for Ouai
Ouai has remained a staple of influencers' haircare routines thanks largely to the staying power of its effective, highly Instagrammable products, including the verstalize Leave-In Conditioner and ultra-cleansing Detox Shampoo. From January to October, the 2018-launched conditioner and 2020-launched shampoo garnered a respective $2.0M and $846.1k EMV from 423 and 185 content creators, ranking among the brand's three highest-earning offerings. While the majority of conversation surrounding these hero products consisted of organic lifestyle posts, both items also enjoyed boosts from Ipsy. For example, thanks to inclusion in the beauty subscription service's monthly Glam Bag, the Leave In Conditioner's EMV total jumped from $174.0k in February to $524.9k in March. Similarly, the Detox Shampoo surged from $81.8k EMV in September to $232.9k in October, when it featured in Ipsy's round-up. Mentions of #Ipsy and #GiftedByIpsy collected $510.2k and $459.3k EMV, respectively, during the time period monitored.
Bolstered by a steadily influencer community and a beauty guru-approved product lineup, Ouai has matured from an indie brand to watch to a leading contender in the competitive haircare space. With the backing of P&G, Ouai has the potential to unlock even greater opportunities, and Tribe Dynamics is eager to see what future possibilities await the brand.
For more insights on social media's top beauty and fashion brands across the U.S. and Europe, download our October Tribe Top 10 report.