A year into the COVID-19 pandemic, there's no question the global crisis has disrupted just about everything in the fashion world, from how we dress (or don't get dressed), to how we shop (bye, malls), to how the industry itself operates. The cancellation of in-person Fashion Weeks in 2020 and 2021 forced luxury fashion brands to radically rethink their collection debuts, as labels sought to translate their traditional runway shows into virtual experiences. But creating engaging digital fashion shows is just half the battle: pre-pandemic, Fashion Week was beginning to represent a massive influencer marketing opportunity, with backstage passes, front row seats, and exclusive parties prompting high-impact social content from bloggers. Now that jet-setting is on hold, luxury fashion brands have had to get more creative when it comes to inspiring influencer conversation about new collections.
With one digital Fashion Week already under their belts, many luxury fashion brands approached February's Fashion Month with a renewed understanding of how to make their collections pop on social media. Here are a few of the labels that stood out amid last month's parade of online events thanks to influencer marketing strategies that did their shows justice.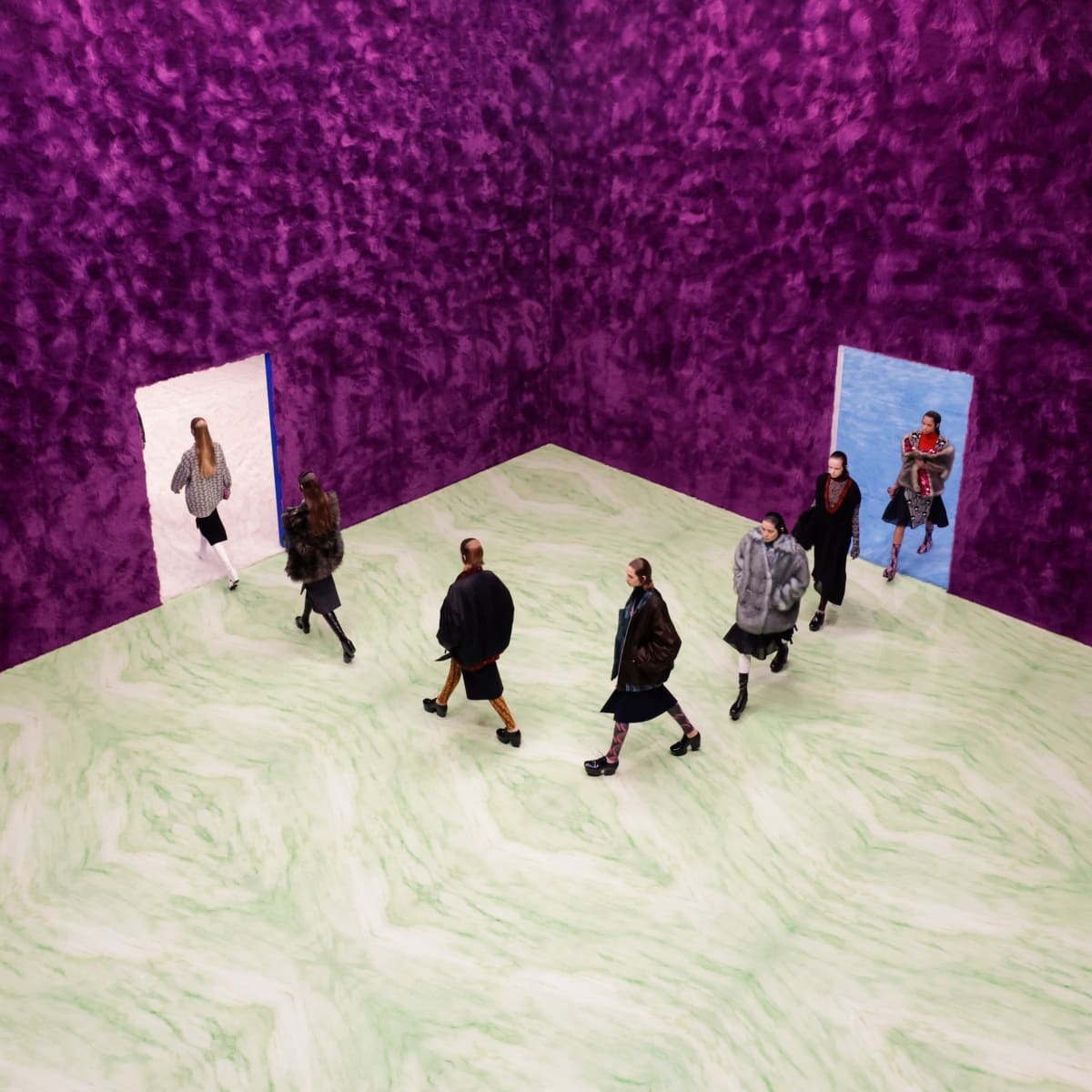 Luxury Fashion It-Girls Dress Up for Prada's Ready-to-Wear Debut
Ready for re-openings? So is Prada. The top luxury brand's Fall 2021 ready-to-wear digital fashion show nodded optimistically to the end of the pandemic, as models freely walked through doorways and onto an open blue circle (catch the metaphor?). But optimism about a return to normal life didn't stop Prada from going all-in on stirring up online conversation about the live-streamed event. The label invited powerhouse fashion bloggers including Devon Lee Carlson (@devonleecarlson on Instagram), Claudia Sulewski (@claudiasulewski), and Leonie Hanne (@leoniehanne) to chronicle their experiences viewing the show from home, resulting in a wide range of content: while Devon shared artful outfit Instagrams, Leonie created a sensual video of herself getting dressed in head-to-toe Prada for digital Fashion Week. In all, 79 influencers tagged content with the associated #PradaFW21, collectively driving $1.7M EMV. The luxury fashion brand accrued $22.8M EMV from 2.3k content creators in February, achieving a 10% month-over-month increase in influencer potency ($9.8k EMV per influencer).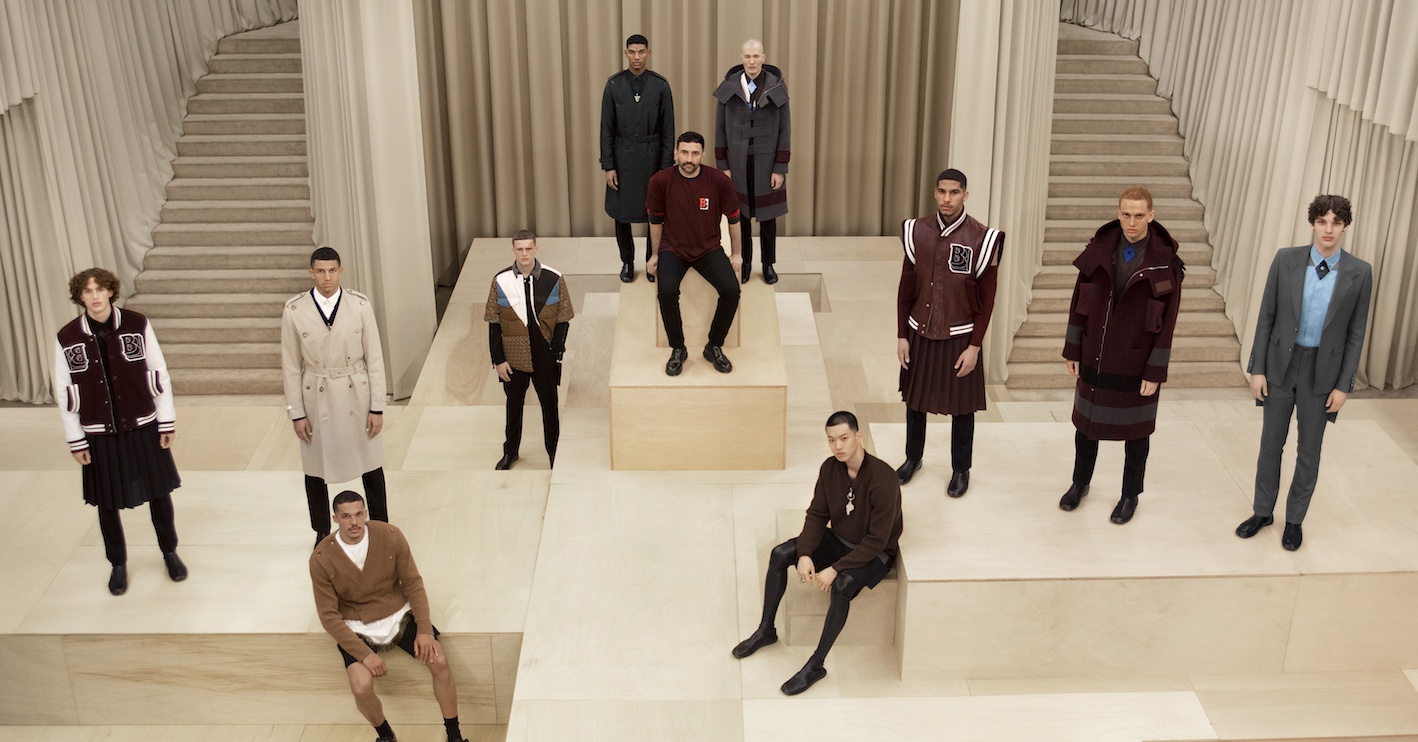 Burberry Invites Influencers to Take a Seat for Its Digital Menswear Show
One advantage of a digital fashion show? You can watch it from anywhere (and you're always in the front row). That was the message Burberry sent to influencers like Nathan Hopkinson (@curlyfriesfeed on Instagram) and Aleali May (@alealimay), when it gifted them branded deck chairs prior to debuting its Fall 2021 menswear collection, inspired by the British countryside. Dressed in Burberry, recipients posed with their comfy seats in scenic outdoor locations, thanking the brand for the "invitation" to participate in its digital Fashion Week moment. Altogether, #BurberryAW21 won mentions from 29 content creators, accounting for $338.7k EMV of Burberry's net $5.3M EMV in February. Additionally, buzz about the menswear show contributed to Burberry's 9% month-over-month uptick in influencer posting frequency (2.0 posts per influencer).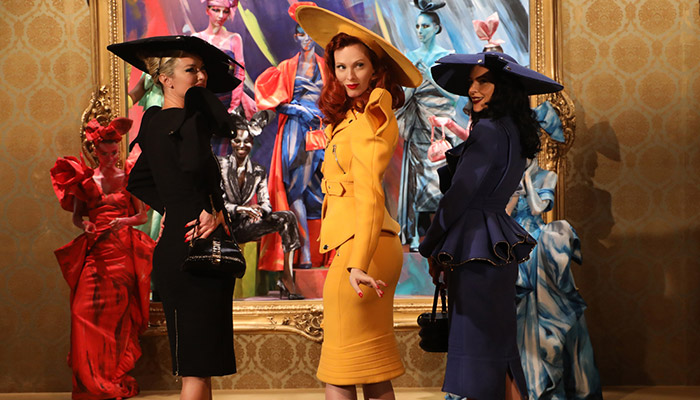 Moschino's Digital Fashion Week Film Spurs Conversation Among Cast Members
Most of us aren't exactly living large during the pandemic—but on the set of its digital Fashion Week show, a film titled "Jungle Red," Moschino pulled out all the stops. Inspired by mid-century glamour, and featuring stars like burlesque artist Dita Von Teese (@ditavonteese on Instagram), the opulent spectacle made a splash on social media thanks to high-impact content from participants. Models shared content from the virtual show, with many writing about how much they enjoyed shooting the video: while Von Teese described it as "an absolutely dreamy day," Shalom Harlow (@shalomharlow) called performing a "pure delight." Mentions of #MoschinoJungleRed generated $168.5k EMV of the luxury fashion brand's $3.9M EMV February total, helping Moschino achieve a 23% month-over-month EMV growth fueled by a 17% MoM community expansion.
As the vaccine rollout continues, we can look forward to in-person runway shows, and accompanying influencer festivities, returning—in fact, February's events might just mark the last of the pandemic era's digital Fashion Weeks. But let's also hope that the forward-thinking spirit that permeated these virtual celebrations doesn't fall away with COVID-19 restrictions. By continuing to innovate and adapt to a changing world, luxury fashion brands will continue to strengthen their ties to influencers and expand their presence on social media.
To learn more about how top luxury fashion, apparel, and beauty brands edged out the competition on social media in February, download our latest Tribe Top 10 report.