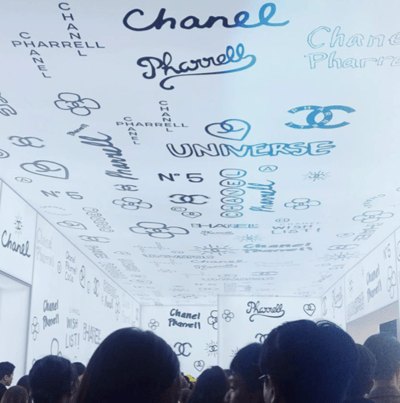 Louis Vuitton led the Top 10 with a 10% month-over-month growth in EMV, closing March with $26.7M. The brand partnered with YouTube to invite comedic vlogger Emma Chamberlain (@_emmachamberlain on Instagram) to its Paris Fashion Week show, prompting effusive content from the influencer. Emma contributed a total of $1.2M EMV across six posts, including an extensive vlog documenting her PFW experience, which ranked as Louis Vuitton's top March post. #PFW ranked among the brand's top five hashtags for the month with $921.3k EMV.
Chanel received a similar boost from Paris Fashion Week, displacing Gucci as the No. 1 Luxury Fashion brand for the first time since July 2016. Chanel's alpine-themed Fall 2019 show featured its last collection designed by former creative director Karl Lagerfeld; #PFW ($1.7M EMV) and #KarlLagerfeld ($1.7M) ranked as top hashtags, while the associated #ChanelInTheSnow garnered $1.4M. In addition, the brand generated buzz around its capsule collection with rapper and producer Pharrell Williams (@pharrell on Instagram), which debuted with a launch party in Seoul. #ChanelPharrell collected $743.9k EMV, while mentions of "Pharrell" drove $1.1M.
Find out which brands made the Luxury Top 10 this month!
Tribe Top 10, our monthly publication series, ranks the top beauty and fashion brands in earned media performance and reveals exclusive insights into trending content, products, and brands. We publish, and work with brands, in Cosmetics, Skincare, Haircare, Luxury, Non-Luxury Fashion, and Fashion Retailers in the U.S., as well as in 13 international markets. Visit TribeDynamics.com for full access to our reports.