Last week, Tribe Dynamics held the latest installment of its new quarterly virtual event series, "Earned Executive Learnings, 'West Coast'". The event featured insightful presentations on measuring and benchmarking influencer marketing success from Toto Haba, SVP of Global Marketing & Communications at Benefit Cosmetics, and Tribe Dynamics' own Co-founder and President Conor Begley. In a fun twist, the program offered participants the opportunity to connect with like-minded senior marketing professionals and executives over a bottle (or two) of Hourglass wine, hand-picked by sommelier Ian Fenwick.
If you weren't able to attend, no worries! In this post, we've compiled highlights and key takeaways from the event, and even included a mini-review of the wines we tasted so you can add them to your shopping list.
---
Measurement and an Unconventional Global Marketing Strategy
In his presentation on Benefit Cosmetics' global marketing strategy, Toto Haba described the unique, decentralized marketing approach that has brought the brand to life in over 40 countries around the world. The keynote detailed why Benefit Cosmetics' No. 1 influencer marketing metric is share of voice, and how the brand leverages localized initiatives to expand its global presence.
"We would never be able to form authentic relationships with all these people from a global standpoint if we didn't have our marketers on the ground. This has allowed us as a brand to move much quicker with our earned program worldwide."
Q&A
Myles McCormick, FORMA Brands | CEO
"How long have you been executing your local social strategy, and do you find the local social followership is part of your global followership?
Toto Haba, Benefit Cosmetics | SVP of Global Marketing & Communications
"It's been in our DNA since we started. We see some overlap when we look at our main handle on Instagram and the country demographics there. Only 80% of the people in our audience who engage with our main handle are U.S.-based, so we see a bit of crossover but it tends to narrow. One thing to note is platforms are getting good at localizing their feeds, and TikTok is a really good example of that. We opened up TikTok channels in every country and TikTok prioritizes location. The smarter platforms get in terms of tailoring content the less crossover we see."
---
Kimberly Burrs, J Lo Beauty | Managing Director
"Is there a tipping point for brands when they should start investing in localized marketing? When should younger brands start making that investment?"
Toto Haba, Benefit Cosmetics | SVP of Global Marketing & Communications
"The tipping point varies by market and is a financial consideration. When we think about the staff you need for a local marketing program, we like to start with a critical mass of sales with our retail partners before we invest in staff. At Benefit, we have the resources to provide new local programs with assets, but for a new program for a younger brand, it's important to find your community on social right away."
---
Bob Cohen, Astral Brands, Inc. | Chairman and CEO
"If you're an indie brand that has distribution in 20-30 countries through distributor relationships how would you recommend controlling the content for them and converting those to brand-driven relationships?"
Toto Haba, Benefit Cosmetics | SVP of Global Marketing & Communications
"We are primarily a wholesale business through our retail partners throughout the world. Our philosophy has always been that you must invest in building your brand even if you have a retail partner that is responsible for displaying you visually in-store. We started right away with a marketing investment to build the brand in local markets. It's the brand's responsibility to create that demand and the retailer's responsibility to capture the sale."
---
Martin Okner, dpHUE | President & COO
"How do you think about your investment and mix between social, podcasts, and influencer partnerships? As everything seems to be changing on social, how are you navigating things?"
Toto Haba, Benefit Cosmetics | SVP of Global Marketing & Communications
"I would say our mix has been through the years leaning more towards the influencer space. We have an advertising budget, but we don't invest a whole lot in sound, like podcasts. We do have a fairly large social media program. It's less about our B2C business because it's a small percentage of our business, we do so much through our wholesale partners. We have a big service business through brow waxing, which brings a lot of customers in-store where a lot of purchases are made. Our media mix is changing with where we see more of our consumers spending time. We do constant surveys of where our customers spend their time, and TikTok is taking over right now. From an earned standpoint the discovery of new creators on TikTok is the best place for beauty brands to be investing in right now. The ROI is pretty insane there."
---
Conor Begley, Tribe Dynamics | Co-founder & President
"What are your thoughts on YouTube and how has that changed from your perspective over the last year or two?"
Toto Haba, Benefit Cosmetics | SVP of Global Marketing & Communications
"YouTube is steady and all the data we see shows that beauty viewership continues to go up year-over-year. We aren't seeing the same decline that Instagram is experiencing. It feels like people legitimize their careers on YouTube. It's one of the few platforms that has figured out monetization for creators at scale. Creators get a steady paycheck on YouTube through their revenue share, so we think it's here to stay."
---
Melanie Bender, Versed | President
"How do you look at OKRs and KPIs in regards to paid influencers and does that differ by channel? How do you manage that effectively across various channels?"
Toto Haba, Benefit Cosmetics | SVP of Global Marketing & Communications
"It's a bit of a nightmare, as different platforms evolve. It does change per platform and we try and keep the macro Northstar in our heads, which is the total competitive share of voice in the category we are trying to win. If it's TikTok, for example, we stress less about the specific ROIs in terms of sales conversations after viewing that content versus how much it contributed to our overall market share lead. We think it's that big gain that drives sales."
---
How to Measure Influencer Marketing Success—A Brand's Guide to Monitoring and Benchmarking Influencer Marketing Performance Using Key Metrics
In his presentation on measuring influencer marketing success, Conor outlined Tribe Dynamics' recommendations on the most (and least) impactful KPIs beauty brands should be tracking. Among Conor's recommendations were identifying how your brand is doing relative to the market, evaluating the size and effectiveness of your team, and understanding how to invest in influencers.
"When it comes to key brand metrics, share of voice and retention are the two most important KPIs you should tracking. Share of voice takes into account market dynamics and retention is the strongest signal for future growth."
Hourglass Wines
Participants tasted two esteemed Hourglass wines during the event, a Sauvignon Blanc and a proprietary blend called HG III. According to sommelier Ian Fenwick, the vineyard's Sauvignon Blanc represents its first foray into white wines and offers a Bordeaux Blanc style with perfumed aromas of honeydew melon, Meyer lemon zest, and peach blossom. The red wine is the only true blend Hourglass offers, consisting mainly of Cabernet, Merlot, and Petit Bordeaux, and is fantastic when paired with food.
To provide a more holistic review of these wines, we asked a few Tribe team members who attended the event to share a brief review of each.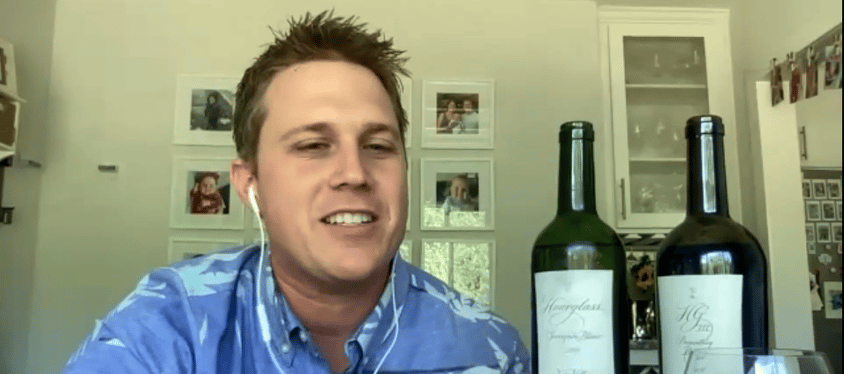 Zach Donnenfield, Content Marketing Associate | Tribe Dynamics
Sauvignon Blanc: "I'm not the biggest wine connoisseur when it comes to white wines, but this one was quite tasty. I could definitely recognize the fruity flavors that were described by Ian."
HG III: "My favorite of the two—this wine was so good I finished it during the event (oops)."
Leah Adams, Brand Marketing Lead | Tribe Dynamics
Sauvignon Blanc: "All wine tastes great to me but this was particularly good when chilled."
HG III: "A delicious blend and for those sitcom aficionados, the perfect accompaniment to Friends: The Reunion."