Tribe Dynamics' Discover and Influencer Search tools are both designed to help you grow your brand's influencer community by identifying the right influencers for your marketing campaigns. But, these tools also have key differences, and depending on the goals of your campaign, one may be better suited to your needs than the other. So if you're wondering which tool to turn to for your brand's upcoming influencer marketing initiatives, don't worry, we've broken it all down for you here.
To start, there are a few main distinctions between the tools that will help you determine which one to use:
Discover is a feed that serves you influencers who have recently mentioned your brand in their content—that you do not yet follow in your Tribe Dynamics account.
Influencer Search, on the other hand, allows you to search and filter for influencers who have mentioned any brand or hashtag you may be interested in. The results will likely include both influencers who you follow, and ones you don't (yet).
So which tool is right for your upcoming campaign? We've provided several example use cases below to help you answer this question.
Use Discover for Always-On Campaigns to Build Relationships With New Fans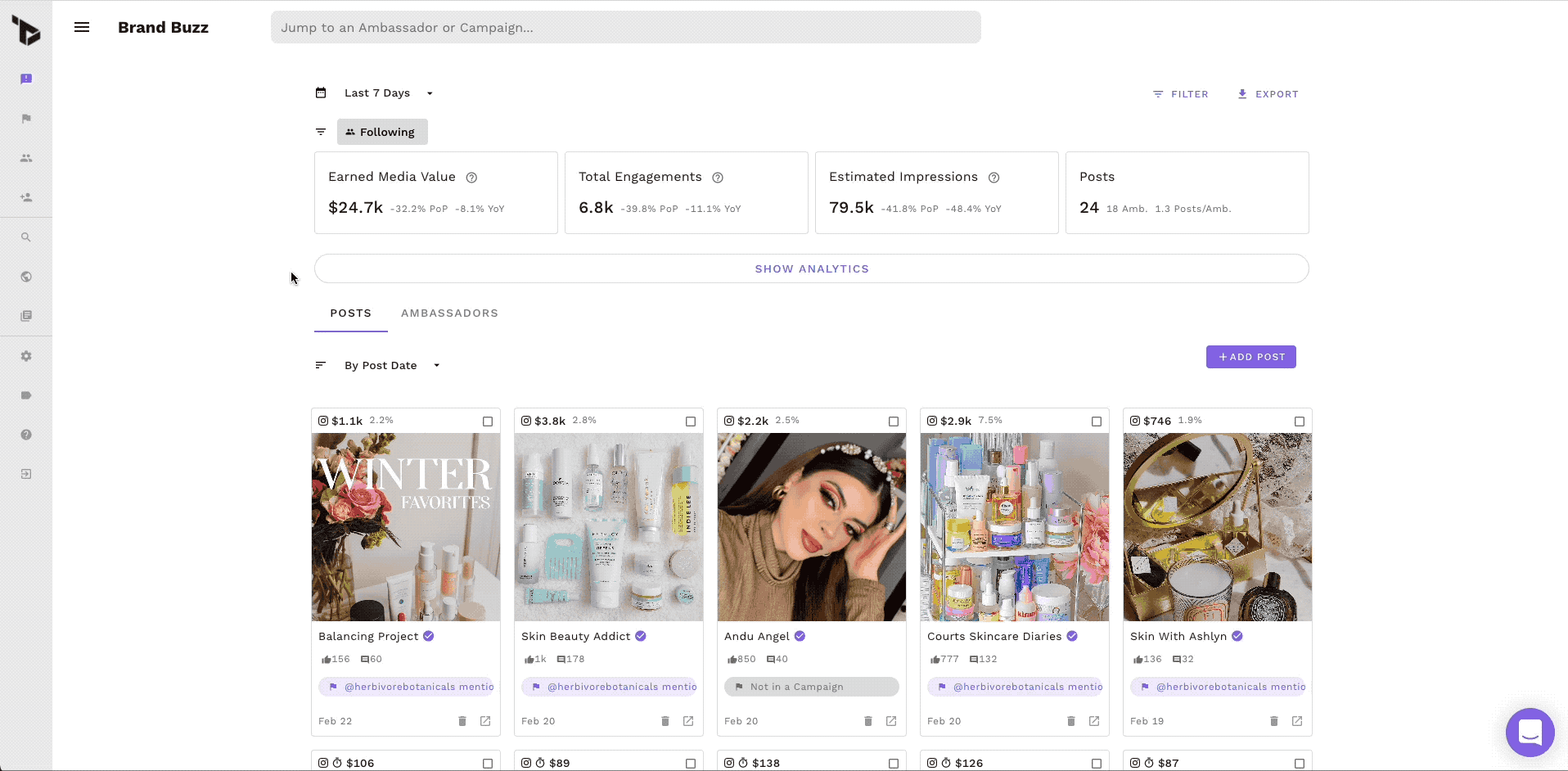 At Tribe Dynamics, we believe that the most important influencers for your brand are the ones who are already talking about you. With Discover, you can easily focus on building relationships with influencers who have already demonstrated an affinity for your brand, as these are more likely to develop into more lasting, rewarding partnerships. And because these influencers already love your products, they will likely be more active participants in marketing campaigns you include them in, helping you maximize your influencer program's ROI.
Some campaigns that are perfect for the influencers you find through Discover include:
New launch or hero product seeding
By including new fans in product sends, you can build on these influencers' existing product affinity by either giving them first access to a new launch, or sending over a tried-and-true hero product in between major launches and initiatives. This type of outreach will both strengthen your budding influencer relationships and give them more opportunities to post about your brand.
Product refill sends
If an influencer from your Discover feed mentions one of your products in their "empties" or "favorites" content, your brand can initiate outreach by sending them a "refill" of that product, to demonstrate that you pay attention to their content (and needs), and appreciate their continued support.
Brand events
While invites to in-person events may be off the table right now, your brand can still strengthen its ties with newly discovered influencer fans by including them in any virtual events you are planning—like Zoom workshops or happy hours. Such gatherings allow new influencers to develop personal connections with the people behind your brand, and integrate into your existing community by (digitally) mingling with your other influencer supporters.
Ultimately, the goal of each of these campaigns is to keep new fans connected to and talking about your brand—so that they transition from new to retained fans. By using Discover for your always-on relationship-building campaigns, you can continuously build out your brand community with loyal, passionate influencers.
Use Influencer Search to Find the Right Influencers for Your More Specific Campaigns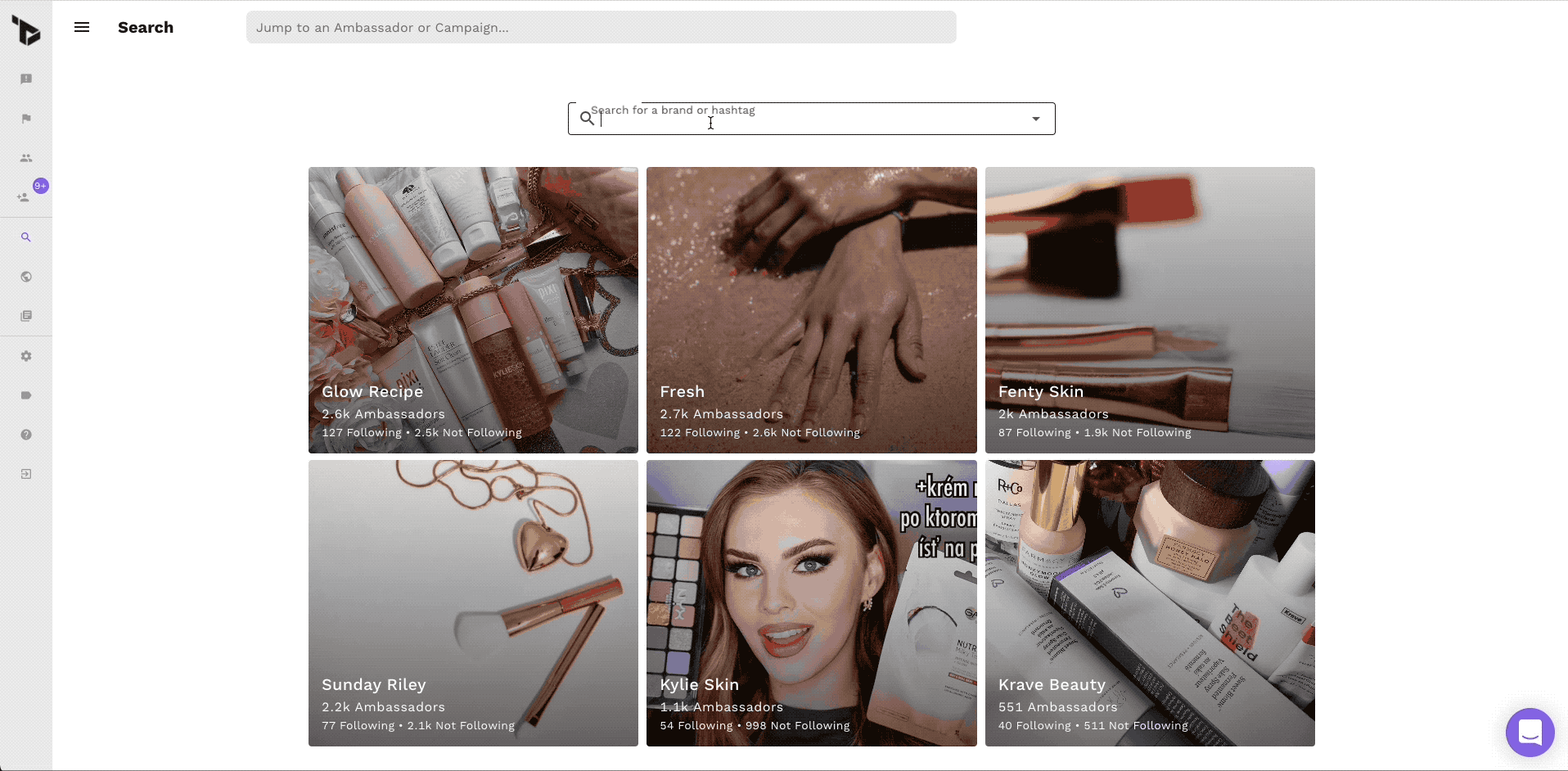 While you can use Discover for an always-on approach to growing your community, Influencer Search allows you to take a more targeted approach to campaign planning by surfacing content creators associated with any brand or hashtag relevant to your specific initiative. You can also filter influencers for specific criteria, like location, follower count, and whether you are already following them in your account. This way, while you may not have the assurance that an influencer participant has an existing affinity to your brand, you will at least know that they have expressed an interest that aligns with your upcoming campaign, and maximize the chances that they'll begin creating content about you.
Influencer Search is the tool to turn to if your brand is:
Planning a campaign around a product that addresses niche needs
Social media platforms are a great place for building communities around niche interests. If you're launching a campaign around products that address specific needs, such as curly hair, acne, or pregnancy, you can use Influencer Search to look into hashtags commonly used by members of these communities.
Planning an initiative with a specific theme
Whether you're looking for family-oriented influencers for Mother's or Father's Day, LGBTQIA+ creators for Pride Month, or SFX makeup artists for Halloween, Influencer Search can help you tap into the best influencers for campaigns around a specific theme or holiday—simply search for hashtags that these influencers might use to self-identify in their content.
Launching in a new vertical
Let's say you're a skincare brand that is planning to expand your product lineup into haircare. It's likely that your current influencer community is mostly made up of skincare enthusiasts. So, to build broader brand awareness and begin growing your community by establishing relationships with haircare influencers, you'll want to identify the creators who have clout in your new vertical. Use Influencer Search to find influencers based on their mentions of brands or hashtags relevant to your new vertical.
Rebranding
If you're not launching a new vertical, but are trying to reposition your brand, you'll want to make sure your influencer community reflects your new look. You can use Influencer Search to explore the communities of brands with similar aesthetics and values to your rebrand.
When sourcing influencers through Influencer Search, it is still best to start with the influencers you are already following, so that you can leverage and grow your existing relationships in your upcoming campaigns. (Remember, you can filter for influencers you are already following!) By noting the influencers you already follow and have relationships with in your search results, the tool makes it easy to find the overlap between the specific interests you are searching for and your existing community members. However, Influencer Search can also introduce you to relevant content creators who are less familiar with your brand, posing a great opportunity to meaningfully invite these influencers into your brand family by connecting through your shared interests and values.
We hope this post helped guide your brand in determining which of our Tribe Dynamics influencer tools is more appropriate based on your influencer marketing campaign's specific needs. While Discover is accessible to any brand with a Tribe Dynamics account, Influencer Search is an add-on feature. You can inquire about adding Influencer Search to your services below!