Last Friday, Olaplex made headlines by filing for an IPO. A longtime salon staple, the brand has inspired a fast-growing following among not only professional stylists, but also everyday beauty consumers, reporting a 171% year-over-year revenue surge in 2021 to date. Enthusiasm for the brand hasn't just exploded IRL: from January to July of this year, Olaplex ranked as Tribe Dynamics' No. 1 haircare brand by Earned Media Value (EMV) with $68.8M EMV, an 11% YoY increase that speaks to Olaplex's rising profile within the influencer community.
Olaplex's 2021 success marked the continuation of a steady growth trajectory. Having consistently claimed the No. 1 spot in our haircare Top 10 for the last several years, the brand enjoyed a 15% EMV improvement from 2018 to 2019, followed by a 20% boost between 2019 and 2020, suggesting that Olaplex boasted a passionate community of online fans long before 2021.
In this blog post, we'll unpack the key factors behind Olaplex's impressive EMV performance, including the influencer marketing strategies that have helped the brand defend its throne as social media's No. 1 name in haircare.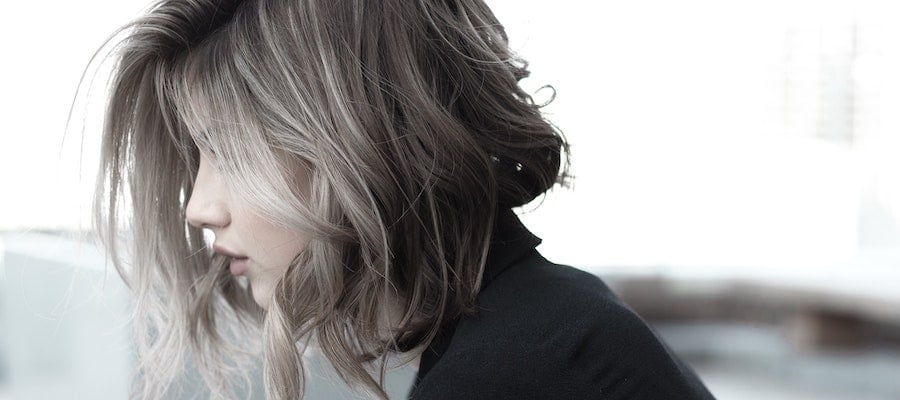 Organic Adoption Expands Olaplex's Influencer Community
Olaplex's surging EMV footprint can be partly attributed to its rapidly growing community of online fans. Between 2018 and 2019, Olaplex's influencer network expanded 63% to 3.6k content creators, with this figure jumping to 6.4k in 2020. The brand has only continued to recruit new fans: 6.3k influencers mentioned Olaplex during the first seven months of 2021, 50% more than during the first seven months of 2020.
Many of Olaplex's most impactful new advocates in 2021 were smaller-scale or mid-tier content creators who organically incorporated the brand's products into their posts, including Gen Z lifestyle blogger Lily Spinner (@thelilyspinner on Instagram) and professional hairstylist Daisy Goord (@daisy_goord). After not mentioning Olaplex during the prior seven months, Lily and Daisy contributed a respective $387.3k EMV and $318.3k EMV across 20 and 41 pieces of content about Olaplex from January to July 2021. Altogether, content creators who joined Olaplex's community from January to July generated $14.6M EMV, or 21% of the brand's total. By nurturing up-and-coming influencers' genuine enthusiasm, rather than relying exclusively on one-off paid initiatives, the brand has inspired consistent, impactful activity among newcomers.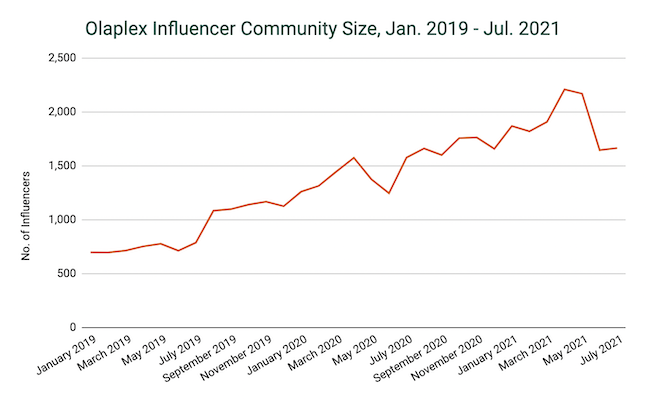 Olaplex Prioritizes Long-Term Influencer Relationships
While Olaplex has greatly benefited from the excitement of newcomers, it has also excelled at sustaining impactful relationships over time. More than half (2.7k) of the influencers who posted about the brand in the last seven months of 2020 continued to endorse Olaplex in 2021, with these retained fans accounting for most of the brand's top EMV-drivers. Additionally, many loyal advocates increased their activity in 2021, suggesting that their affinity for Olaplex strengthened over time. Salonist and brand partner Catherine Long (@catherinelovescolor on Instagram), for example, ranked as Olaplex's most impactful advocate from January to July, powering $2.0M EMV across 253 posts—a 25% improvement upon her $1.6M EMV during the previous seven months. By continuing to invest in its relationships with time-honored brand enthusiasts, Olaplex has inspired a valuable core family of supporters who can be counted on in the months and years to come.

Hero Products Reinforce Brand Loyalty
Olaplex stands out in the haircare space for its minimal product lineup: at present, the brand touts just eight offerings. But what Olaplex's range might lack in options, it makes up for in quality, with several products enjoying hero status among beauty enthusiasts. Chief among these influencer favorites is the No.3 Hair Perfector, which powered $3.4M EMV across mentions from 891 content creators between January and July 2021, well on its way toward besting its 2020 total of $5.0M EMV via 1.0k content creators.
Unlike salon-oriented offerings like the No.1 Bond Multiplier and No.2 Bond Perfector, the consumer-friendly No.3 Hair Perfecter has enjoyed widespread adoption among lifestyle influencers like YouTuber India Batson, who featured the treatment in a high-impact "Haircare Routine" video, and consistently counted it among her "Holy Grail" products in the captions of her posts. Similarly, YouTube beauty guru Abbey Yung repeatedly spotlighted the Hair Perfector in haircare tutorial videos. Motivated by the easy-to-use treatment's ability to deliver salon-quality results at home, India and Abbey delivered a respective $267.7k and $138.3k EMV for No.3 across 19 and 15 posts from January to July as the product's top two earners.
Thanks to a rapidly expanding community, impressive influencer retention, and at least one "holy grail" product, Olaplex is well-positioned to not only defend its No. 1 ranking, but continue setting the standard for effective influencer marketing in the haircare space.
Looking for a complete roadmap to influencer marketing strategy?