With 2022 on the horizon, your team has probably started setting goals for the year ahead. While the news cycle might still feel unpredictable, when it comes to influencer marketing, one thing is certain: lasting relationships with content creators are the ticket to sustainable growth in Earned Media Value (EMV). It's pretty easy to see if a particular influencer has consistently mentioned your brand (a quick glance at their Ambassador Profile should do the trick). However, assessing the loyalty of your community as a whole, while benchmarking your success against your competitors, is nearly impossible without a clear set of KPIs—and reliable tools to track them.
To save your team a headache, Tribe Dynamics' new Community Composition feature provides insights on the health of your brand's influencer program, as well as your competitors', in an easy-to-read bubble chart. Using three key metrics—EMV retention, community size, and average follower count—this visualization helps brands better understand the unique dynamics of their online fanbases, and evaluate their position within their competitive landscape through metrics other than top-line EMV. Ultimately, Community Composition empowers your brand to look beyond its influencers' output in a given time period, and gauge how effectively you're set up for continued growth.
In this blog post, we'll unpack each of the metrics your brand can use to assess its community health. Additionally, we'll take a look at how you can leverage Community Composition to gain a deeper understanding of your influencer marketing program's strengths, and identify areas of opportunity.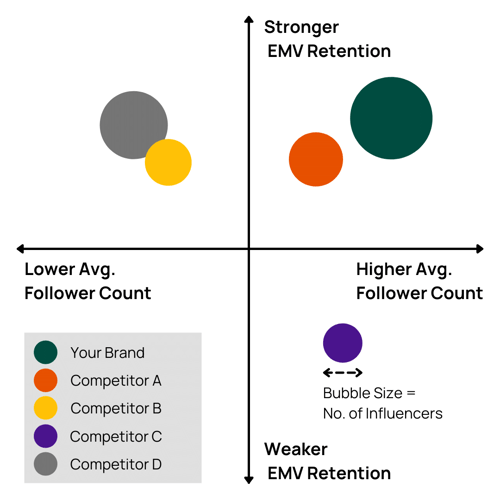 Monitor EMV Retention to Gauge Community Health
If you're a seasoned marketer, you're probably familiar with the concept of customer retention: keeping the same customers coming back to your brand again and again. Many businesses prioritize customer retention because it typically costs less to maintain an existing customer relationship than it does to win over a new customer.
The same is true of influencers: sustaining connections with content creators who have already mentioned your brand is generally less resource-intensive than encouraging new influencers to start posting about you. Just as businesses with loyal consumer bases tend to perform well quarter after quarter, brands with devoted influencer communities tend to see steady expansions to their earned media footprints.
To evaluate the consistency of your influencer community's brand affinity, use a metric called EMV retention, which is displayed on the Y-axis of the Community Composition chart in Tribe Dynamics' software. EMV retention measures the proportion of your brand's total EMV during a specific time period that was generated by influencers who are loyal to your brand. Essentially, this metric captures the amount of valuable, consistent influencer activity that your brand has managed to hold on to over time.
To get technical, EMV retention is calculated by taking the amount of EMV generated in a given time frame by influencers who also posted about your brand in the corresponding previous time frame, then dividing that figure by your brand's total EMV during the previous time frame. If your brand netted $1M EMV in July, and received $800k in August from influencers who also posted about your brand in July, the resulting EMV retention would be ($800k/1M), or 80%.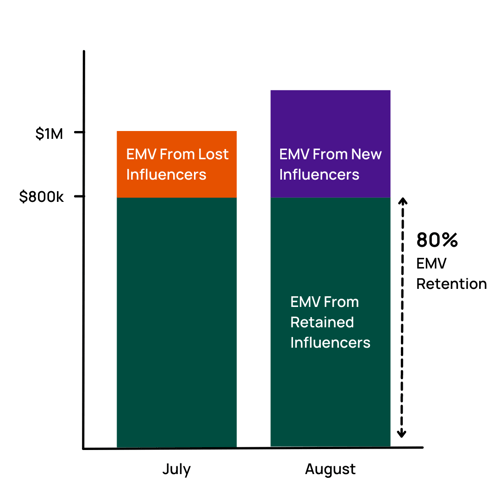 EMV from new influencers is always nice, but your goal is to retain EMV from these influencers during the next time period.
Thankfully, with Community Composition, you won't have to do any math; to understand whether the influencers you work with tend to remain enthusiastic advocates, just look at your brand's position on the chart relative to your competitors. The greater your EMV retention compared to similar brands, the better your chances of driving sustainable EMV growth.
Holistically Benchmark Your Performance via Community Size and Average Follower Count
Of course, simply putting a number on the loyalty of your influencer community hardly paints a comprehensive picture of your fanbase. In addition to retention, Community Composition displays data on your brand's community size, as well as the average follower count of content creators in your community. While average follower count is displayed on the X axis of the chart, community size is indicated by the size of the bubble associated with your brand. Gaining insight into the scope of your community, along with the average audience size of your influencers, allows you to easily monitor changes in these metrics, and determine whether your community is in line with your competitors'.
When benchmarking your EMV retention against similar brands, comparing these other aspects of your community can help guide your strategy. For example, imagine that your EMV retention is relatively low, and you work with a small network of influencers with large followings. If your competitors with higher EMV retention boast large networks of smaller-scale content creators, you might consider expanding your community to include a greater number of micro-influencers, and measure your improving EMV retention in subsequent months.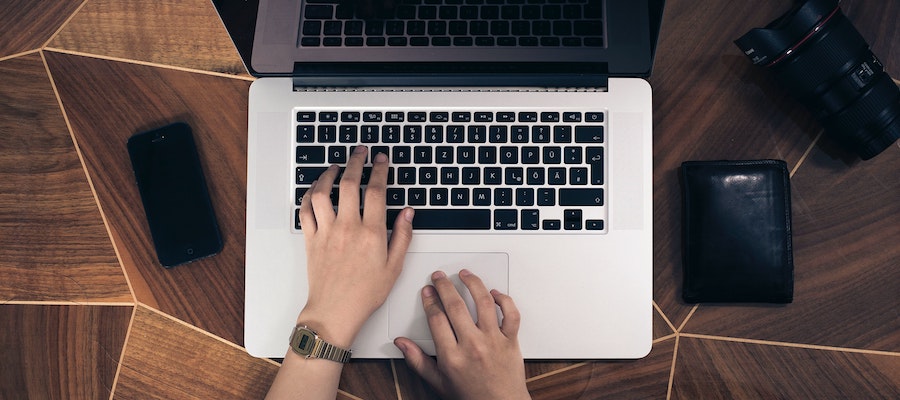 Report on the Impact of Your Community-Building Efforts
Many brands are already in the habit of reporting on top-line EMV figures. However, high EMV totals during a specific time period don't necessarily indicate that an influencer community is likely to see continued growth. For example, one-off paid activations tend to prompt short-lived EMV spikes with little impact on brands' long-term performance. Similarly, marketers' day-to-day efforts to foster content creators' loyalty, and engage new advocates, may not yield immediate EMV returns—but these efforts will better position brands for success down the road. Beyond tracking shifts in EMV retention, community size, and average follower count, and adjusting their strategies accordingly, influencer marketing teams can use Community Composition to report on these metrics, and gain recognition for the hard work that goes into nurturing a devoted fanbase.
By keeping a close eye on the scale, structure, and loyalty of your influencer network through Community Composition, you can gain a deeper understanding of your fanbase, and see how your performance measures up to the competition. However, EMV retention doesn't improve on its own: brands must make an active effort to encourage consistent activity from their supporters. To plan targeted outreach and drive EMV retention at scale, you can turn to other tools in Tribe Dynamics' suite of offerings, such as Community Groups. A thoughtful, always-on activation strategy, guided by data on the unique dynamics of your network, is sure to prompt lasting, meaningful conversation about your brand through 2022 and beyond.
To build a strong foundation in core influencer marketing concepts, strategies, and metrics, enroll in Tribe Dynamics' Influencer Marketing Training and Certification Program!