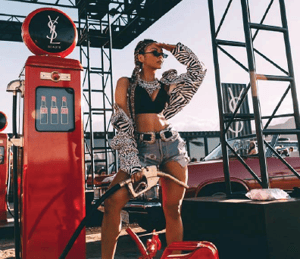 This April, few beauty brands held the large influencer activations at the Coachella Valley Music and Arts Festival that have become the stuff of legend. Among April's Top 10 cosmetics brands, #FestivalMakeup generated an average $1.1M EMV while #Coachella drove an average $913.7k EMV. Of the Top 10 brands, the highest #Coachella total was garnered by NYX Professional Makeup, which hosted a "Glitter Goals" activation as the official beauty partner for the festival. #Coachella netted $2.0M EMV for the brand, while #NYXCosmeticsCoachella powered $2.6M EMV. Though beauty brands still send influencers to the festival, these totals suggest that rather than gaining coverage through large-scale, expensive brand activations, many beauty brands are garnering more passive content via the larger "festival look" trend.
Outside of the Top 10, YSL Beauty approached Coachella with a unique spin, setting up a "YSL Beauty Station" gas station pop-up en route to the festival. The pop-up inspired content tagged #YSLBeautyStation, which collected $934.0k EMV as the brand's No. 2 EMV-generating hashtag. Overall, YSL Beauty garnered $7.5M EMV in April, a 27% month-over-month growth that outpaced the Top 10 cosmetics brands' 6% average decline.
To view the full April EMV rankings, read the full report!
Tribe Top 10, our monthly publication series, ranks the top beauty and fashion brands in earned media performance and reveals exclusive insights into trending content, products, and brands. We publish, and work with brands, in Cosmetics, Skincare, Haircare, Luxury, Non-Luxury Fashion, and Fashion Retailers in the U.S., as well as in 13 international markets. Visit TribeDynamics.com for full access to our reports.