Beauty's wu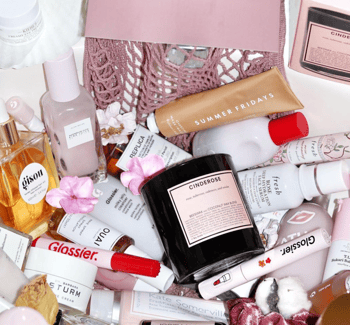 nderkind is all grown up! The Business of Fashion reported in March that Glossier's most recent $100 million funding round propelled it to a $1.2 billion valuation, joining a lineage of female-founded beauty unicorns that includes Kylie Cosmetics, Pat McGrath Labs, and Anastasia Beverly Hills. BoF attributed Glossier's meteoric rise to its distinctive Millennial branding, founder Emily Weiss' industry know-how, and its profitable direct-to-consumer model—all aspects we've flagged throughout our coverage of the cult brand from its initial launch as a no-frills skincare line. In light of its recent valuation, we took a look at how Glossier has been performing across international markets, focusing on the five markets where it garnered the most buzz.
Glossier Goes Global: The Facts
While Glossier only currently distributes in four markets—the U.S, the U.K., Canada, and France—the brand netted EMV in each of our 13 international markets, pointing to its global reach and the interconnectedness of the influencer community.
Glossier outpaced the growth of the top 30 beauty brands in three of its top-five international markets (France, Australia, and Korea).
Glossier's growth in the U.S. slowed considerably in H2 2018, declining 14% HoH compared to an average 3% growth among the top 30 beauty brands.
Due to its much-hyped H2 2018 launch in France, the brand experienced a 65% HoH growth in that market, nearly triple the average change for the top 30 beauty brands in France (22%).
Beauty First, Skincare Second
But first, beauty. Glossier launched with skincare products, but its beauty offerings made a larger EMV impact across all markets in 2018. In the U.S. and France, not a single skincare product ranked within the brand's top-five EMV-garnering products. In the U.S., Glossier's hero Boy Brow ($11.7M EMV) reigned as its top product, while in France, the Cloud Paint earned the top spot with $223.2k.
Millennial pink = secret weapon. Glossier's pastel packaging remained an important conversation starter for the brand. #ITGTopShelfie, the tag for user-generated posts of Insta-worthy vanities and aesthetic bathroom cabinets, was one of Glossier's top-five 2018 hashtags in the U.S. The tag collected $1.6M EMV overall from 89 content creators.