Beauty acquisitions aren't just for financial institutions anymore: it was announced on Monday (February 24, 2020) that E.L.F. made its first purchase, acquiring clean beauty brand W3LL People for $27 million. E.L.F., an influencer go-to for top quality products at a low price point, has been a mainstay in Tribe Dynamics' Earned Media Value and community management research thanks to its advanced influencer marketing strategies. As the buzz around clean beauty and indie beauty continues to gain steam online, it follows that such an innovative industry powerhouse would make moves to get ahead of the trend. To better understand the impact of this groundbreaking partnership, we took a look at both E.L.F. and W3LL People's influencer data from the previous year:
E.L.F's Influencer Community Size, January 2019 - January 2020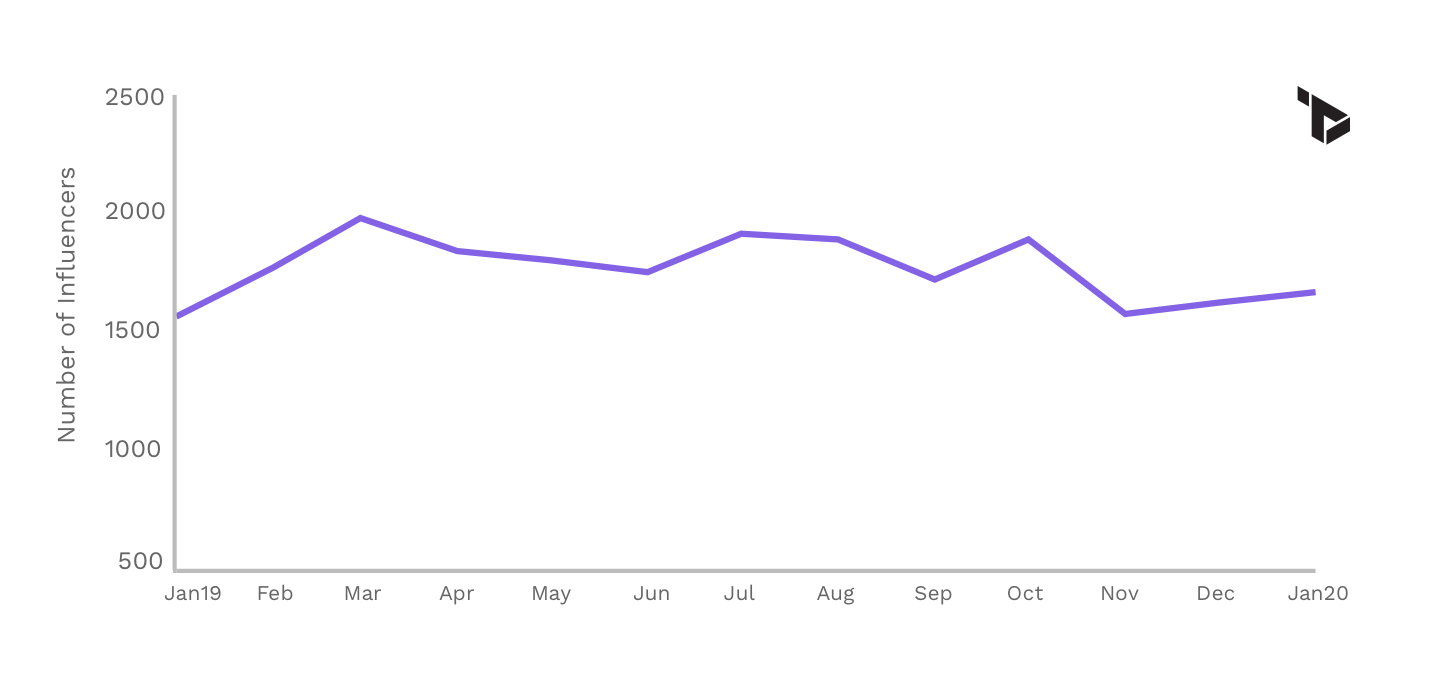 E.L.F. Boasts Consistent Influencer Community
Thanks to a diversified influencer marketing strategy that includes extensive product sends, in-person events, and collaborations with beauty bloggers, E.L.F. has maintained a community size of between 1.5k and 2.0k influencers every month since January 2019. This level of community stability speaks to the brand's expertise in maintaining an engaged influencer squad via activations and thoughtful product development. A core part of E.L.F.'s approach to influencer marketing has been growing with its fans: since 2016, the brand has held an annual Beautyscape contest and getaway which brings smaller-scale beauty bloggers together to celebrate their shared affinity for E.L.F.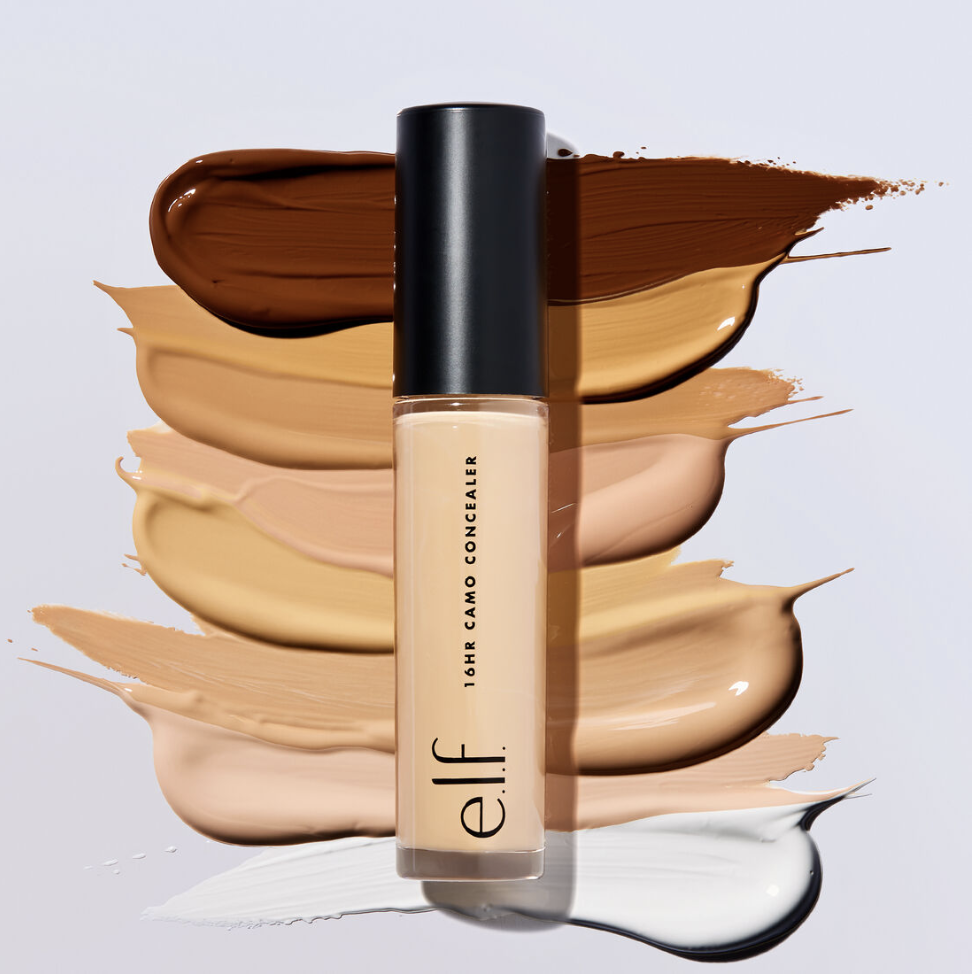 Influencers Champion E.L.F. For Product Quality and Affordability
From January 2019 to January 2020, E.L.F. collected a whopping $243.9M EMV from 7.1k influencers, an 83% year-over-year EMV increase. A significant portion of this growth stemmed from the brand's hero 16H Camo Concealer, which launched in early 2019. Widely heralded by bloggers as a $5 dupe to the cult-favorite Tarte Shape Tape concealer, the 16H Camo Concealer scored mentions from 52% (3.7k influencers) of E.L.F.'s community between January 2019 and January 2020, driving $43.6M EMV, or 18% of the brand's total EMV in that time period. The concealer's sweeping popularity is partly due to shining reviews from YouTube beauty heavyweights Tati Westbrook and Jeffree Star. Additionally, when influencers spoke, E.L.F. listened: the brand recently expanded the 16H Camo Concealer's shade range and launched a new hydrating version of the product.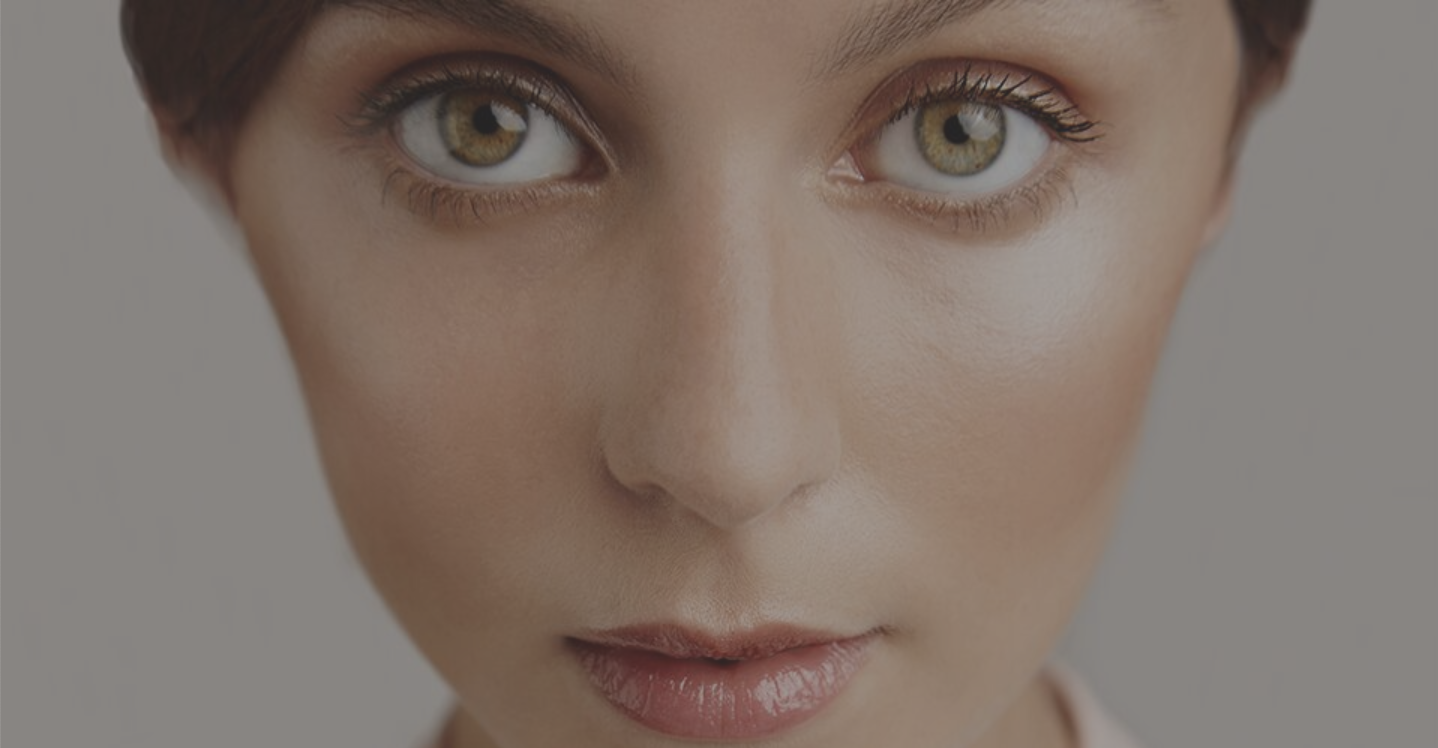 W3LL People's Commitment to Clean Beauty Fosters Small, Passionate Community
While W3LL People's influencer data pales in comparison to an industry leader like E.L.F.'s, the clean beauty brand enjoys a few strong influencer relationships, which we dug into. From January 2019 to January 2020, W3LL People accrued $3.1M EMV from 411 bloggers, seeing a monthly high of $364.3k EMV via 91 content creators in October 2019. Though relatively meager totals, the brand still maintained a consistent squad, never earning mentions from fewer than 64 influencers in a single month—a notably low level of influencer volatility for a small brand. Over two-thirds (277 bloggers) of the brand's community mentioned W3LL Beauty in posts tagged #CleanBeauty ($1.1M EMV), indicating the brand's success at nurturing a community passionate about its clean beauty values.
We are beyond excited to see exactly how E.L.F. strengthens W3LL People's values-driven approach to community-building through this partnership and effectively expands into the buzzy clean beauty space.
Tribe Dynamics regularly reports on indie beauty in our quarterly Indie Beauty Debriefs and shares EMV data surrounding the beauty and lifestyle brand acquisitions that industry insiders can't stop talking about. Be sure you subscribe to our blog to stay updated on the latest, and download our most recent Indie Beauty Debrief to see which indie brand might be acquired next!