In episode 8 of Earned, Conor chats with Savannah Sachs, CEO of probiotic-powered skincare line Tula.
The brand has splashed onto influencers' radars and seen explosive growth in Earned Media Value (EMV) since Savannah became CEO in 2018. From January to June of this year, Tula garnered $19.2M EMV—an impressive 205% year-over-year surge.
But Savannah's impressive accomplishments began long before her time with the brand: she earned her undergraduate degree from Princeton, before going on to receive her MBA from Harvard Business School. Savannah then "stumbled" into the beauty industry by joining the Birchbox U.K. team, helping turn the brand into the No. 1 beauty box in the U.K., before becoming COO back in the U.S.
In this episode, Savannah shares some of her learnings from her early days in management consulting and her time at Birchbox, before explaining how Tula's differentiated brand positioning ("at the intersection of beauty and wellness"), remarkable growth potential, and passionate consumer community attracted her to its CEO role.
Savannah dives into her leadership philosophy, revealing why cultivating a "happy, high-performing team" is the key to business success—and her first priority at Tula. We also talk about both the advantages and challenges that come with transitioning into the CEO of an already established company, and learn how Tula, a brand that specializes in in-person events and experiences, has adapted its marketing and retail strategies in response to COVID-19—and come out on top. (Savannah shared that the brand achieved record sales months in April and May.) Savannah also gives insight into Tula's influencer program, and emphasizes the importance of "high-touch" relationships between brand teams and their influencer partners.
We've included a couple discussion highlights from the episode below, but be sure to check out the full video above, listen to the podcast below, or tune in on Spotify, Apple Podcasts, or Google Podcasts!
The following interview has been lightly edited for concision.
How Tula Reimagined Its In-Person Retail Strategy to Come Out on Top
Conor: Based on a lot of what I saw from Tula in January, February, and March, this was the in-person year [for the brand]. This was the year of all of the events at retail [locations], all of the in-person influencer activations. How have you pivoted from that, and how have you redistributed some of that budget?
Savannah: One of our superpowers at Tula was creating really fantastic in-person events, and for retail, that's been a key part of our strategy in Ulta. Obviously this year looks very different, and one of the advantages of being a nimble start-up is being able to pivot. So we have been fortunate enough to be able to reprioritize and pivot, and we're actually exceeding all of our targets across channels believe it or not. It helps that the majority of our business is direct-to-consumer, so we're able to capture demand from the shutdown of brick and mortar. Being a clean brand, doctor-founded, focused on probiotics, and really sitting at that intersection of health and wellness, it's really been about being on top of the consumer psyche right now. So business is booming. We feel very well-positioned and lucky, and the team is crushing it in terms of execution.
More specifically in terms of the retail eventing, we're currently reimagining our retail strategy. I can't give away all the secrets, but stay tuned. But in the short-term, we have a full-time retail sales team, and normally they're in Ulta and Nordstrom day in and day out, interacting with customers and the store teams to tell them about Tula. And what we did is cross-train them to be digital skincare advisors. They are now talking to customers directly via chat on Tula.com, so we basically took that in-store experience and consultative education moment and brought it online. So that's one specific example of how we pivoted.
More broadly, we've really thought about reallocating budget from events and in-store moments and in-person moments to digital content creation and continuing to scale our influencer partnerships.Those are the big two buckets we've decided to lean more on, which are really just a ramping up of things we had been doing previously.
"That High-Touch Relationship Is So Critically Important": Tula's Approach to Paid Influencer Partnerships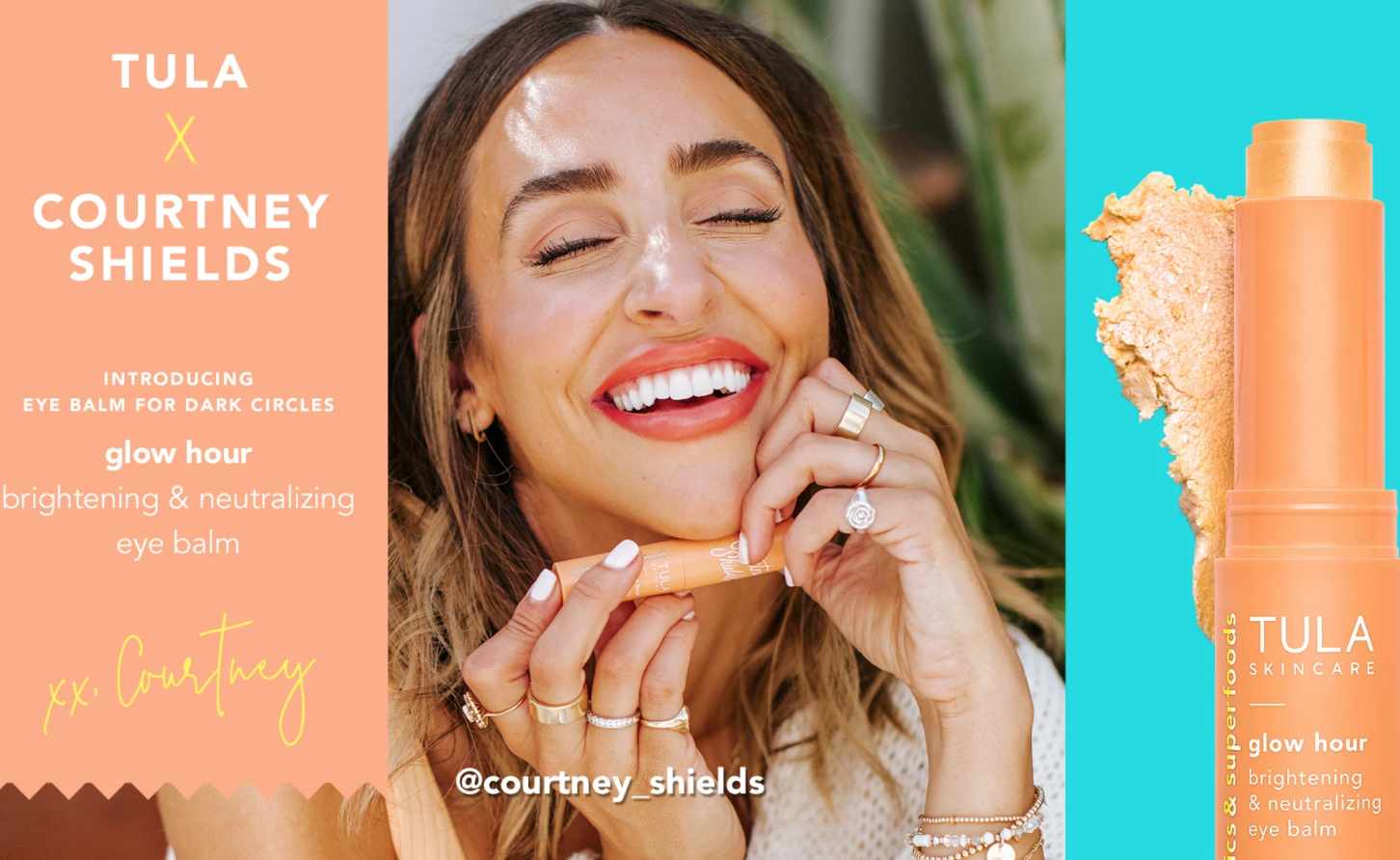 Conor: How does Tula manage and think about the interplay between earned and paid influencer content?
Savannah: Right now, the influencer team is very focused on the paid partnerships, whether that's our smaller, up-and-coming brand ambassadors that get a commission of sales, or more of the macro, mid-tier, celebrity and up that have a hybrid commission and flat fee. So our influencer team overall is focused on paid partnerships, but it's very much with an emphasis on the relationships. Our influencer team knows when our partners' birthdays are, and how old their kids are, and their favorite Trader Joe's snacks, and that truly high-touch relationship is so critically important to us at Tula in terms of building these really deep, authentic partnerships. So I don't mean to say that paid implies that it's not really high-touch and personal in terms of the relationships.
But I think that in terms of our organic strategy, to your point, it's so incredibly important, and we see that as icing on the cake. That's something that we're creating by offering awesome products and a really dynamic brand, and building a community—whether that's among customers or influencers—and really thinking about our community holistically. So that is the responsibility [for] all of us. It starts with the product development team, creating great product, it goes through the brand marketing team in terms of how we're interacting with our customers, and to the social team in terms of the community we're building. So I would say that our organic strategy is really holistic and the responsibility of the entire team. Even the operations and customer service, like if you're getting your product on time, quickly, and if it's beautifully packaged, and if you ever have an issue, you have a great customer experience. All of that matters. So, I would say that organic is actually all of our day jobs.
--
You can watch the entire interview here, or listen to the full episode on Spotify, Apple Podcasts, or Google Podcasts. to catch up on our first seven episodes, featuring brands like ColourPop, INH Hair, Glow Recipe, and The North Face.