In Episode 21 of Earned, Conor chats with Sasha Plavsic, founder of clean beauty brand ILIA Beauty, which achieved a jaw-dropping 400% year-over-year growth in 2020, as well as a 230% YoY surge in Earned Media Value (EMV).
We start the episode by discussing the "major breakout year" for the brand, and learn about the "risks that led to great results," including the launch of its popular Super Serum Skin Tint SPF 40, pivoting to a DTC model amid the pandemic, and reappropriating its field team. We hear about the challenges that come with such rapid growth, and learn why Sasha decided to hire Lynda Berkowitz as CEO. We talk about the importance of cultivating a great internal team and culture, before Conor and Sasha dive into ILIA Beauty's mutually beneficial partnership with Sephora. Sasha explains why transparency is a core value for the brand, and reveals a few pages from the marketing playbook that launched ILIA Beauty to soaring success. Finally, Sasha discusses her influencer philosophy and the brand's plans for a vaccinated future, before lending sage advice to aspiring entrepreneurs looking to build their own brands.
We've included a couple discussion highlights from the episode below, but be sure to check out the full video above, listen to the podcast below, or tune in on Spotify, Apple Podcasts, or Google Podcasts!
The following interview has been lightly edited for concision.
"If you are vulnerable and open with your customers, you develop trust": Why Transparency Is Important to ILIA Beauty
Conor: One of the things that you guys have talked about is this idea of transparency being a core value to the company. And whether it was luck or intention, I think that that's a value that consumers are really into. Like what is in the products I'm putting on my skin? That's recently become a topic of conversation, but you decided that a long time ago. What made you decide transparency was going to be a core value for the company?
Sasha: I think it was just from being curious. For me, that's what it was 12 years ago. I had a really sick brother as a kid and he had auto-immune issues, he had asthma, he was supposed to live in the hospital indefinitely on a ventilator—there was so much that came up. This was the early 80's when technology, and even just an understanding of how to work through this, was not as well studied at that time. And I think what [my mother] really instilled into me was to look further than what you're being told, or what you're being sold. In marketing and products, what you're being sold doesn't always line up with the truth.
I think we all know that inherently, but in the beauty industry specifically, it can be pretty bad, or it used to be. Back then, I just wanted to know more about what was in my products. And what I found was that when I was looking for products that were more natural or classified as "green" at the time, they really weren't [green]. I thought, why are these people lying? This isn't very honest. And if I was thinking that way, I'm sure that if other people were to find out that there was some greenwashing, they might think that way as well. And they did. It took them time, but over the last decade, not only have people begun to question what's in their beauty products, people [have begun] to question everything. So transparency is important, and there will always be elements in any business or in the world that are covering up parts of information, whether it's for the good or for the bad. And I think it's up to us as people to find what feels right, and to seek out what we want to live with and be comfortable with. I think if you are vulnerable and open with your customers, you develop trust. That to me is really the essence of transparency.
Conor: The word "trust" was the one that kept running through my mind as you were talking. It's all about trust. I think what the internet has done is it's provided a lot of information—good, bad, and otherwise. And I think that's caused people to go, "Oh wow, this isn't what I thought it was. This isn't what I've been told for so long." And then good wins, right? The better products tend to win in that environment. Not always, but they tend to.
"Take Risks": The Marketing Playbook That Led ILIA Beauty to Achieve a 400% YoY Growth in Revenue
Conor: Let's talk about marketing, because everybody wants to know what's the playbook that's going to help me grow 400% year-over-year. Obviously marketing isn't the only thing that gets you there, but I know you've invested a lot in that in the last year. So what is ILIA's marketing playbook? What are the components that you can talk about that you found work really well?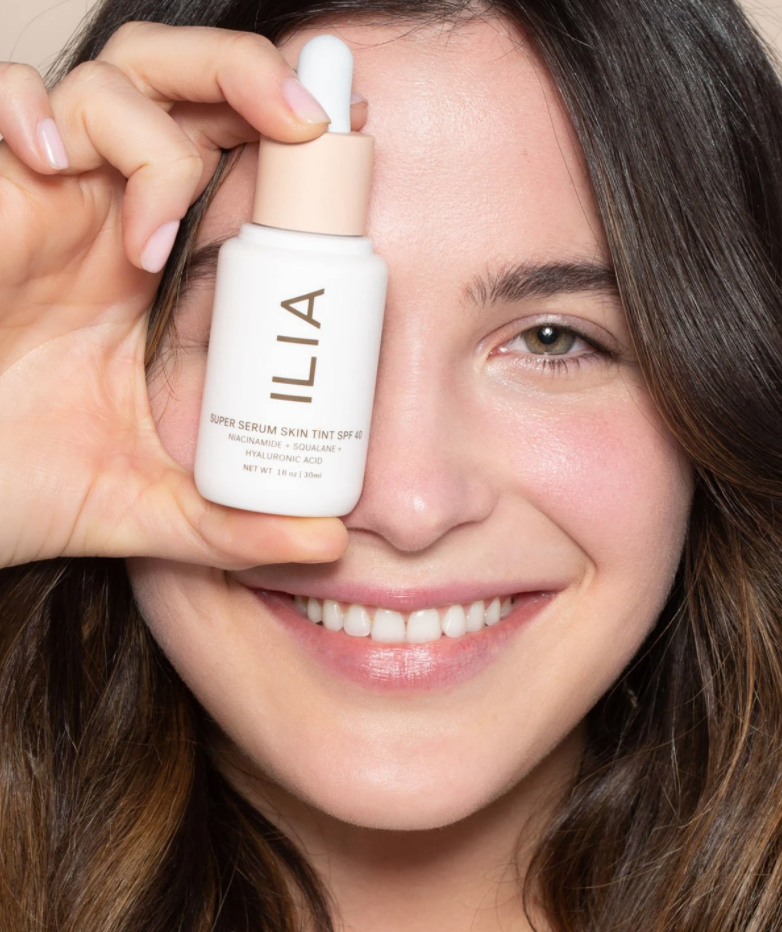 Sasha: [Marketing] is important. We didn't really do any until a year ago. So when we launched our Super Serum Skin Tint SPF 40, that was the first time that we had more of a 360 approach. We had online ads that were user-generated content, we had billboards, we wrapped a bus, we had a launch event, we planned an exclusive for press. All the pillars of marketing that you could touch, we touched for the first time. Luckily, it was a great product. Luckily, we had a rebrand to give us a fresh new look, and I think that caught people's attention.
With the pandemic hitting last year, there were a lot of decisions that needed to be made, but one of them was easy: online. We really picked up our ad spend because of what was happening with a pandemic. There was also a period of time where you could buy ads at a [much] lower price. So our VP of e-commerce was able to really focus on that, and we tested. We're in a pandemic, what's going to happen?
We knew last year, regardless, was going to be a year of testing. Let's test this type of content, let's test that type of content. But to me, marketing is really a maze of content. You have top of the funnel, which is more campaign related, then middle of the funnel, which is more continuous, and then bottom of the funnel is where you have that conversion with your ads. So how do we pull somebody in and drag them all the way through? We hadn't done that properly yet, so once you start to activate all areas of the funnel, I think you should be able to see a difference.
Take risks. Billboards were really inexpensive and still are, and we decided to drive that continuously. Do they work? Not measurable. But I had friends that I haven't spoken to in years text me and say, "I see you everywhere." That made me think that other people were seeing us everywhere. And we found out soon enough that they were, so that worked for us. Would it work for somebody else? You won't know until you try. I think that's the trick to marketing, is you don't know until you try. You have to be willing to take a risk. You do need to have money, which means you should have funding if you really want to be able to go after it. And I think that's the one area I didn't have an opportunity to run with until we were properly funded. I basically had product and word-of-mouth and it took us far enough, but it will only take you to a point where you're known as a niche brand that has great product. I wanted us to be bigger than that. And in order to do it, you have to hit hard to create brand awareness.
Conor: That makes sense. I think the things that stand out are that product is the key, right? So it doesn't matter how good your initiative is, if the product isn't there, it doesn't matter how much money you spend. I think that strategy you're talking about—there's a really good book called Blockbusters that talks about this kind of approach—which is, all-in, really fast, all at the same time. It was historically utilized for movies, but you can use it in other other categories where it's like, "This is everywhere." It's in the influencer [space], it's on billboards, it's on a bus. My friends are talking about it. And you create this moment in time that really catapults the product or the brand at that point.
Looking Ahead: How ILIA Beauty Is Planning for a Vaccinated Future
Conor: We talked a lot about how you changed your approach during COVID-19 as an organization, but now as we come out of that, as people are getting vaccinated, we're planning for the second half of the year with presumably a lot more people being able to go about their business in a more normal way. How are you guys adapting to that? What are you thinking about for the second half of the year when it comes to marketing the business, etc.?
Sasha: Stay on course. I think the decisions that we made last year, we just kept going as if nothing had happened. Yes, we had to invest more effort online and put a focus not just online with us, but online with our other retailers as well. There will be more virtual shopping, so for us specifically, we are launching a shade finder that actually helps to shade match you in a much more appropriate way than what we have now. [We're also focusing on] customer service, being able to upload photos and have that interaction with the customer virtually in the same way that you would in-store. And then in-store, we're making sure that our field team is fully equipped with everything that they need to be able to deliver great service and hopefully get people excited about the product. Then it's adding all the marketing around it from a blockbuster effect, which could be in influencers.

We have a huge campaign coming out celebrating the one-year anniversary of our Super Serum Skin Tint. And we'll be doing shade extensions and hero-ing that out as an emotional celebration for this launch. I think that's one of the things that we tapped into last year. People don't just want to see the fluff of marketing. They want something real, transparent, authentic. And that's always very much who we've been at our core. It's who I am. There are customers looking for that, the younger generations want that, they want that truth serum, so to speak. And I think if that can be implemented in your plan and in your marketing, you can go much further in being able to grab somebody's attention.
--
You can watch the entire interview here, or listen to the full episode on Spotify, Apple Podcasts, or Google Podcasts to catch up on our other 20 episodes, featuring leaders from brands like ColourPop, INH Hair, Tula, Sweaty Betty, and Huda Beauty.