We're back! In Episode 2 of Earned, our new influencer marketing podcast and video series, Tribe Dynamics co-founder Conor Begley chats with Jordynn Wynn, marketing director at ColourPop and co-founder of rising hair extensions brand Insert Name Here (yes, that's the name!).
Raised by a family of ranchers in a small Montana town, Jordynn shares how her move out West to California in search of warmer weather ultimately led to her becoming ColourPop's first official hire at just 21 years old. Jordynn pulls back the curtain on the early days of ColourPop (which involved hand-delivering customer orders to USPS) and reveals how she eventually recruited Pepperdine classmate Sharon Pak to the ColourPop team, forming the dynamic duo known as "Shordynn" and laying the groundwork for the pair's foray into launching their own brand.
We dive into why Jordynn and Sharon, alongside entrepreneur Kevin Gould, saw an opportunity to enter the hair space and create wig, ponytail, and extensions line Insert Name Here—a brand that's made a big splash in the influencer community since its official launch in 2019. With endorsements from mega-stars like Ariana Grande, who rocked one of the brand's ponytails in her "In My Head" music video last July, INH has experienced steady growth in Earned Media Value every quarter since its launch, accruing $8.4M EMV in Q1 2020, a 7% quarter-over-quarter increase.
Also in this episode, we learn the origin of influencer collaborations at ColourPop—a key pillar of the brand's success, and discuss how Jordynn's learnings from working at the trendsetting cosmetics brand have helped shape her marketing strategy for Insert Name Here. Jordynn also talks about the major role that social media influencers have played in the hair brand's initial success, and reveals her most valuable strategies for selecting the best influencer partners.
We've included a few discussion highlights from the episode below, but be sure to check out the full video above, listen to the podcast below, or tune in on Spotify, Apple Podcasts, or Google Podcasts!
The following interview has been lightly edited for concision.
Why Choose Hair?: The Story Behind Insert Name Here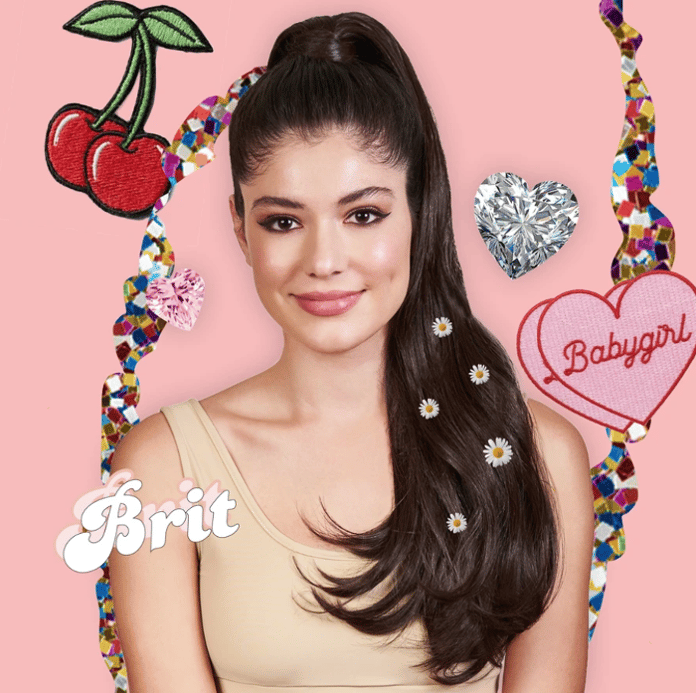 Conor: What made you decide to start Insert Name Here, and why did you go into the space that you're in?
Jordynn: We decided to go into hair because we recognized that hair is now in a similar space that color cosmetics was in when we launched ColourPop. When we launched ColourPop, we noticed that a lot of the "OG" conglomerates just didn't know how to do social media. They didn't really have a digital presence. They weren't educational, their content wasn't relevant. It wasn't speaking to millennials and Gen Z. And so I think that ColourPop was really a part of the big first wave to take color cosmetics digitally and socially. We recognized the opportunity to do the same thing with hair. If you think about hair, there are only a couple brands that people could name off the top of their head in the hair space. And it's not because there's a lack of interest, it's just that brands haven't done a good job digitizing it and bringing it to the millennial/Gen Z customer. And I would say that's Sharon's and my expertise, from our ColourPop experience. So we were really excited to find an adjacent category that wasn't in beauty that we felt had a lot of the same opportunities as ColourPop.
The Role of Influencers in Insert Name Here's Marketing Strategy
Conor: How do you think about influencers within Insert Name Here's strategy? How much of [the brand's] initial success is because you guys have built these relationships over the years [at ColourPop]?
Jordynn: Influencers have been major for us. We've been so lucky that so many people in the industry and influencers have been incredibly supportive of Sharon and I, and a lot of that is from our previous relationships with them. We've gotten a ton of support early on that was very organic, just because they're real friends of ours. So that's been really key for the brand.
I also think since we are bootstrapped and don't have a ton of resources, influencers are creating all of our content. We rely very heavily on influencers for all aspects. We also do a ton of paid partnerships. That's really big, but we have it set up a lot differently than maybe other brands do. And I think since the influencer space is changing literally every quarter, our strategy with Insert Name Here has been to do something different, and all of our partnerships are kind of out of the box. We're still fine-tuning a lot of them to see what makes sense, what doesn't make sense, but we work very heavily with influencers, whether that's on paid content, or general content creation, like for our website.
Conor: How do you choose who to work with?
Jordynn: We primarily look at engagement. A lot of the partners who we've worked with that we've found the most success with aren't the biggest influencers. It's the influencers with the best engagement. It's the up-and-coming people, or even people who've been around for quite a while and they're not really continuing to grow, but they have great engagement. We actually try to benchmark people who have 30% engagement for anybody that we're partnering with. Those are the people who are really going to convert, and they're usually much smaller, like in the 100,000 [followers] range. They're usually not bigger than 200,000 even. But those are the people who have performed the best for us, and they're also the most excited to work with us because they are smaller.
"Collabs Are My Baby": How Collaborations Became Key to ColourPop's Success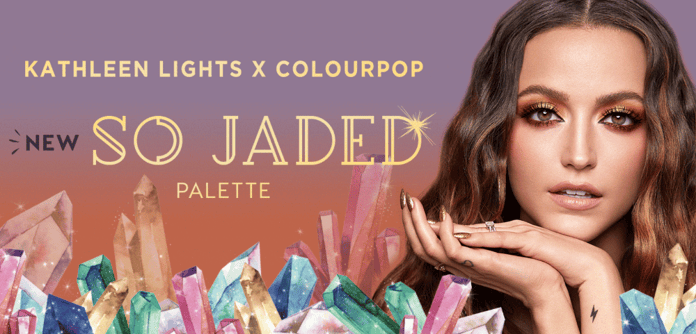 Conor: Let's talk about ColourPop. One of the core pillars of success for ColourPop has been the collaborations that you guys have done, whether that's with Disney or with Kathleen [Fuentes, or KathleenLights] or with Becky G. So what got you guys into that space, how do you think about who to partner with? And how involved are [the collaborators] in the product creation process? Talk to me about that, because you're really intimately involved with [collaborations], right?
Jordynn: Yeah, collabs are my baby. That's kind of my main focus currently, which is such a big part of the success of ColourPop. It's been one of our main pillars of the brand. It's funny because it first started with this girl on Instagram, "slave2beauty" was her name, and she was a really big fan of ours. She was posting [about] us all the time and her whole feed was hot pink. We really appreciated all the posts she was doing for us, so we made her a custom shade called "Slave2Pink," and we gifted it to her and were like, "Hey, we made this for you, and we're also selling it on the site," and it blew doors. At the time we were tiny. I think we launched with 50 units and we sold out in like three days and we were like, "Oh my gosh, this is crazy." So that was kind of our first trigger.
So we did that, and we obviously noticed immediate success, and so we were like, "What's a bigger way we can do this?" So we [collaborated] with some other influencers, and right out the gate, we were testing different audiences. We did some lifestyle people, we did people who were just doing product flatlays, and then we were doing more beauty influencers. I would say the first collab that really kind of set the stage for the program was with KathleenLights.
At the time she had 200,000 followers, but she had amazing engagement, and still has amazing engagement, and she was a really organic influencer. She had done a dedicated haul video about us and was just over the moon about us. So we flew her out from Miami and met with her, and [she was] so nice, so genuine. We ended up launching one lipstick with her, it's called Lumière, and that literally blew doors. It sold out instantly. People were freaking out, and we got a ton of new followers. People love Kathleen, and she's actually a collaborator we still work with to this day. So we collab with her even once or twice a year. We've totally grown together, and she's such a great partner. She also has a lot of really great creative concepts. So when we're looking at [influencer] partners, we're looking for somebody who's going to bring something else to the table that's outside of what we would [normally] do.
--
You can watch the entire interview here, or listen to the full episode on Spotify, Apple Podcasts, or Google Podcasts! Didn't catch Episode 1 of Earned? Check out our interview with Ashton Wall, ColourPop's Director of Performance Marketing here. And look out for Episode 3, featuring Evelyn Wang, CMO of cult-favorite masstige cosmetics brand Milani, coming soon.