In our fifteenth episode of Earned, Conor sits down with Toto Haba, SVP of global marketing & communications at Benefit Cosmetics.
In the episode, we dive into Toto's unexpected path to the beauty world. After graduating from UC Santa Cruz with a degree in studio arts, Toto landed a visual design role at internet consulting firm Viant Consulting in the early stages of the internet era, and later worked his way up at digital advertising agency Organic, all before joining the Benefit team in 2013. Toto shares how Benefit's unconventional—and fun—marketing approach (the brand's tagline is "laughter is the best cosmetic") attracted him to the brand, and shares how he applies his learnings from his agency experience, including the power of good creative, to his role at the brand. Clearly, his efforts are paying off: Benefit powered $588.8M in Earned Media Value (EMV) between January and October 2020, ranking as one of the top five Cosmetics brands by EMV.
While Toto notes how Benefit, whose main product categories are brows and mascara, is well-positioned in this new, face mask-donning world, he also attributes the brand's success to its focus on building out its e-commerce and e-tail partnerships long before the pandemic shifted business to online. We learn more about Benefit's global marketing strategy, and Toto reveals why it's important to have local teams that understand the local markets and consumers. He explains why he works to cultivate a failure-friendly company culture, and unpacks his 75/25 goal of company failures to successes. We also learn what a typical day in Toto's role looks like, why he's fascinated with the Chinese market, and how he believes the influencer space has evolved in recent years. Toto divulges why Benefit is focusing on the rising class of Gen Z content creators, and reveals the brand's philosophy behind building organic influencer relationships.
We've included a couple discussion highlights from the episode below, but be sure to check out the full video above, listen to the podcast below, or tune in on Spotify, Apple Podcasts, or Google Podcasts!
The following interview has been lightly edited for concision.
"Laughter is the best cosmetic": How Benefit's Unconventional Marketing Strategy and Global Presence Attracted Toto to the Brand
Conor: To leave an agency and go on to Benefit is a big transition. What were some of the appeals of Benefit when you came over?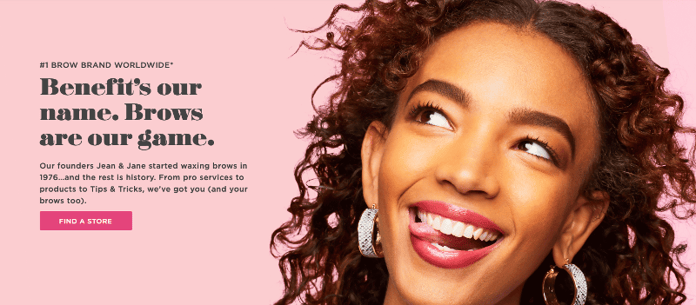 Toto: Oh my gosh, there were so many appeals about Benefit, and it wasn't obvious when I first took the phone call. I got a call from Valerie Hoecke, who was my old boss. She is the chief digital officer for perfumes and cosmetics for LVMH right now. And she told me about [Benefit]. It was interesting, and I put the phone down and was like, I'll talk to my wife. And I was like I don't know, I've worked on makeup clients before, but they're not really my category, and [my wife] just put her hands on the table and was like, you've got to think about this. This is a brand that is really different. And the more I learned about Benefit and the more I learned about the unconventional approach that they take towards marketing and—we have a gift as a brand with our founders and the tagline that they created: laughter is the best cosmetic. I think that's the best position of any makeup company in the market, and what it does [for] a marketer, is it gives you freedom to try, it gives you freedom to fail, and it gives you freedom to try to make people laugh. And as a marketer who had to slave away selling insurance or selling adult diapers or all of the crazy random stuff that paid the bills, to actually work on a brand that actually produced fun marketing was a gift. So that was the first and foremost. And then I was really interested about the international aspect of the role as well. I've worked on international clients in the past, and I've always really enjoyed learning about other cultures. So knowing I'd be in a global role was really interesting to me.
Conor: Talk to me about the international a little bit. Most people that are going to listen to this podcast just don't have experiences internationally in that way, but from a marketing perspective, understanding the psychology of the market, understanding what consumers want and don't want is just so important. You said you rely heavily on the local teams in terms of your success, but what are some of the other lessons that you've learned in working through these international markets?
Toto: Working with the local markets, I think building a team that has a creative freeway to express the brand and just to push the bounds has been so rewarding for me working at Benefit. I say this to people all the time when they asked me, why does Benefit have 26 different Instagram handles rather than just one core one as a brand? And I tell them it's because laughter is the best cosmetic, and I don't know how to be funny in China, I don't know how to be funny in Brazil, I don't know how to be funny in all of these other places. So for a brand like us, you really need local people who understand their local customers to push the boundaries and bring the brand to life.
"If you're not failing enough, you're not trying to reach high enough": How Toto Instills a Failure-Friendly Culture at Benefit
Conor: So I listened to one of your other interviews, and you said that the target you guys go for is this 75%/25% mix in terms of failures to successes. Is that something that you guys think about a lot?
Toto: It is. At Benefit, I start the year off setting some global priorities for the team, and I always try to set a specific KPI on whether or not we are reaching that objective. And for the innovation objective that we have, the broad goal I set was that we have to be failing 75% of the time in order to be successful just 25%, with the thought that if you're not failing enough, you're not trying to reach high enough. And I also just wanted to try to instill a culture of being okay to talk about our failures as a company, because I know sometimes when you work in an international role, people just like to tell you about their successes that they have, and not be as open to the failure, so that was one of the reasons I did that.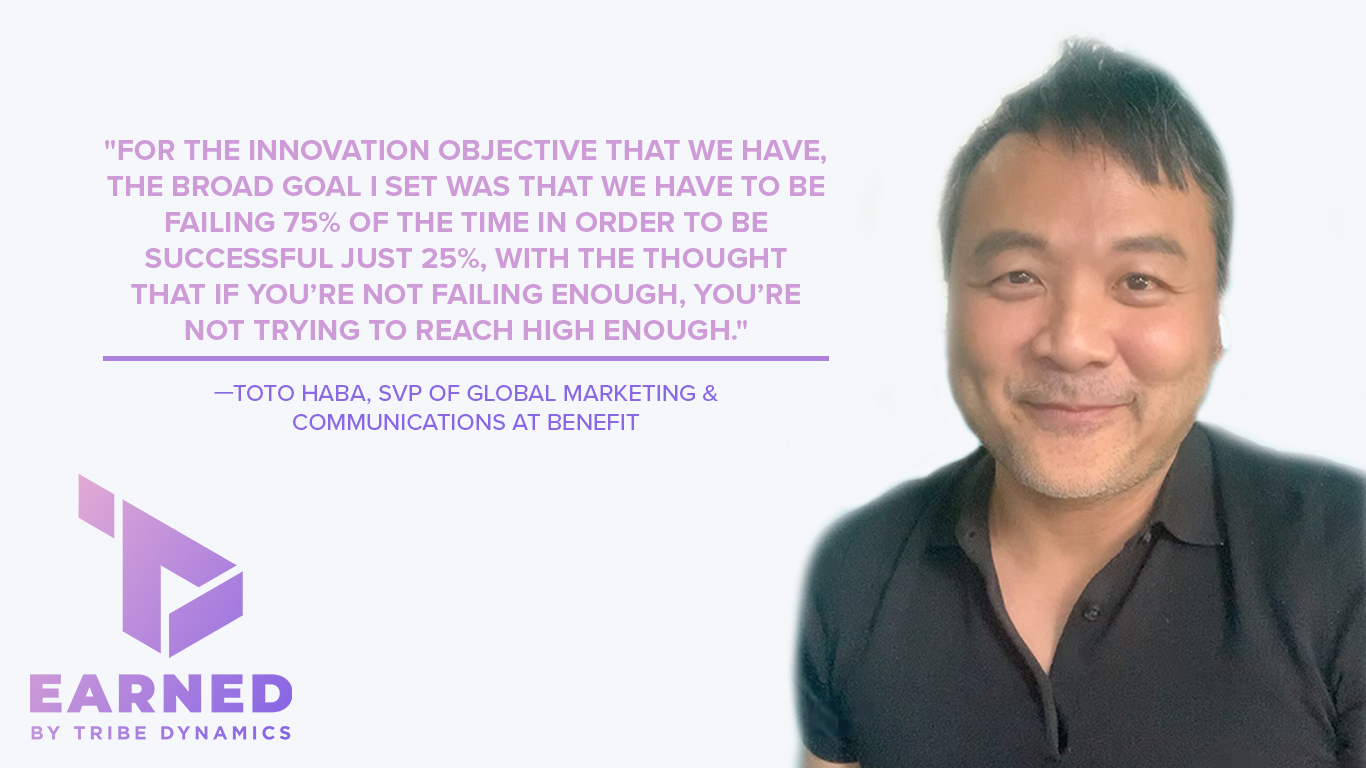 Conor: I mean, one of the things that's nice about failures is you learn from them, right? So that's the whole point, is you try something and you're like okay, this didn't work, but maybe if I change this part of it, this part of it will work. You don't want to ignore those.
Toto: Yeah. You almost learn more from your failures if you're honest about it. And a lot of the successes that you read about in PR or case studies, if you go under the covers, a lot of it's smoke and mirrors. I mean, I've done it myself. I've gotten written up for a great success story that we had, but it was done on shoestrings and tape, and it was kind of a success if you squint at it. But, the failures that we had and the learnings were even more valuable for the next activation.
Benefit's Organic-First Influencer Philosophy
Conor: How do you guys think about paid activations? What's your philosophy when it comes to working with influencers in a paid capacity?
Toto: I mean, our philosophy has always been to try not to pay for as long as we can, and leverage that equity or the brand goodwill. I mean, payment, if you can consider product seeding as a payment, we do that quite a bit, and in terms of getting them access, but actual payment to produce content or payment to say something for us, we reserve it until the last minute when there is no other option for big events. We also use it a lot, Conor, to really signal just how much we want to partner long-term with a creator to help them with their career. There's a point when you're up and coming where you're doing some small brand deals, or, you're making a name for yourself, but for a bigger brand to come in and pay you a bunch of money to do a spot or to be in a year-long campaign, that's a loyalty thing that we consider as we want to be one of the first brands that really takes you seriously as a creator, because we want to build that long-term equity and we think you're going to rise to the top. So we use payments in that regard too.
Conor: Yeah, that makes sense. So typically structured around long-term relationships, but you try to be as organic as you can.
Toto: For as long as we can.
--
You can watch the entire interview here, or listen to the full episode on Spotify, Apple Podcasts, or Google Podcasts to catch up on our 14 other episodes, featuring brands like ColourPop, INH Hair, Ana Luisa, The North Face, and Huda Beauty.