In Episode 12 of Earned, Conor sits down with the esteemed Riccardo Pozzoli. Once deemed "the man who monetized blogging," Riccardo co-founded the mega-popular fashion blog The Blonde Salad with fashion icon Chiara Ferragni back in 2009, and has since become an established entrepreneur, investor, marketing adviser, and influencer in his own right.
In the episode, we learn why Riccardo decided to create The Blonde Salad with Chiara at a time before the blogosphere and social media—and of course, influencers—were in style. We hear how the pair grew the site into the powerhouse platform and their learnings from the experience, and Riccardo shares why he eventually left the company in 2017 to pursue his own entrepreneurial endeavors. Riccardo dives into his business philosophies and why he favors the "long-term" strategy, and also divulges his approach to working with brands as an influencer himself. Riccardo then lends advice to brands on how to maximize their influencer strategy, and reveals the key characteristics he looks for in leaders when deciding whether to invest in a company.
We've included a couple of interview highlights from the episode below, but be sure to check out the full video above, listen to the podcast below, or tune in on Spotify, Apple Podcasts, or Google Podcasts!
The following interview has been lightly edited for concision.
"The people were seeking a new kind of entertainment around fashion": Why Riccardo Co-Founded the Mega-Popular Fashion Blog The Blonde Salad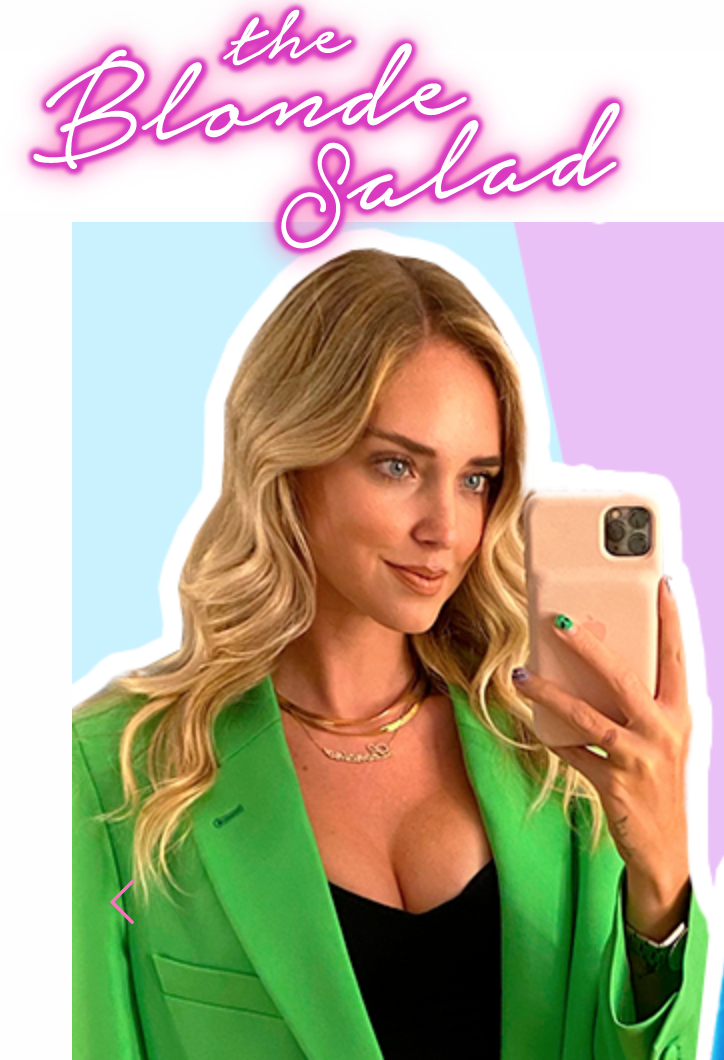 Conor: Let's talk about The Blonde Salad. What was it initially that made you think, this is the thing I want to do? Social media, blogging, because this was 2009, right?
Riccardo: 2009, yeah. In reality, The Blonde Salad was born during a master's [program], not even after, during an internship in Chicago. So I was working as an assistant in a marketing office of a consumer company. And for the first time, because in Italy, the direct to consumer approach was maybe a bit backward compared to the United States, but when I was there, I really experienced how important the opinion of digital customers was for us. So as an intern, I was all day reviewing all the reviews on Amazon of our product, or interacting on Facebook, or checking what the industry bloggers were saying about us. So I really realized that our company was sensitive to those kinds of content, to those kinds of consumers and opinion leaders.
And at the same time, I was seeing that Chiara [Ferragni] was super passionate about fashion and photography. She was posting a lot of things on various social media. So I said, why don't you build up just your little world, your community around this passion, because for sure it is going to become something interesting in the future. But obviously we didn't know absolutely [anything] because we didn't have any kind of benchmark. We were just understanding that there was an opportunity. The people, like us, were seeking a new kind of entertainment also related to fashion, because before that, fashion was basically just in magazines, no television, no radio. So it was just magazines, magazines, magazines. There were some websites, but still in a very old approach. And so for sure something was meant to happen, you know? So we just started like that, but really without any kind of expectation.
And I have to say that for me, one of the most important things was really the timing. Because I started one year before finishing my [program], I literally bought The Blonde Salad domain and I created the blog on HTML coming from finance and marketing. So I spent a couple of days trying to understand how to log in, but then it worked out.
And at that point we didn't have any kind of expectation, but I was studying, so I didn't have anything to lose. So I went back to Italy, I finished the master's. But in the meanwhile, in those six to nine months, The Blonde Salad was collecting more than 30,000 visits per day on the blog. So at that moment already, it was quite easy to understand that it was becoming something big. There were platforms that were emailing us and saying, "We follow your blog, do you want to put a banner of Luisa Via Roma or ASOS on your website?" It was something completely unexpected. So I started learning what was CPM, what was CPR, what was an affiliation program. We really started getting in a world that was completely new, and we were absolutely not planning to get into.
So when I finished my master's, I got a couple of opportunities to work at a big corporate, but at that moment I said, I will always have time to get on that train. Right now, there is this thing that is super fascinating. It's something that, because there are no rules, there are no benchmarks, I'm not afraid to make mistakes because no one can point them out for me. We just jumped on that and we tried to put all our energies into it and it was fun. It was just fun because we were taking pictures and traveling around the world and going to cool events. And we were in one of the three main cities in the world for fashion (Milan), so we had access to all the companies, and companies were calling us and saying, "You are the blog guys, what can we do together?" They didn't know because it was something completely new for them. They needed more experiential content, more faces enjoying the events and doing all the storytelling. They needed different kinds of entertainment as much as we needed that as people, as users. So we just tried to do as best as we could and just create high quality content.
"I can deploy more value if we build up long-term relationships": Riccardo's Approach to Partnering With Brands as an Influencer
Riccardo: When I work as an influencer, I don't want to get easy money doing three posts for the most amount of money. I think that the approach that I set up a few years ago in these kinds of relationships is a very healthy approach that is going to be more and more common in the future. I'm speaking only to companies that, first of all, I am a client of.
So if I'm not a client, I will not be authentic in communicating that to my followers. Second, I cannot work with 3,000 companies. I have to pick three or four, that's it, because I don't really have the time or the occasion to go to all the events, all the things, so I have to really select well. And again, I'm a very bad actor, so I'm not able to fake it. So if I want to share cool content, I really must have fun in doing that. That's why I picked one company in the watch industry, one company in the fashion industry, one company in the car industry, and one company in the beverage industry that are really aligned with my tastes and are really brands that I would buy from.
But as I'm picking, obviously I know that I can deploy more value if we build up long-term relationships. So with all of these companies, I build up yearly relationships, and it's way more than posting or not posting. So what I have to give them is a lot more value than just the visibility on my social media channel. I know that if we build up a long-term relationship, I will be able to deliver a lot bigger value. So a few companies, but well done. I will give you my advice even if you have to organize an event, I will give you my advice about who to invite, who not to invite, if you have to gift the product or you have to launch a new capsule, I will help you even from the strategic point of view, from the advisory point of view. And in this way, even more, I feel like part of the brand. So I'm wearing Brooks Brothers every single day because I love the product, because I love the company, and I really became friends with all the top managers, even the salespeople in the stores because I am really hanging out with them. So I'm really connected with the team and really connected with the brand.
Why Riccardo Looks for Founders' Passion and "Soft Skills" Before Investing in a Company
Conor: Obviously, long-term thinking is something you look for when investing in a company. What are the other things you look for in the leaders of these businesses?
Riccardo: Yeah, I mean, this is one of the hottest questions in the venture capital world, but it is one of the most fundamental, so it's absolutely right to explore. So my approach is absolutely as you've said, like something long-term, but my approach is that, I like people, I don't like ideas, because this is quite known in this industry, but probably the idea counts for 1% of the possibility of success and 99% is made by the execution. The execution is made by the people, and the people are hired by the leader and the founder usually.
So I'm trying to look, first of all, for the passion in that person for what he/she is doing. Because you know, the big thing is that today, it's not 2009, when I started, it's not 2004 when Mark Zuckerberg started. When we started, it was the moment in which everything was starting in the influencer world. But today we have millions of apps, millions of influencers, millions of start-uppers all around the world. We're in a very competitive world, and there are lower-entry barriers to entrepreneurship than ever, probably. So you really need somebody that is really passionate about what he's going to do, because if he's not gonna have enough passion, for sure he is going to give up, probably before the right moment. I don't know if you experienced exactly the same thing, but for me, many times, I experienced in my life [that you can] struggle for one, two, three, four years. And then from one day to the other, the business completely changes because finally the market has matured for your business, finally enough customers understand your business, and the word of mouth is exploding.
There are many factors, but is that founder the right person to be passionate enough until that moment? Not necessarily the passion for only the industry, but in general, the passion for the business and the passion for the project, the ambition, the determination. There are all of these kinds of soft skills that you really have to look for into the founder. Then obviously the capability also to handle and to hire other people is something very important because again, as I was saying, that's the starting point of everything. Not every company has an HR manager in the beginning, so the founder is the HR manager for probably the first few years, so that person must have a sort of empathy. He must have a capability to understand people, to motivate them, to align them with his vision. I'm not really the kind of guy that is evaluating if you have the right cost per acquisition of your customer. You know, all those kinds of hard skills, I think that you can learn. And I have people in my team that can teach you. So that's not a big deal. The first thing I want to understand is if you have the soft skills for that, because if you don't have them, I cannot teach you. I really like the human side of marketing, as I like the human side of entrepreneurship. So I am way more sensitive to that.
--
You can watch the entire interview here, or listen to the full episode on Spotify, Apple Podcasts, or Google Podcasts. To catch up on our 11 other episodes, featuring brands like ColourPop, INH Hair, Tula, and The North Face, visit our Earned Podcast page.