In Episode 46 of Earned, we sit down with a true industry leader: JuE Wong. Now the CEO of No. 1 EMV-ranking haircare brand Olaplex—which went public in September 2021 at a $15 billion valuation—JuE has been at the helm of several other successful beauty brands, including Moroccanoil, Elizabeth Arden, StriVectin, Astral Brands, and more.
We start the episode with JuE sharing her general leadership philosophies, as well as how her leadership style has evolved since her first executive role. We then explore the investments that JuE made when she joined Olaplex in January of 2020 that helped accelerate the brand's growth, before hearing how the company maintained its culture after quadrupling in size over the following two years. Next, JuE emphasizes the importance of omnichannel synergy between retail, professional, and DTC, and we learn how Olaplex supported its professional hairstylist community during the COVID shutdowns. Switching gears, we hear why JuE, who grew up in Singapore, wanted to move to the US, before JuE opens up about how the passing of her husband made her a more empathetic leader. To close the show, JuE shares how she wants to use her professional influence in the beauty industry for good.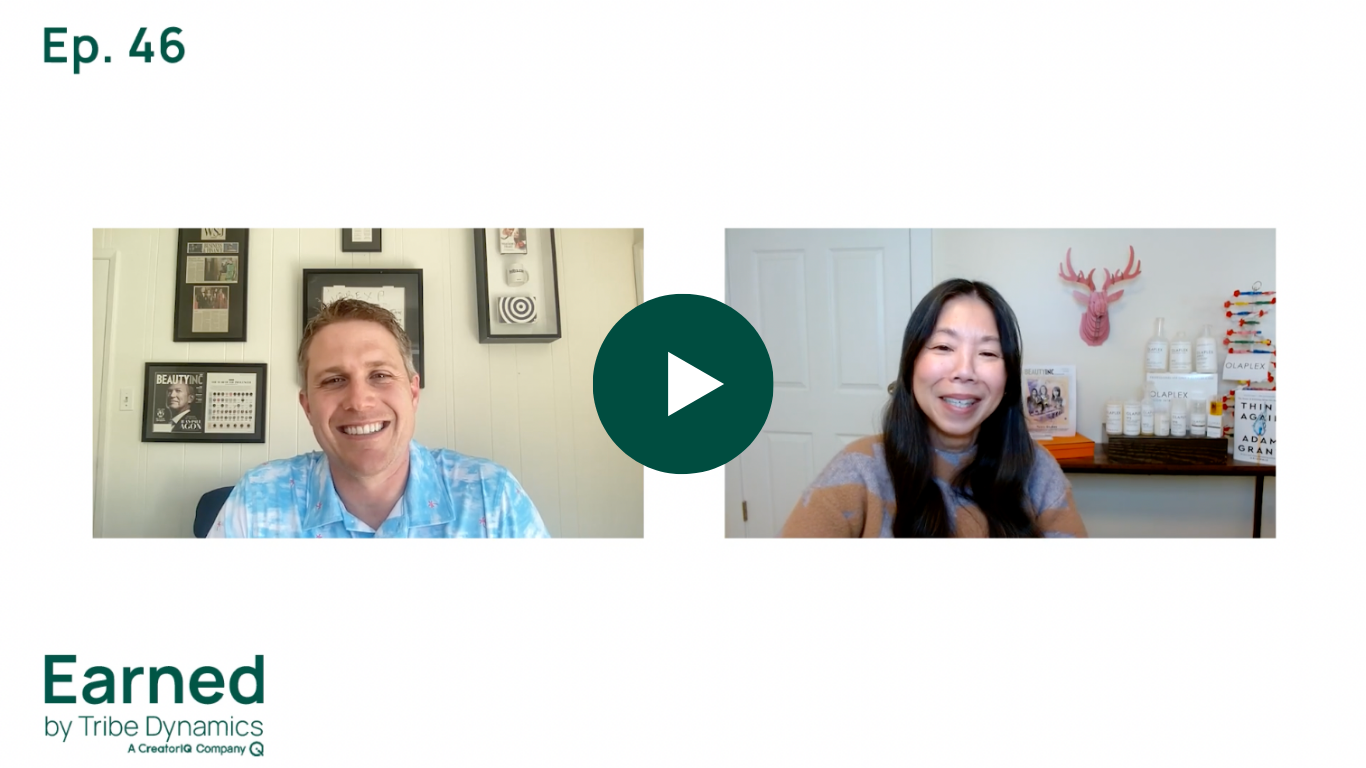 We've included a few highlights from the episode, but be sure to check out the full video above, listen to the podcast below, or tune in on Spotify, Apple Podcasts, or Google Podcasts!
The following interview has been lightly edited for concision.
"Leadership is not about doing everything yourself; leadership is about allowing people to do bigger and better": JuE Wong on the Investments she Made to Accelerate Olaplex's Growth
Conor Begley: When you joined Olaplex, the brand was growing around 70% year-over-year. Now the business is growing well over 100% year-over-year, almost doubling in terms of growth rate—it seems almost like you're cooking the books in profitability. So when you came in, what were some of the investments that you made that accelerated that growth profile?
JuE Wong: I was very fortunate that by my time joining Olaplex, Advent International was my fifth private equity-backed company that I worked with, and they were very clear with me that they really wanted to invest behind the brand. It wasn't one of those companies where they can say, "let's milk it for what it's worth." It was never that directive, and I would never have joined a private equity partnership if that was the directive. In fact, none of the private equity I've worked with had that kind of a directive, and that makes it much more appealing for somebody who's coming in, whether to turnaround or to grow a brand. And it was very clear to me that Olapex had a couple of great things going for it, because I was already at Moroccanoil monitoring their success.
First and foremost, their social media digital platform was really very organic and very authentic, before the word authentic was being thrown around, that was one thing that came across loud and clear. Secondly, it was their patents, right? The fact that I remember hearing that Olaplex beat L'Oréal in that first lawsuit, there was a collective cheer among small businesses. It was very rare for a competitor like Moroccanoil to be cheering Olaplex on, but that was the camaraderie, right? That was the second thing: they united the hair category.
And then the third thing about them was that they had a remote working culture. And I have always wondered, if I were to restart a company, what would be the differentiator to be able to get talent from across the globe? So those three things were very clear to me as I was walking in. And then the one thing that brought it all together was that they had both critical acclaim—so they win all these awards—but they also have box office success. I mean, they have a boatload of revenue, and I'm like, no movie gets that kind of credit. You either win an Oscar and get called a dud at the box office, or you make a lot of money at the box office and you win no Oscars, right? And Olaplex has both.
So walking in, I realized I have a very special team of people, but I also know that we have to have structure and discipline and investment. So I kind of leaned on what I know best, which is the e-commerce, the direct to consumer, the digital space, because with those things, you can jettison something when it doesn't work, and when something works, you can double click, double down, and you can prove with data that it works, because there's calls to action, there's KPIs, there's return on investment.
But unbeknownst to me, I joined on January 8th, 2020. Now in hindsight, people must have thought I was a genius, but sometimes you default to what you know best. So we updated the website to make it an e-commerce website. And we were already so strong on Instagram, so what's the next big thing? They were just dabbling on TikTok, and I remember they had like 12 million views, and I was like, that's nothing, we need to do more. So when I started in April of 2020, there were 24 million views, and today, if you look at it, we are pushing close to 700 million views on our #Olaplex.
So that is the power of recognizing the good that [Olaplex was already doing], the momentum that they had, and giving them even more to do. So those were some of the investments we made, and then finally in people. I was employee number 36, and today we have 125 people in just over two years. Those are the things that we were willing to invest in. And then the final thing was we really built out an R&D team. R&D used to be outsourced, and today we have a team of 12 people with our own R&D facility to really test and look at innovation. And we now have innovation through 36, 48 months, when we know we can lean in on those innovations and still be very relevant in the marketplace.
So if you think about it, there was nothing really specific—it was everything that Olaplex did well, and I gave them the ability to do even more of it. And that's why I'm so excited, because to me, leadership is not about doing everything yourself—leadership is allowing people to do bigger and better.
JuE Wong on the Importance of Omnichannel Synergy
Conor Begley: The management of channels in the professional space over the last couple of years seems like it had to have been pretty difficult given the pandemic. How have you guys managed through that, and how have you historically managed through too much distribution versus focus? Because obviously if you're only in one retailer, that retailer is going to do very well, and the more you spread yourself out, theoretically, the lower the impact, right?
JuE Wong: Right, so when most brands say they're omnichannel, what they're really telling you is, "I'm multichannel and I'm managing channel conflict." And when I walked into Olaplex, it was very clear. They didn't use the term omnichannel; they said, we are in direct-to-consumer, we are in professional, and we are in retail. And at that time, retail was really new. They only went into Sephora in 2018. But what was very critical was the understanding that each of the channels kind of feeds off the others.
The professional channel is our credibility, our authority build. Because when your hairstylist or your dermatologist or your medical professional tells you to do something as a patient, you're not going to second guess that. By and large, people listen to the pros. And then retail is where you build brand awareness. As soon as you are at retail, you find that your brand equity grows because more people hear about you. And in our case, 35% of our customers are actually recommended by the professionals to buy at retail. So you can see the synergy already. And then direct-to-consumer is where we gain a lot of consumer insights, and we're able to give convenience to our consumers.
So when you look at those three channels as synergistic, and they feed off each other and act as a flywheel for you to really promote the brand, you actually manage it very differently. You don't manage it by saying that this channel has to be subservient to this channel. The only time I tell my team that, all things being equal and they cannot make a decision, the professional channel is the channel that we will never compromise, because that is our authority.
So I think by doing all this, what we have found is that even during the worst of times, about 50% of our business is with professional—so when COVID hit, basically 50% of our business could have been shut down. But because we had professional, we had DTC, and we had retail, and retail had their DTC, we were able to capitalize on that.
And we also did one thing that was very natural to us. I could not have done this at another company, but with Olaplex, I saw the love that the professionals have for the brand. So we actually started an affiliate program. And basically we told the professionals, look, I know you don't like to sell, but you need to sell because this is your revenue channel, and it was how they could make money. But they needed to trust us, because they're telling their own customers to come to our website, and we have those names, their information, their shipping address, everything. But they trusted us to know that when the market opened up, the first thing we did was we emailed all those people and told them your stylists are open for business, go back to them. And this is the reason I think you need to be authentic with your relationships. You cannot say you value them, and then the first thing you do is steal their customers.
–
You can watch the entire interview here, or listen to the full episode on Spotify, Apple Podcasts, or Google Podcasts. To catch up on our other 45 episodes, featuring leaders from brands like Milk Makeup, Gymshark, Gucci, and Summer Fridays, visit our Earned Podcast page.