In Episode 45 of Earned, Conor sits down with April Gargiulo, founder and CEO of nutrient-powered luxury skincare brand Vintner's Daughter.
We start the episode by learning why April, whose family owns the renowned Gargiulo Vineyards in Napa Valley, California, applies the same principles of quality and craftsmanship at the heart of winemaking to Vintner's Daughter, as evidenced by the brand's limited product range. April reveals how her disappointment in product quality from "luxury" skincare brands led her to create Vintner's Daughter, and explains why she follows her own skincare playbook. We also discuss how April creates a healthy work-life balance, as she shares how her goals are not to build a "scale-and-sale" company, but a brand that positively impacts consumers' skin and lives. Next, we learn about Vintner's Daughter's years-long proprietary product development process, then close the show with April's philosophies for driving organic word-of-mouth brand awareness.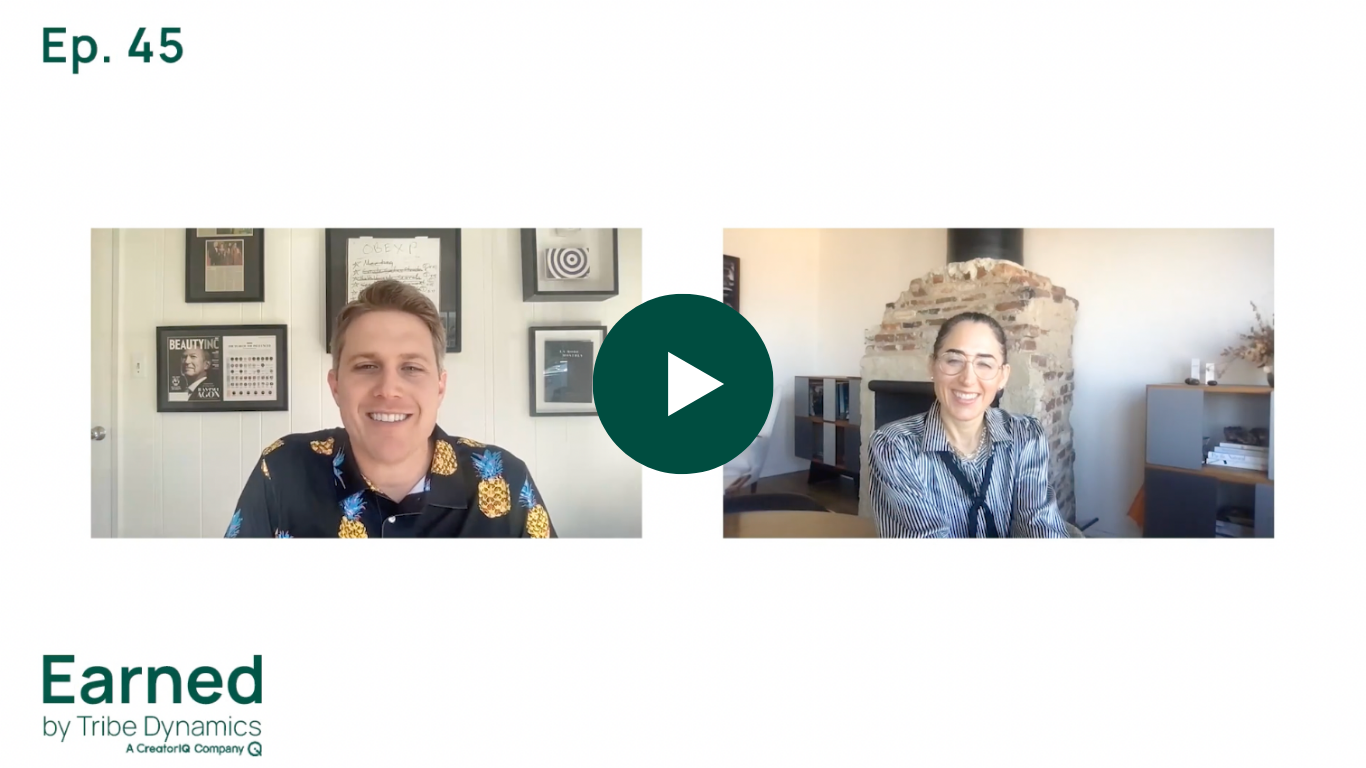 We've included a few highlights from the episode, but be sure to check out the full video above, listen to the podcast below, or tune in on Spotify, Apple Podcasts, or Google Podcasts!
The following interview has been lightly edited for concision.
"I grew up in a place where what was in the bottle mattered most": Why April Gargiulo Values Quality and Craftsmanship Above All
Conor Begley: Considering the heritage of entrepreneurship [in your family], are there particular philosophies or values that you embrace with Vintner's Daughter?
April Gargiulo: Yes, absolutely. I don't think it was something that anyone [named specifically], but it was something that [I saw] consistently throughout my life, and that is quality and craftsmanship. I remember being a little kid and all my other friends were eating Chef Boyardee and I wanted Chef Boyardee so badly, but absolutely not—my dad was curing his own meats, making his own salami, his own pasta. And so it was very much, both within my house and also within the larger community, like Napa Valley is this place filled with these incredible people who really have this deep, deep passion for quality and craftsmanship.
It's what really informed my ideas around luxury. And so again, I was the person buying expensive skincare, not expensive bags, and when I had the realization that this expensive skincare I was buying was really anything but luxury, that was when I started thinking about Vintner's Daughter. I recognized that these $300 products were insanely expensive, and there was no quality and craftsmanship that was going into them. It was all packaging. And for me, I grew up in this place where what was in the bottle is what mattered most— with wine making, you have this further level of consideration, which is that you're trying to create something that's going to get better as time goes on, right? So I would say quality and craftsmanship absolutely were fused into everything we did.
Conor Begley: So there's quality and craftsmanship, which is a big part of it, but it also seems like focus is a really big part of it, being intensely focused both from a business perspective, but also from a life perspective. Like with your grandfather, of course he loves fishing and so he does that, but that's a really important demonstration of values to the family, right? Like yes, business is important, making money is important, but doing the things that you love, and quality of life is a big deal. Is that something you feel has continued on through the family as an important component?
April Gargiulo: I think it has, and the way that it shows itself in Vintner's Daughter is, I'm not building a scale-and-sale company, right? It's not what I want to build. I want to build a company that has an extraordinarily positive impact on our customers' skin and their lives and our world. We take that very seriously, and that's what drives us. Do we have to be profitable? Yes. Do we have to have revenue and growth and all the things? Yes, yes, yes. But I think in the same way that my grandfather wasn't living to make money, he was making money so that he could go fish. He was doing that so he could go pursue whatever his Valhalla was. And for us, I think it's a similar thing: I'm here because I want to make this incredible impact on people's skin, and not just for scaling and selling the company.
Vintner's Daughter's Extensive Product Development Process
Conor Begley: So what's up next for Vintner's Daughter? Are you going to release a third product? Will it happen?
April Gargiulo: I hope so. I mean, I'm not against new products. For us, it has to live up to the standards that a product that wears a Vintner's Daughter label has to live up to. It has to be extraordinary, from a sourcing standpoint, from a formulation standpoint, and ultimately a performance standpoint and an impact standpoint. And so that takes time, and we don't take it lightly. But yeah, I would love to see what we could do for the body, I'd love to be able to treat the body in the same way that you do the face. I would love a cleanser, I'd love an SPF. There are things that we would love to understand how we'd be able to bring our level of standards to those categories.
Conor Begley: For sure. I think you mentioned that it took you about two years to develop the most recent release?
April Gargiulo: Active Botanical Serum took two and a half years. Active Treatment Essence took four and a half years.
Conor Begley: What does that process look like?
April Gargiulo: So the way that we make product is unlike anybody else. We're not using synthetics, we're not using powders. It would be like in wine: would the finest wine in the world have cherry flavor number 10 and oak flavor number two? No. Some of the most expensive skincare in the world, that's basically what they're using. They're using synthetic versions, like cheap inexpensive synthetic versions of these incredible actives that really do help the skin.
And so for Vintner's Daughter, we want to go to the source. We want to create that connection to the skin in the most powerful way through those nutrients. And so we begin with whole plants—unlike anyone else, we begin with whole plants, some of the most nutrient dense plants in the world. And we have this proprietary process that we call our phytoradiance infusion, which is this very gentle, temperature-controlled way of capturing all of those actives and nutrients, and all of those amazing parts of the plant, and in those very symphonic ratios that come from nature, right? These perfect ratios. Because plants and our bodies metabolize nutrients in almost the exact same way, we're able to create these formulas that the skin understands and recognizes and can very effectively and efficiently put to work. So we're establishing this very deep connection to the skin through our formulation processes.
And I know this is a crazy thing, but all of our growth has been word-of-mouth, right? We have these extraordinary testimonials. We get testimonials every day from all sorts of people, all ages, skin tones, skin issues, all over the world. So ultimately that to me is what's most meaningful.
–
You can watch the entire interview here, or listen to the full episode on Spotify, Apple Podcasts, or Google Podcasts. To catch up on our other 44 episodes, featuring leaders from brands like Milk Makeup, Gymshark, Gucci, and Summer Fridays, visit our Earned Podcast page.